Budget airline Ryanair has revealed it swung to an annual profit of €1.43 billion after a bounce back in travel demand and higher fares.
The Dublin-based carrier's profit haul for the 12 months to March 31st compares with a net loss of €355 million the previous year and comes after a 74 per cent surge in passengers to 168.6 million.
It said air fares jumped 50 per cent on levels seen a year earlier, to an average of €41.
Ryanair chief executive Michael O'Leary flagged cost pressures over the year ahead, with the company's fuel bill expected to surge by more than €1 billion due to higher oil prices.
He said he was "cautiously optimistic" the airline can grow profits modestly over the year ahead as he expects the ongoing recovery in travel and higher fares to help offset the fuel bill hit.
Mr O'Leary said Ryanair has grown its market share "significantly" in most of the European Union markets it operates in.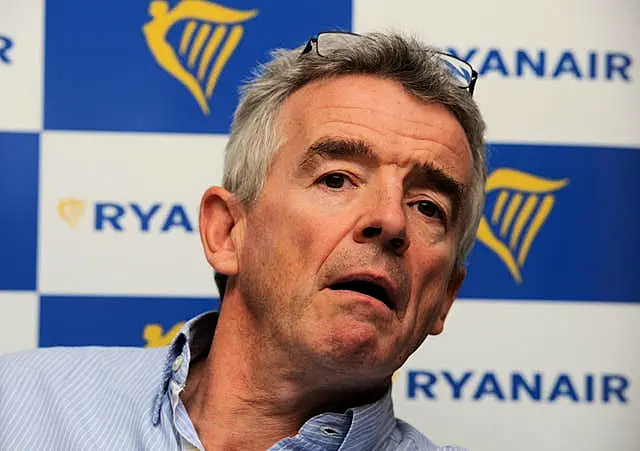 The highest gains were recorded in Italy (from 27 per cent to 40 per cent), Poland (from 26 per cent to 36 per cent) and Ireland (from 49 per cent to 58 per cent).
Ryanair will operate its largest schedule this summer, with more than 3,000 daily flights.
Demand for summer flights is "robust" and fares for the peak period are "trending ahead of last year", Mr O'Leary said.
He expects the company's annual fuel bill to increase by more than €1 billion because of higher oil prices.
Ryanair also anticipates its annual staff costs will soar by 73 per cent to €1.19 billion due to having a larger fleet, the ramp up of activities, accelerated pay restoration and the end of Covid-19 payroll support schemes.
Mr O'Leary said: "Despite ongoing uncertainty over the timing of Boeing deliveries, almost 15 per cent unhedged fuel, limited second-quarter visibility and zero second-half fare visibility (normal at this time of year), we are cautiously optimistic that 2023-24 revenue will grow sufficiently to cover our one billion euro higher fuel bill and still deliver a modest year-on-year profit increase.
"This guidance remains heavily dependent upon avoiding adverse events during 2023-24, such as the war in Ukraine or further, repeated, Boeing delivery delays."