A former financial services manager was not a "goalkeeper" in a scheme to defraud investors in Custom House Capital over a decade ago, a jury has been told.
Ciara Kelleher (51) of Blackhorse Ave, Dublin 7, has pleaded not guilty to one count of conspiring with others to defraud investors, clients, and customers of Custom House Capital (CHC) Ltd. by intentionally misleading them as to where or how their assets had been placed in the investment firm.
The offences are alleged to have happened within the State on dates between October 2008 and July 2011.
Michael Bowman SC defending, suggested to the jury on Tuesday that his client was not a "goalkeeper" whose role was to prevent information going out to clients which shows the true location of their funds.
'Never brought into tent'
In his closing speech to the jury, defence counsel said his client was "never brought into the tent" by CHC's CEO Harry Cassidy, Head of Private Clients John Whyte, Head of Finance Paul Lavery and John Mulholland, a non-executive director.
Mr Bowman said the master list of accounts, with a pop-up message asking for Mr Cassidy and Mr Lavery to be contacted before a valuation issued, represented 3 per cent of the accounts managed by CHC.
This list was "a jealously guarded document", Mr Bowman said, adding that his client would "hardly be asking for the foundation stone" of the conspiracy if she was part of it.
He said Ms Kelleher would have only come across these accounts when they were escalated to her by others.
Mr Bowman told the jury that the master list included an account which belonged to Mr Mulholland. Defence counsel suggested it "stretches credulity" to say CHC kept this information hidden from Mr Mulholland.
Emails
Mr Bomwan suggested to the jury that there is an alternative interpretation of emails, which the prosecution say show Ms Kelleher's involvement in the conspiracy. Rather, emails written by Ms Kelleher demonstrate her concern about outstanding issues and requests for assistance.
His client went so far as to escalate her frustration with delays getting information from the finance department to CHC's compliance officer in early 2010, the jury was told.
Mr Bowman gave the example of an email chain over several months in which Ms Kelleher tried to establish a client's original instructions.
He submitted to the jury that these emails end with a suggestion from Ms Kelleher that isn't an attempt to "grease the wheels of a conspiracy". Instead, she wants to streamline an internal process to get questions answered quickly, he said.
Mr Bowman said the prosecution suggested Ms Kelleher knew over €360,000 of a client's cash had been transferred by Mr Lavery to cover property payments, yet she spent 11 months trying to establish if the money was placed in line with the client's instructions.
"The prosecution case as she is in it up to her neck, yet here she is chasing her tail to see what's valid or not," Mr Bowman said.
Ms Kelleher was able to confirm that the client's money had gone into an investment he didn't authorise. She then followed up to get this corrected and interest paid. During this time, Mr Lavery, who knew where this client's funds were, never replied to Ms Kelleher's queries, defence counsel said.
Mr Bowman said emails showed his client told Mr Lavery this client's valuation would show an unauthorised investment. He asked the jury why Ms Kelleher would send this email if she was aware of the conspiracy, and suggested she wanted to highlight a problem and ask Mr Lavery to solve it.
Defence counsel said there was resistance to Ms Kelleher's attempts to get money transferred for a client to another financial institution with a better interest rate.
"Those in the know didn't want a drain on their resources," Mr Bowman said, asking the jury why someone who knew about the conspiracy would follow this course at a time when "cash is the lifeblood" of CHC.
'Good as gold'
Defence counsel submitted to the jury that Ms Kelleher's use of the phrase "good as gold" in an interview with gardai had been taken out of context and given a "grotesque and inflated meaning".
Mr Bowman suggested that his client used the phrase to refer to her state of mind at that time. As far as his client was concerned, she'd followed the appropriate procedures and Appian Asset Management were in the process of taking over part of the business.
The jury was told by Mr Bowman there is no suggestion that any compliance pack reviewed by Ms Kelleher was incomplete or incorrect.
Mr Bowman said Ms Kelleher told gardai when interviewed that clients often preferred to deal with Mr Cassidy or Mr Whyte. These two men may have background information which is not noted on the system. As such, pop up messages could be inputted onto the 'Unity' system for legitimate reasons.
Mr Bowman suggested to the jury that no evidence had been called by the prosecution to explain the mezzanine bond or to show which property deals were completed.
He noted many witnesses had said they drew comfort from the level of oversight of CHC that they understood to be in place. Defence counsel told the jury they hadn't heard from the auditors, who weren't called to explain their processes.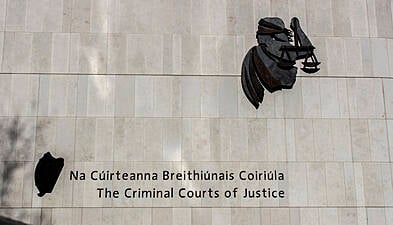 Ireland
Man who carried out €12,000 of graffiti damage wit...
Mr Bowman said his client helped Brian Cahalin of Appian Asset Management in circumstances where access to information was denied to him by others.
Defence counsel suggested to the jury that some wanted to "prevent information flowing" out of CHC, but Ms Kelleher engaged openly with Mr Cahalin as she had nothing to hide.
Mr Bowman said it was "farcical" to suggest that Ms Kelleher did not meet with the Central Bank on July 11th, 2011, given the regulator's note of a meeting with a CHC staff member on that date.
Judge Orla Crowe has started her direction to the jury. The trial continues.