Unionists should "bank the wins" in the new Brexit trading deal for Northern Ireland, former Northern secretary Julian Smith has urged.
Mr Smith was in Belfast on Saturday to address an Ulster Unionist Party gala dinner to mark the forthcoming 25th anniversary of the Good Friday Agreement.
The DUP is currently blocking devolution at Stormont in protest at post-Brexit trading arrangements that have created economic barriers between the region and Great Britain.
The barriers were first introduced under the Withdrawal Agreement's contentious Northern Ireland Protocol.
The UK and EU have agreed the new Windsor Framework as a way to cut the red tape created by the protocol.
While the DUP says the Windsor Framework has gone some way to address its concerns about the protocol, it says some significant problems remain.
It has opposed the framework at Westminster and has made clear its boycott of Stormont will continue until it secures further assurances over its concerns around sovereignty and the application of EU law in Northern Ireland.
The EU and UK say the application of some EU laws are necessary in Northern Ireland to maintain the region's ongoing unfettered access to the European single market post-Brexit.
Former Northern Ireland secretary Mr Smith encouraged unionists who had concerns about the framework to capitalise on the economic opportunities he said it presents.
The Conservative MP, who was central to a deal that restored Stormont powersharing in 2020 after a three-year impasse, said Northern Ireland's place within the UK was safe.
He was in the region to address the UUP dinner 25 years after its former leader, the late Lord Trimble, helped secure the Good Friday deal.
The UUP has said while the framework presents serious challenges it also offers economic opportunities and the party supports a return to devolution at Stormont.
"Because of the efforts of the UUP and Lord Trimble, the principle of consent is enshrined," Mr Smith said.
"Northern Ireland will never leave this Union if its people do not want it to and I cannot see the circumstances in which they would want to."
He added: "We should champion trade links, investment opportunities and growing the economy.
"We should agree wholeheartedly that Northern Ireland's place in the fifth-largest economy in the world makes it an incredibly attractive place to invest."
The comments were included in a speech Mr Smith was set to deliver at the dinner at the Culloden Hotel on the outskirts of Belfast on Saturday.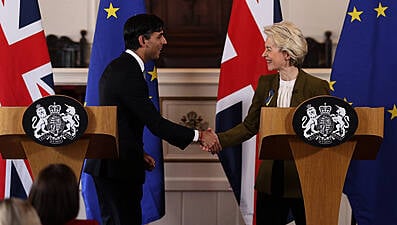 Ireland
New Brexit deal for Northern Ireland gets formal s...
"With the Windsor Framework, unionism has the chance to move forward, bank the wins and set the agenda," he said.
"I know this party instinctively knows the right way forward, as does my friend Jeffrey Donaldson (DUP leader) and many other friends in the DUP.
"This is the moment to have confidence in the protections the Good Friday Agreement brings and the support for the Union in Northern Ireland and to focus on the real prize."