There are still "significant gaps" between the UK and European Union over Northern Ireland's post-Brexit arrangements, Downing Street said as it played down speculation about a breakthrough.
Rishi Sunak's spokesman said there was "lots of work to do" in all areas of the talks around the Northern Ireland Protocol.
European Commission president Ursula von der Leyen said there were "constructive" talks with the UK but "everything is only negotiated at the very end".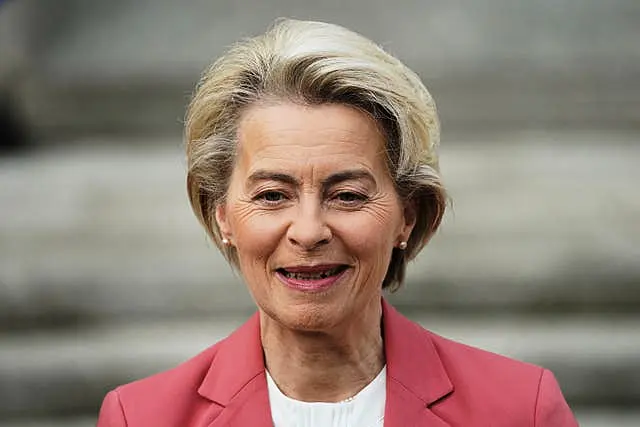 The comments followed reports – described by No 10 as "speculative" – suggesting that an agreement on customs had been reached.
According to The Times, the EU has accepted a plan that would avoid routine checks on goods going into Northern Ireland.
The protocol was agreed by the UK and EU as a way to avoid a hard border with Ireland.
It moved regulatory and customs checks on goods to the Irish Sea, creating economic barriers on trade between Northern Ireland and the rest of the UK.
The Times reported that the customs deal is largely based on the Government's proposals for a red and green lanes system – with the green lane for goods from Great Britain which are staying in the region and the red lane to check and control products going on to the Republic of Ireland and the rest of the EU.
A separate agreement would be negotiated on exports of meat and live animals to Northern Ireland, with the UK agreeing to maintain EU veterinary standards on goods destined for the province.
Citing government sources, The Times also reported that Brussels has made concessions on the jurisdiction of the European Court of Justice (ECJ), a key sticking point in UK-EU talks.
For the first time, it recognised that the ECJ could rule on Northern Ireland issues only if a case was referred by courts there, the newspaper said.
But the Prime Minister's official spokesman played down the prospect of a breakthrough.
"No deal has been agreed, there is still lots of work to do on all areas, with significant gaps remaining between the UK and EU positions," the spokesman said.
"Talks are ongoing on potential solutions including on goods."
Speaking in Brussels, Ms von der Leyen said she had a "very trusted and excellent relationship" with Mr Sunak and their teams were "working together to find solutions".
"As always in negotiations, you know the principle that everything is only negotiated at the very end when you know what the result is and you give a final signature," she said.
Both sides are keen to reach an agreement to break the logjam over the contentious trading arrangements before April's landmark 25th anniversary of Northern Ireland's historic Good Friday peace agreement.
Many unionists in Northern Ireland are vehemently opposed to arrangements they claim have weakened the region's place within the union.
The devolved powersharing institutions at Stormont collapsed last year after the DUP withdrew co-operation as part of its protest against the protocol.