More than two thirds of people do not believe Boris Johnson's defence of Downing Street partygate events, a snap poll has suggested.
The former prime minister has accepted that he attended five of the gatherings considered by the Privileges Committee but said he "honestly believed that these events were lawful work gatherings".
Mr Johnson submitted written evidence in his defence this week before appearing in front of the committee on Wednesday for at times short-tempered testimony lasting more than three hours.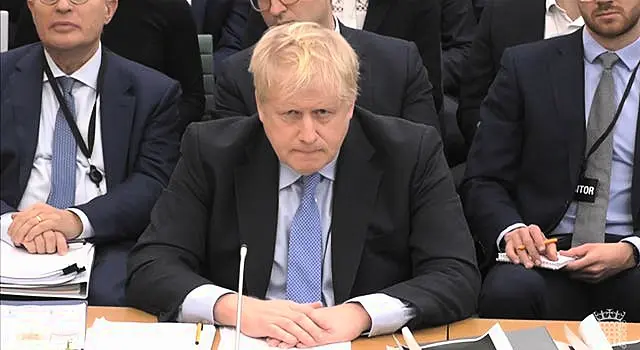 Some 855 of the 1,019 UK adults polled online by Survation after the hearing said they had seen, read or heard about the committee appearance.
The polling was carried out on behalf of campaign groups 38 Degrees and Covid Bereaved Families For Justice, which have been strongly critical of Mr Johnson for his handling of the pandemic.
During the hearing Mr Johnson defended various events, including his birthday party for which he was fined, as being "necessary for work purposes".
He said that raising a toast surrounded by alcohol at a leaving do for departing communications chief Lee Cain was "not only reasonably necessary but it was essential for work purposes".
But 68% of people polled said they did not believe Mr Johnson when he said he honestly believed he was following the rules at the time.
When shown an image of the toast being raised, 6% of respondents said they believed it was an essential work event, 29% that it was a non-essential work event, 40% that it was a party, 19% said they could not tell from the image alone and the rest said they did not know.
A fifth of all respondents said his appearance before the committee had left them feeling his account of events was much less believable, 4% said it was much more believable and 37% said their view was unchanged while others said they did not know.
The majority (58%) of those surveyed said Mr Johnson's response to partygate allegations had not been respectful towards those bereaved in the pandemic, while 25% said it had been and the rest said they did not know.
The committee will publish its findings on whether Mr Johnson committed a contempt of Parliament and can make a recommendation on any punishment. However, the ultimate decision will lie with the full House of Commons.
Sanctions could range from a simple apology to ordering that Mr Johnson be suspended from Parliament.
Almost half (49.6%) of respondents said they would have less trust in the political system if Mr Johnson is not sanctioned while 30% said their level of trust would be unaffected.
Any suspension of 10 sitting days or more could trigger a recall by-election in his Uxbridge and South Ruislip seat.
A total of 39% of respondents said they believed the ex-PM should be suspended for 10 or more days while 12% said he should be required to make a formal apology.
Asked if they believed Mr Johnson was fit to be an MP, 57% said no while 26% said yes.