These popular searches show Donald Trump wasn't the only one who ignored advice about the eclipse
22/08/2017 - 14:13:11Back to World Home
Google has recorded a spike in searches from people worried that looking at the sun during the eclipse damaged their eyes.
Google Trends data shows key phrases including "my eyes hurt" and "I looked at the sun" spiked just before 8pm on August 21 across the United States.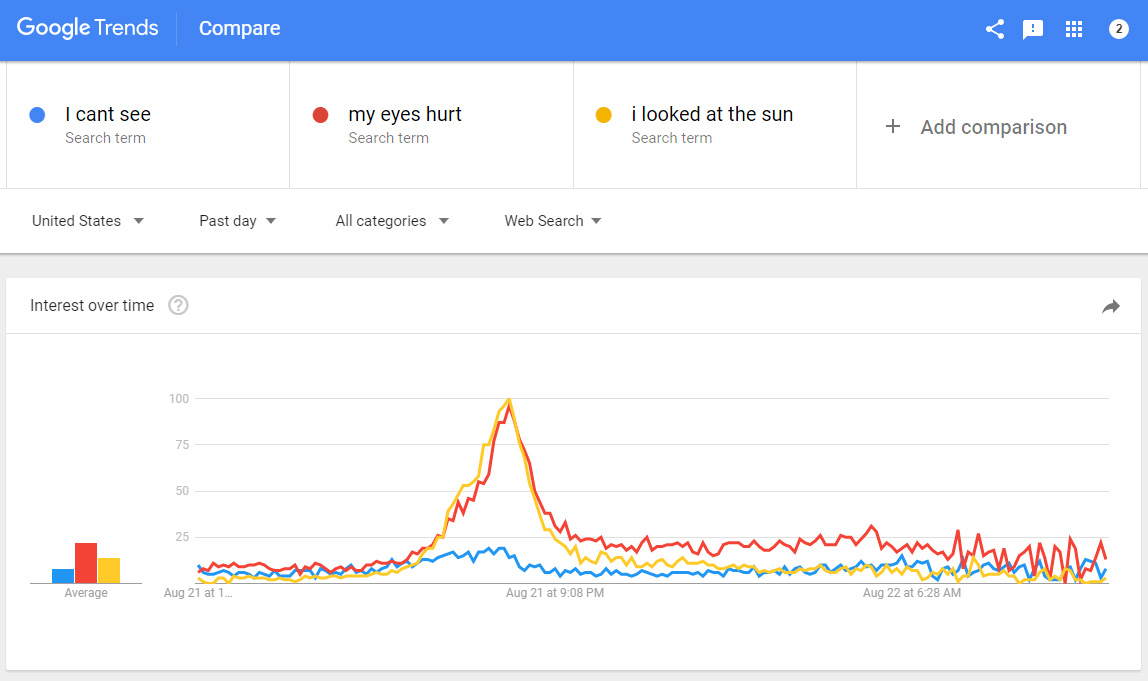 Ahead of the eclipse, advice was to wear special glasses for viewing the event. Anyone who did not have glasses was instructed on how to make pinhole cameras or to view the eclipse through everything from a colander to a doughnut.
Remember, safety first kids. Never look directly at an eclipse. Always use a 🍩 projector. #SolarEclipse2017 pic.twitter.com/F4vSblUdDk

— West St. Paul Police (@WestStPaulPD) August 21, 2017
Yet even US President Donald Trump ignored the warning, choosing to look skywards without any protection, as he first stepped outside at the White House with his wife Melania. The couple both went on to wear eclipse glasses.
Google categorised the trending questions as "breakout" searches because there was a tremendous increase in search frequency and the queries were new and had few prior searches.
In addition, many people were wondering if their headache had been caused by viewing the eclipse. Google Trends again recorded a spike just before 8pm.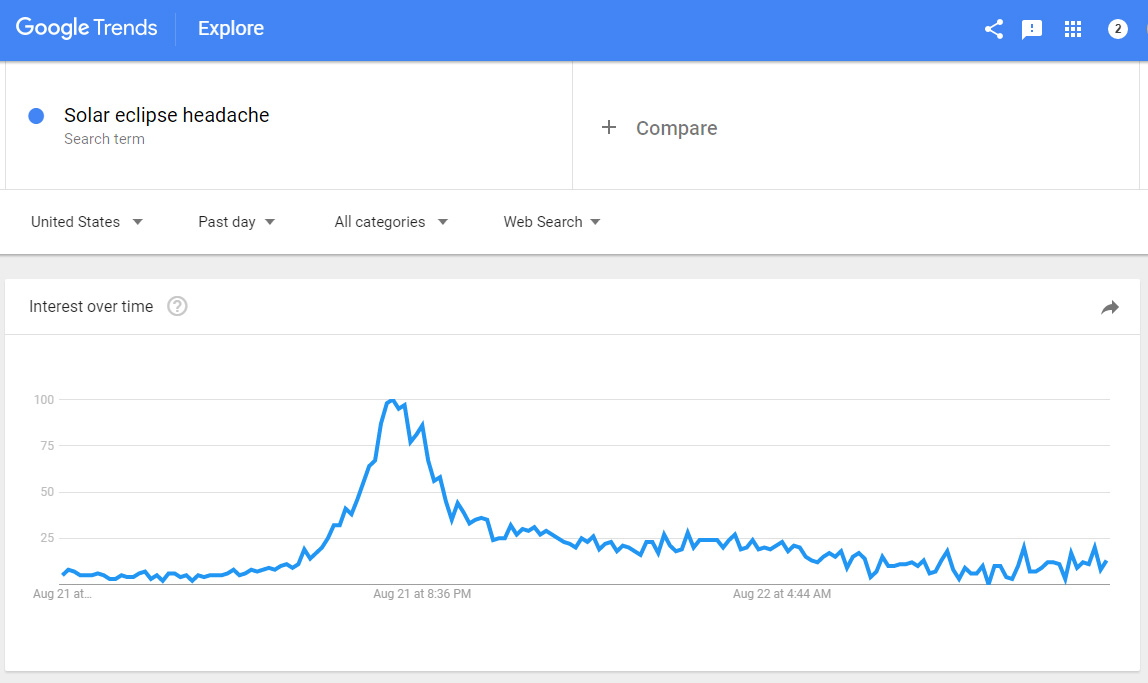 Comments were also flying on Twitter with people worried about looking at the sun and sky, both with and without glasses.
i looked at the sun thinking i would see the solar eclipse and now i have a headache

— happy mikey (@mikeybarone) August 21, 2017
Okay the #eclipse was very magical but also I'm now paranoid about my headache am I blind

— Brenna (@brennasherrill) August 21, 2017
In the run-up to August 21, searching for information about the eclipse followed a pattern. The interest was higher in areas where there would be a total eclipse rather than partial.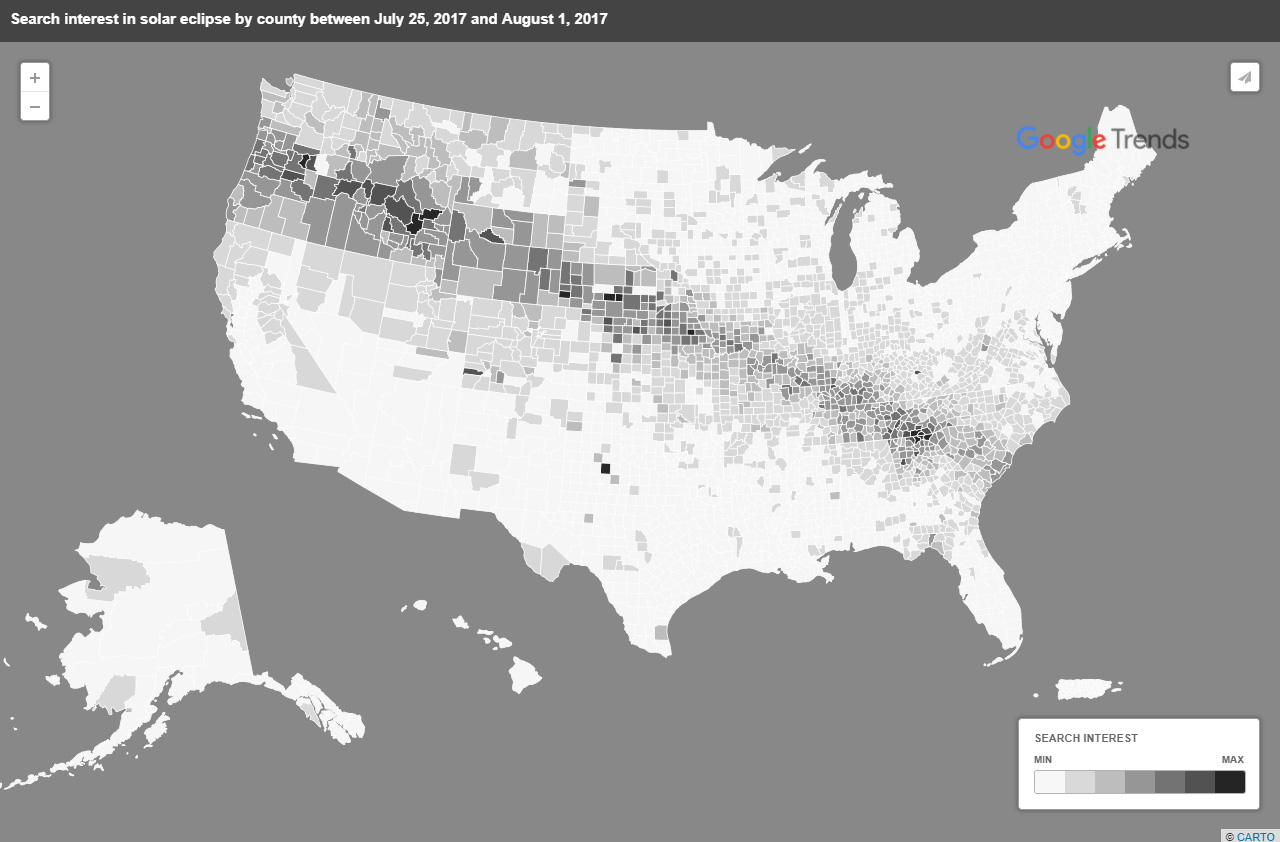 The same was true on Twitter on the day, where the conversation about the #Eclipse2017 aligned with the path of totality.
As #Eclipse2017 gets underway on the west coast, check out how Twitter conversation (adj.) aligns with its path of totality over the US pic.twitter.com/t5aTUKwfWG

— Twitter Data (@TwitterData) August 21, 2017
Want us to email you the top news stories each lunchtime?