SNP treasurer Colin Beattie has been released without charge after he became the second figure in the party to be arrested amid a police investigation into its finances.
The 71-year-old was questioned by detectives on Tuesday and Police Scotland said that evening that he had since been "released without charge pending further investigation".
The arrest of Mr Beattie, the MSP for Midlothian North and Musselburgh, comes less than two weeks after former first minister Nicola Sturgeon's husband was arrested as part of the same investigation.
Peter Murrell, the former SNP chief executive, was questioned by officers on Wednesday, April 5th as officers searched the home the couple share. He was later released without charge, pending further inquiries.
Update on investigation into Scottish National Party funding and finances.

More: https://t.co/pzmNkCnLuN pic.twitter.com/CS32fxt7aU

— Police Scotland (@PoliceScotland) April 18, 2023
Police Scotland have been looking into how more than £600,000 in donations to the party earmarked for an independence referendum had been used, but First Minister Humza Yousaf said on Tuesday that he would not be speaking to Ms Sturgeon about the investigation.
Mr Yousaf told journalists at Holyrood: "I haven't spoken to Nicola in the last couple of weeks, but I will get to speak to Nicola, I am certain I will.
"But one thing Nicola and I will not be talking about is the police investigation. That would be wholly inappropriate."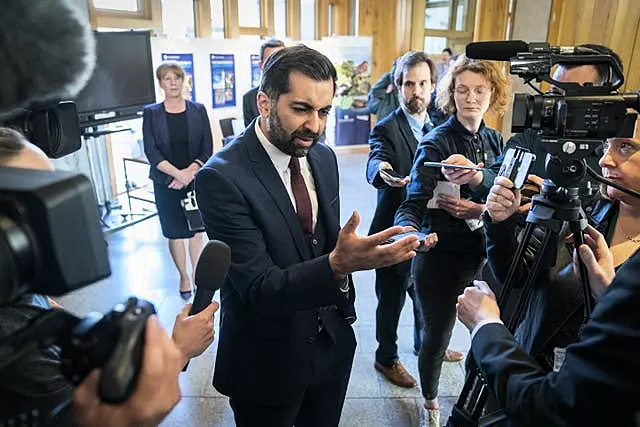 Scottish Tory deputy leader Meghan Gallacher, however, said Mr Yousaf should "tackle this scandal head on and prove he is his own man" by suspending both the former first minister and her husband.
Speaking in Holyrood, Ms Gallacher said: "The SNP is in total meltdown.
"Its former chief executive and now its current treasurer have been arrested amid a police investigation into the party's finances.
"And leaked footage has shown Nicola Sturgeon trying to shut down scrutiny."
Her comments came after Scottish Conservative chairman Craig Hoy called for Mr Beattie, Mr Murrell and Ms Sturgeon to be suspended from the SNP.
Mr Hoy said: "This extremely serious matter is escalating by the day and everyone in the SNP has a duty to be as transparent as possible about what they knew and when."
But Mr Yousaf said it was a "really important point of natural law that people are presumed innocent until guilty".
He said he would consider the situation if charges are brought by police, saying if that was the case "we may well have to take that course of action".
The First Minister stated: "Of course if they are guilty I would take the appropriate action, whether that is suspension or going further than that.
"But it is really important due process takes place."
Earlier on Tuesday, Police Scotland confirmed Mr Beattie had been arrested "in connection with the ongoing investigation into the funding and finances of the Scottish National Party".
A report will be submitted to the Crown Office and Procurator Fiscal Service, the force added.
An SNP spokesperson said: "We have no comment on a live police investigation."
Mr Beattie was the SNP's national treasurer between 2004 and 2020, losing the position to MP Douglas Chapman.
However, Mr Chapman quit the post in 2021, claiming he was not being given the required information to carry out the job.
Mr Beattie reclaimed the post soon afterwards, and reportedly told the party's ruling body on Saturday the SNP would struggle to balance the books – reports that have since been disputed by senior figures including former Westminster leader Ian Blackford.
There was no sign of police activity outside Mr Beattie's address in Dalkeith, Midlothian, on Tuesday morning, or outside his constituency office in the town.
Labour leader Sir Keir Starmer said the SNP is in a "real mess".
During a visit to York University, he was asked about the arrest of Mr Beattie.
Sir Keir told broadcasters: "The SNP developments are deeply concerning.
"Obviously there is a criminal investigation going on, so there is only so much I can say.
"But after 16 years in power, it has descended to this – a real mess – and those being let down are Scottish voters, who are entitled to better than this."
Meanwhile, Scottish Labour leader Anas Sarwar said the news of the arrest meant the SNP was no longer a functioning government.
"This is an SNP mired in scandal, mired in division, talking to themselves about themselves, and the crisis that now engulfs the SNP is not just an indication of how they govern their party, but also how they govern our country."