Pope Francis urged Hungarians to open their doors to others, as he wrapped up a weekend visit with a plea for an end to Russia's war in Ukraine and for Europe to welcome migrants and the poor.
Francis issued the appeal from the banks of the Danube as he celebrated Mass on Budapest's Kossuth Lajos Square, with the Hungarian Parliament and the famed Chain Bridge as a backdrop.
The celebration provided the visual highlight of his three-day visit that has been dominated by the Vatican's concern for the plight of neighbouring Ukraine.
Citing local organisers, the Vatican said some 50,000 people participated at the Mass, more than 30,000 of them in the square on a brilliantly sunny spring morning.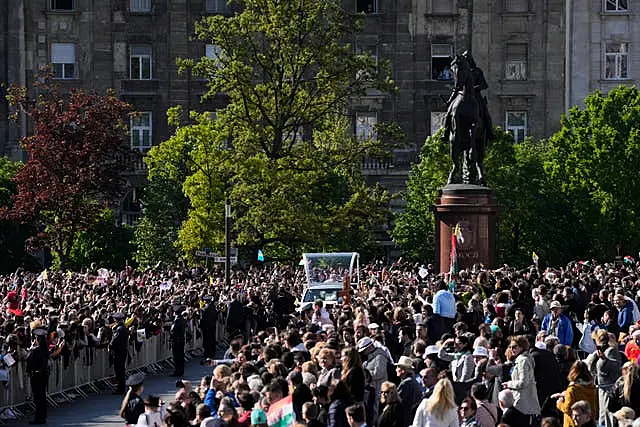 Among them were President Katalin Novak and Hungary's right-wing populist prime minister Viktor Orban, whose lukewarm support for Ukraine has rankled fellow European Union members.
Francis has expressed appreciation to Hungary for recently welcoming Ukrainian refugees. But he has challenged Mr Orban's hard-line anti-immigration policies, which in 2015-16 included building a razor wire fence on the border with Serbia to stop people from entering.
In his homily on Sunday, Francis urged Hungary and Europe to welcome those who are fleeing war, poverty and climate change, calling for safe and legal migration corridors.
"How sad and painful it is to see closed doors," he said. "The closed doors of our selfishness with regard to others; the closed doors of our individualism amid a society of growing isolation; the closed doors of our indifference towards the underprivileged and those who suffer; the doors we close towards those who are foreign or unlike us, towards migrants or the poor."
After the Mass, Francis had a final event in Budapest before returning to Rome – a speech on European culture at the Pazmany Peter Catholic University.
The 86-year-old has tried to forge a diplomatic balancing act in his pleas to end the war, expressing solidarity with Ukraine while keeping the door open to dialogue with Moscow.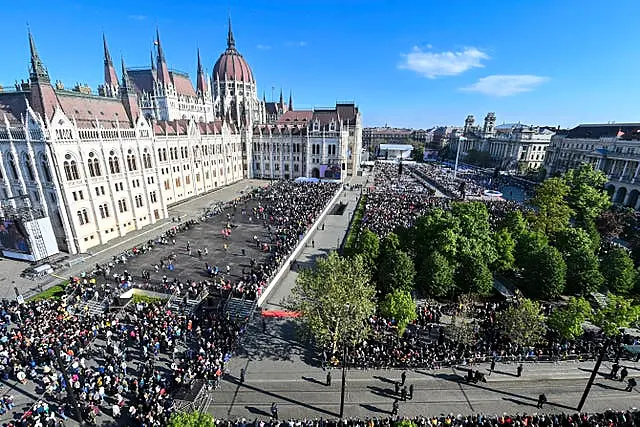 On Saturday, he prayed with Ukrainian refugees and then met with an envoy of Russian Patriarch Kirill, who has firmly supported Moscow's invasion and justified it as a metaphysical battle against the liberal West.
Francis kissed the cross of Metropolitan Hilarion in a sign of respect for the Russian Orthodox Church during what the Vatican said was a "cordial" 20-minute meeting at the Vatican's embassy in Budapest.
Hilarion, who developed good relations with the Vatican as Kirill's long-time foreign minister, said he briefed Francis on his work now as the Moscow Patriarchate's representative in Budapest.
Hilarion attended Francis's Sunday Mass, along with representatives of Hungary's other Christian churches and Jewish community, Vatican News said.
Francis's visit to Hungary, his second in as many years, brought him as close as he has been to the Ukrainian front but also to the heart of Europe, where Mr Orban's avowedly right-wing Christian government has cast itself as a bulwark against a secularising Western world.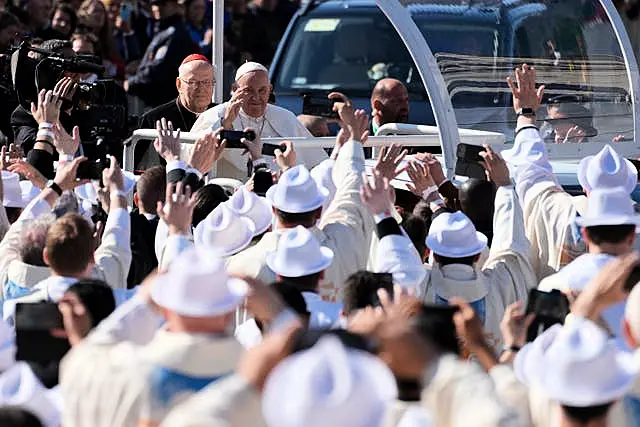 Francis, though, has used the visit to call for the continent to find again its spirit of unity and purpose, referencing Budapest's bridges across the Danube as symbols of unity and connection.
The site for his final Mass could not have been more appropriate for that message: The sprawling square is named after one of Hungary's most famous statesmen who served as its first prime minister after the 1848-1849 revolution against Habsburg rule.
It is separated from the left bank of the Danube river only by Hungary's neo-Gothic parliament, the country's largest building and home of its National Assembly.
Nearby is the Chain Bridge, one of several bridges spanning the river and linking the Pest and Buda sides of the city.
Later, at his final event in Hungary, Francis warned against the dangers of technology dominating human life during a speech at the Pazmany Peter Catholic University.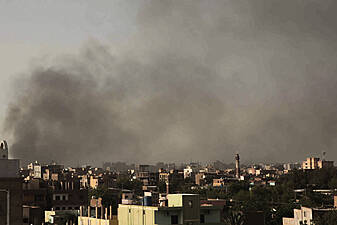 World
Emergency medical aid supplies reach Sudan as figh...
Speaking broadly about Europe's future, Francis said culture and scholarship forged by universities were the antidote to a future dictated by technology.
The university, he said, "is a temple where knowledge is set free from the constraints of accumulating and possessing and can thus become culture", he said.
Such a culture, he said, cultivates "our humanity and its foundational relationships: with the transcendent, with society, with history and with creation".