The death toll from a bombing in south-western Pakistan has risen to 54 after two critically wounded patients died in hospital overnight, officials said.
A suspected suicide bomber or bombers blew themselves up on Friday among a crowd celebrating the Prophet Muhammad's birthday in Mastung.
It was one of the deadliest attacks targeting civilians in Pakistan in months. Nearly 70 people were wounded, including five who remain in very critical condition, authorities said.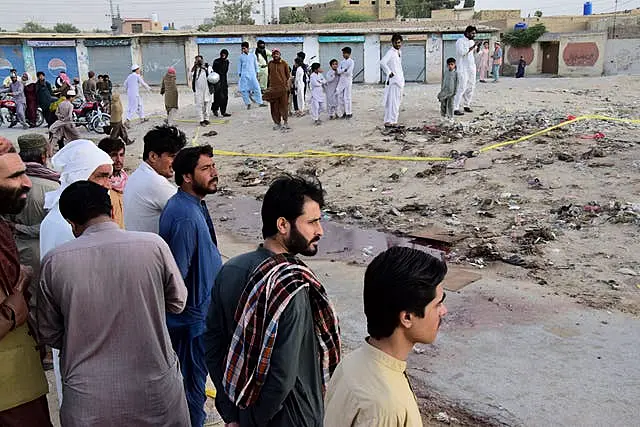 No one has claimed responsibility for the attack in Mastung, a district of Baluchistan province, but suspicion is likely to fall on the so-called Islamic State group's regional affiliate, which has claimed previous deadly bombings around Pakistan.
IS carried out an attack days earlier in the same area after one of its commanders was killed there.
Also on Friday, a blast ripped through a mosque at a police station in Hangu, a district in north-western Khyber Pakhtunkhwa province, killing at least five people and wounding seven.
Officials said two suicide bombers approached the mosque. Guards shot and killed one, but the other reached the mosque and set off explosives. The mud-brick building collapsed with about 40 people inside, officials said.
No arrests have been made in connection with Friday's bombing in Mastung, according to Jawed Lehri, the police chief for the area.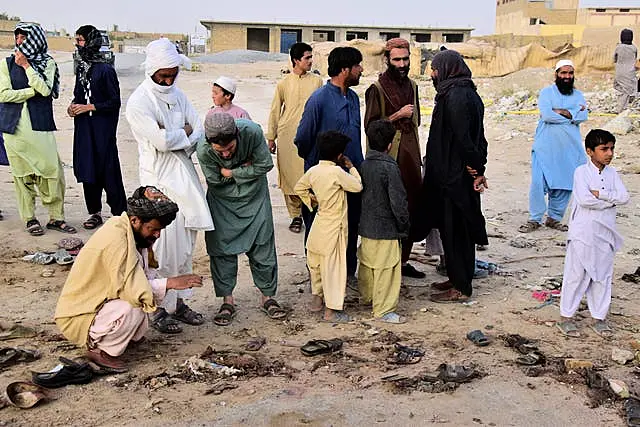 It happened in an open area near a mosque where 500 faithful were gathered after Friday prayers for a procession to celebrate the birth of the prophet, an observance known as Milad-un-Nabi.
Most of the dead were buried in local graveyards and the remains of others were sent to home towns, Mr Lehri said. Body parts recovered from the site of bombing are undergoing DNA testing to determine if they belonged to the suspected perpetrator or perpetrators, he added.
Mir Ali Mardan Domki, the caretaker chief minister of Baluchistan province, told reporters that all indications from the investigation so far suggest the attack was a suicide bombing. Counter-terrorism investigators were working to reach conclusions that would be shared with the nation soon, he said.
"We will take stern action against these terrorists and will not let them play with innocent lives," Mr Domki said.
The government intends to transfer critically wounded patients to Karachi for better treatment, and everyone injured and the families of the people killed will receive financial compensation, he added.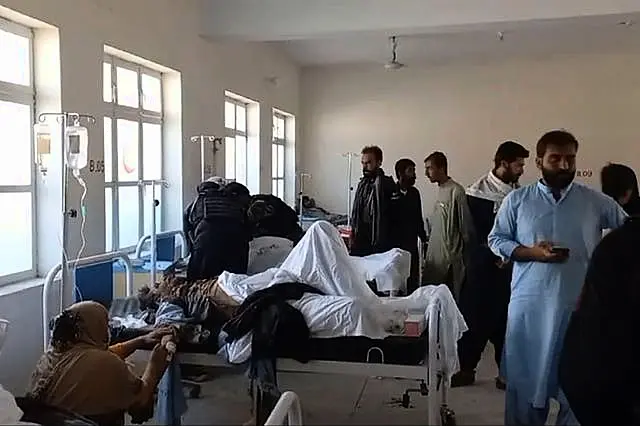 In Mastung, people kept their businesses closed to mourn the victims. In other parts of Pakistan, there were demonstrations protesting against the attacks.
In the city of Lahore, members of Majlis-e-Ulema Nizamia, a religious body, gathered in front of a press club to condemn the bombing. Addressing the crowd, Maulana Abdus Sattar Saeedi demanded the government move quickly against those involved in the attacks in Mastung and Hangu.
President Arif Alvi, Prime Minister Anwar-ul-Haq Kakar, cabinet ministers, former legislators, heads of political parties, social and religious groups and members of civil society also condemned the bombing and loss of lives.
The UN Security Council also condemned "the heinous and cowardly suicide terrorist attacks in Pakistan" and underlined "the need to hold perpetrators, organisers, financiers and sponsors of these reprehensible acts of terrorism accountable and bring them to justice", according to a statement.
Iranian President Ebrahim Raisi said such attacks "show terrorists have no other goal than to create division among Muslims", according to a statement reported by state TV.
The US Embassy in Islamabad posted a statement on X, formerly known as Twitter, that said: "Pakistani people deserve to gather and celebrate their faith without the fear of terror attacks."