The discovery of the Omicron coronavirus variant caused the wealth of eight top Pfizer and Moderna shareholders to skyrocket by a combined €9 billion ($10.31 billion) in one week, according to campaigners.
The campaigners from Global Justice Now said pharmaceutical executives are "making a killing from a crisis they helped to create", with vaccine inequality helping to create the conditions for the Omicron variant to emerge.
Moderna's shares skyrocketed after the announcement of the variant and settled at $310.61 per share on December 1st, up 13.61 per cent from the previous Wednesday. Pfizer's shares rose by 7.41 per cent from $50.91 per share to $54.68 per share.
Moderna CEO Stephane Bancel personally became more than $824 million richer in the week after the announcement of the variant, Global Justice Now said.
With the value of his shares rising from $6,052,522,978 to $6,876,528,630, he sold off 10,000 shares for $319 each on November 26th, the day after the variant was announced, cashing out $3.19 million.
Pfizer CEO Albert Bourla meanwhile made $339,236 in the week after the announcement of the variant, campaigners said, with his smaller portfolio rising from $4,581,035 to $4,920,270.
Institutional investors
Institutional investors also saw increased wealth, with Blackrock Inc's Moderna and Pfizer shares increasing by more than $2.5 billion in the week after the announcement.
Vanguard Group made a combined $2.7 billion; Moderna shareholders Baillie Gifford & Co increased by $1.6 billion; Morgan Stanley increased by $447 million; Flagship pioneering increased by $654 million; Pfizer investors State Street went up $1 billion; and Capital World gained $909 million.
Tim Bierley, pharma campaigner at Global Justice Now, said pharmaceutical companies "knew that grotesque levels of vaccine inequality would create prime conditions for new variants to emerge."
"They let Covid-19 spread unabated in low and middle-income countries. And now the same pharma execs and shareholders are making a killing from a crisis they helped to create. It's utterly obscene," he said.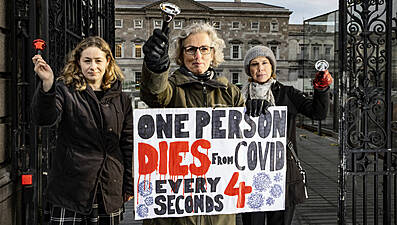 Ireland
Ireland supporting 'rich country stitch up' over C...
"At every turn, these companies have obstructed efforts to more equitably distribute vaccines around the world. They have made more than enough money from the pandemic, selling two of the most lucrative drugs in history. It's time to hand over the recipe for these essential medicines to the WHO so we can finally end this pandemic.
"It's long past time for the UK and the EU to stand on the side of global health instead of vaccine billionaires - and get behind an intellectual property waiver on Covid-19 vaccines, tests and treatments."
Global Justice Now called on governments to support a waiver of intellectual property rules on Covid-19 vaccines and treatments, to allow low and middle-income countries to bypass pharmaceutical monopolies and manufacture jabs for themselves.
A waiver on vaccines is supported by the WHO and some 100 countries, including the United States, but the European Union and United Kingdom have blocked the measure from progressing at the World Trade Organisation.