A large number of workers and activists globally have marked May Day with rallies calling for higher salaries, reduced working hours and better working conditions.
May Day, which falls on May 1, is observed in many countries as a day to celebrate workers' rights with rallies, marches and other events. This year's events had bigger turnouts than in previous years as Covid-19 restrictions were drastically eased and opposition centred on how governments' economic plans will affect workers.
French unions pushed the president to scrap a higher retirement age, while South Koreans pleaded for higher wages. In Spain, lawyers demanded the right to take days off, while migrant domestic workers in Lebanon marched in a country facing an economic crisis.
Climate activists spray-painted a Louis Vuitton museum in Paris, and protesters in Germany demonstrated against violence targeting women and LGBTQ+ people.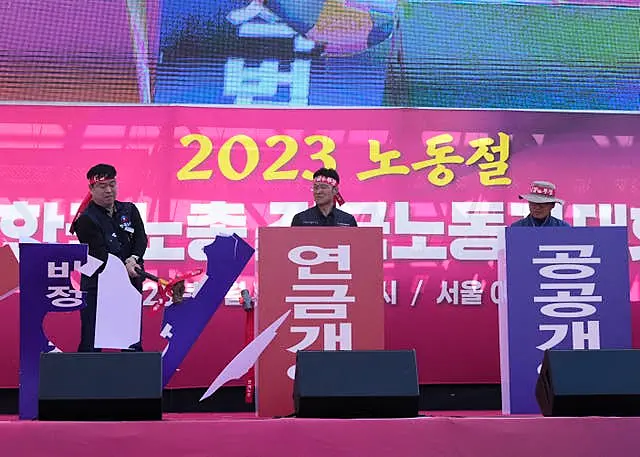 Celebrations were forced indoors in Pakistan and tinged with political tensions in Turkey, as both countries face high-stakes elections. Russia's war in Ukraine overshadowed scaled-back events in Moscow, where Communist-led May Day celebrations were once massive affairs.
Across Asia, this year's May Day events unleashed pent-up frustration after three years of Covid-19 restrictions.
Across France, thousands marched in what unions hope are the country's biggest May Day demonstrations in years, mobilised against President Emmanuel Macron's recent move to raise the retirement age from 62 to 64.
Organisers see the pension reform as a threat to hard-fought worker rights, while Mr Macron argues it is economically necessary as the population ages.
The months-long protest movement shows "workers' hope to be treated differently," said Laurent Berger, head of the influential moderate union CFDT, at the Paris march.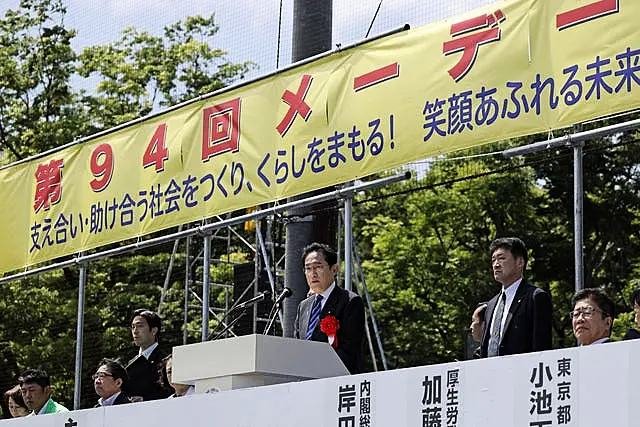 While marchers appeared largely peaceful, police detained 22 people in Paris and dispersed protesters in Lyon with tear gas after troublemakers smashed bank windows and other property. French police have come under fire for using drones to film disruptions on Monday in some cities.
Union members marched from Calais in the north to Toulouse in the south, joined by environmental activists and other groups fighting for economic justice, or just expressing anger at Mr Macron and what is seen as his out-of-touch, pro-business leadership.
Activists opposed to the 2024 Paris Olympics and their impact on society and the environment also demonstrated.
In Turkey, police prevented a group of demonstrators from reaching Istanbul's main square, Taksim, and detained around a dozen protesters, the independent television station Sozcu reported. Journalists trying to film demonstrators being forcibly moved into police vans were also pushed back or detained.
The square has symbolic importance for Turkey's trade unions after unknown gunmen opened fire on people celebrating May Day at Taksim in 1977, causing a stampede. Dozens were killed.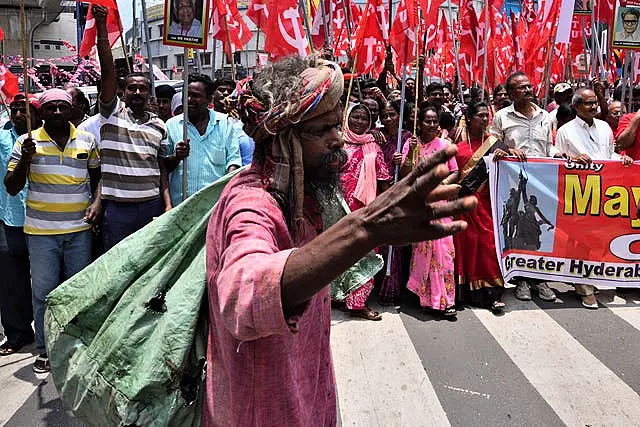 President Recep Tayyip Erdogan's government has declared Taksim off-limits to demonstrations, though small groups were allowed to enter to lay wreaths at a monument.
In Pakistan, authorities banned rallies in some cities because of a tense security situation or political atmosphere.
In Peshawar, labour organisations and trade unions held indoor events to demand better workers' rights amid high inflation. In the eastern city of Lahore, where political parties are barred from holding rallies before a local poll on May 14, a workers' march converged on the Punjab Assembly.
More than 70 marches were held across Spain, led by the country's powerful unions, who warned of "social conflict" if low salaries compared with the EU average do not rise in line with inflation. They also praised incentives to move Spain to a four-day working week.
Blue-collar workers led the protests, but white-collar professionals were also making demands in a country that stills bears the scars of previous recessions, and where the working day is traditionally long.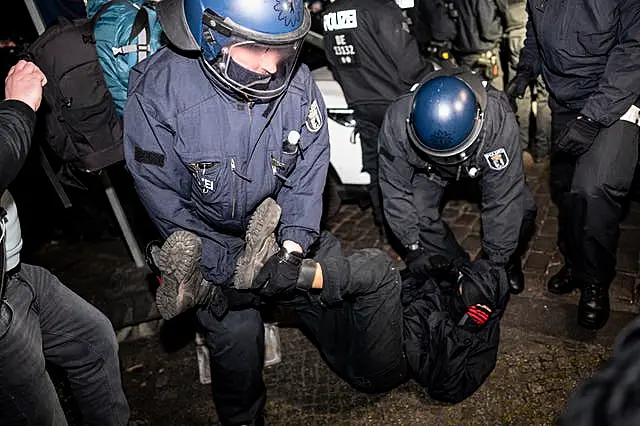 The Illustrious College of Lawyers of Madrid urged reforms of historic laws that require them to be on call 365 days of the year, regardless of the death of family members or medical emergencies. In the last few years, lawyers have tweeted images of themselves working from hospital beds on IV drips to illustrate the problem.
In South Korea, tens of thousands of people attended various rallies in its biggest May Day gatherings since the pandemic began in early 2020.
"The price of everything has increased except for our wages. Increase our minimum wages!" an activist at a Seoul rally shouted at the podium. "Reduce our working hours!"
In Tokyo, thousands of labour union members, opposition politicians and academics demanded wage increases to offset the impact of rising costs as they recover from damage from the pandemic.
They criticised Japanese Prime Minister Fumio Kishida's plan to double the defence budget, and said the money should be spent on welfare, social security and improving people's daily lives. Mr Kishida has promised to focus on raising wages.
In Indonesia, people attending the rally demanded the government repeal a job creation law they argue would benefit business at the expense of workers and the environment.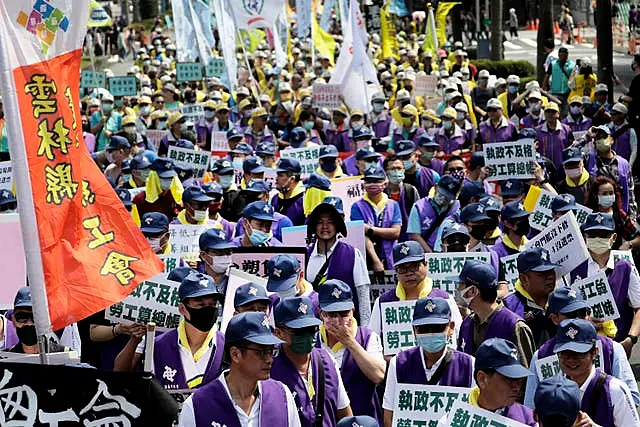 In Taiwan, thousands of workers protested against what they call the inadequacies of the self-ruled island's labour policies, putting pressure on the ruling party before the 2024 presidential election.
Gathering in the capital, Taipei, medical workers wearing protective gear held placards with messages calling for subsidies, while others held banners criticising President Tsai Ing-wen's labour polices.
In Lebanon, hundreds of Communist Party and trade syndicate members, as well as a group of migrant domestic workers, marched through downtown Beirut. The country is in the middle of a crippling economic crisis and spiralling inflation, with around 75% of the population now living in poverty.
Protests in Germany kicked off with a "Take Back the Night" rally on the eve of May Day to protest against violence directed at women and LGBTQ+ people.
Several thousand people took part in the march, which was largely peaceful despite occasional clashes between participants and police. Numerous further rallies by labour unions and leftist groups are planned in Germany on Monday.
Elsewhere, some communities held May Day festivals that harkened back to pagan ceremonies celebrating spring.