Just Stop Oil protesters have been arrested for failing to move out of the road in Parliament Square in their latest slow march.
The group said 10 supporters, including a wheelchair-dependent retired cook and members of Christian Climate Action, were detained by police on Wednesday.
They were among a larger group of 56 activists who were staging a slow march near the Houses of Parliament, following earlier protest action in west London when the A4 was blocked during rush hour.
JSO has held demonstrations every day since April 24, and has pledged to carry on indefinitely until the Government stops granting new licences for gas, coal and oil.
At 11.16hrs, Section 12 conditions were issued to Just Stop Oil #protestors, #slowmarching in the road at Parliament Square.

By 11.30hrs, they had moved off the road, and traffic was moving.

A number of arrests were made.

— Metropolitan Police Events (@MetPoliceEvents) May 31, 2023
Those arrested included grandmother Ari Rox, 74, from Exeter, who has post-polio syndrome and uses a wheelchair, along with her carer for the day, Larch Maxey, who were removed from Parliament Square in a taxi.
Mr Maxey told the PA news agency the Government should do the "honourable thing" and stop issuing the new licences for fossil fuels, adding: "We're here at the heart of democracy asking for that demand to be met."
The group posted footage online of the protests on roads near West Kensington tube station on Wednesday morning, including the A4, with one police officer dragging a supporter along the ground by his hi-vis vest amid attempts to clear the way.
Officers have power under the new Public Order Act to make activists move out of the road or face arrest.
An entry on the Metropolitan Police Events Twitter account at 8.45am said that the road was clear.
Wednesday's march followed protests on Tuesday where JSO supporters blocked four bridges in London.
🚨 BREAKING: Police Resort To Dragging Just Stop Oil Supporters Off Road

🦺 At 8am, four groups of Just Stop Oil supporters began marching on roads close to West Kensington station, including Cromwell Road, a major arterial route into London. Police were seen dragging supporters… pic.twitter.com/Eba9fE7uHm

— Just Stop Oil (@JustStop_Oil) May 31, 2023
Tempers have frayed among members of the public amid the traffic hold-ups, with heated scenes earlier in the month as drivers tried to physically force protesters from the roads and snatched banners.
There was also irritation as protesters threw orange paint over a garden at the Chelsea Flower Show, and disrupted the Gallagher Premiership rugby final at Twickenham by invading the pitch and throwing orange powder paint.
The Metropolitan Police has spent £3.5 million policing the protests in the month from April 24 alone, on top of £7.5 million spent by the force dealing with JSO action between October and December last year.
Temporary Assistant Commissioner Matt Twist last week urged the public to wait for the police to deal with the demonstrations.
He said: "We absolutely understand why those who are caught up in traffic delays will be frustrated.
"I would urge the public not to intervene or take matters into their own hands, but to call the police, let us know where the incident is and we will get there quickly."
The time between officers arriving at each scene and imposing conditions to move protesters out of the road has been between 13 and 19 minutes for the recent marches, he added.
This is an impossible situation.

Do we disrupt other ordinary people, like this man, arrested for lashing out today, or just sit back and watch everything burn?

That's where our government has left us. More and more people are realising taking action is the right thing to do. pic.twitter.com/hMm3Wxu0tY

— Just Stop Oil (@JustStop_Oil) May 23, 2023
The latest demonstration came amid a political debate over donations to the Labour party by businessman Dale Vince, who has donated about £1.5 million in the past 10 years and also supports JSO.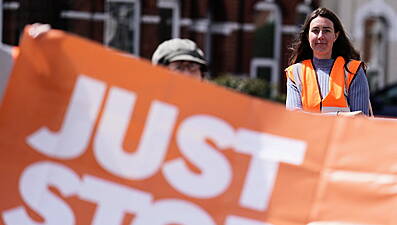 World
Just Stop Oil block major road in London as part o...
Over the weekend, Home Secretary Suella Braverman told The Daily Telegraph newspaper that Labour leader Sir Keir Starmer was "in bed" with Just Stop Oil donors and Tory party chairman Greg Hands urged Labour to hand back the money.
But shadow international trade secretary Nick Thomas-Symonds said Mr Vince is "a perfectly legitimate person" to make donations, and his support does not affect Labour's opposition to JSO's tactics.
In response to the "right-wing mudslinging", Mr Vince, founder of green energy company Ecotricity, said he would double any donations made to JSO in the next 48 hours.