The collapse of a church roof during a mass in northern Mexico has killed at least 11 people and injured 60, but searchers said no more people are believed to be trapped in the wreckage.
State police had initially estimated about 100 people were inside the church in the Gulf coast city of Ciudad Madero when it collapsed during a baptism on Sunday, and said about 30 parishioners may have been trapped in the rubble.
But Tamaulipas state governor Americo Villarreal later said only 70 may have been inside. He said that after sending search dogs and thermal imaging cameras under the collapsed concrete slab, it appeared nobody was still trapped, apart from the 10 bodies already recovered.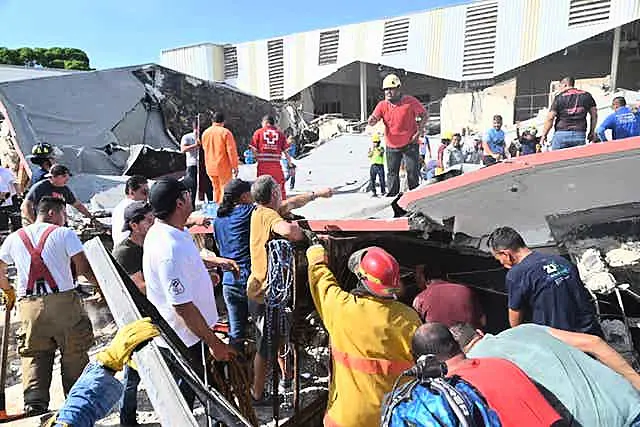 "The most likely thing, I can't affirm it 100%, is that there aren't any more people trapped," Mr Villarreal said. Describing the searches by dogs and rescue teams, he said: "There are no indications of life inside the collapsed area."
That optimism will be put to the test when cranes start lifting chunks of the collapsed slab off the floor and the tops of pews.
The state security spokesman's office said early on Monday that 23 of the 60 injured remain in hospital with two in serious condition.
The collapse occurred at the Santa Cruz church in Ciudad Madero, next to the port city of Tampico, just as a mass baptism was being held.
Three of the dead were children, and on the list of injured were a four-month-old baby, three five-year-olds and two nine-year-olds.
"Unfortunately, the elderly and children were those who suffered the most, the ones who were most trapped, the ones who suffered the most deaths, I think," said Father Pablo Galvan, a priest who was just outside in the church when the collapse occurred.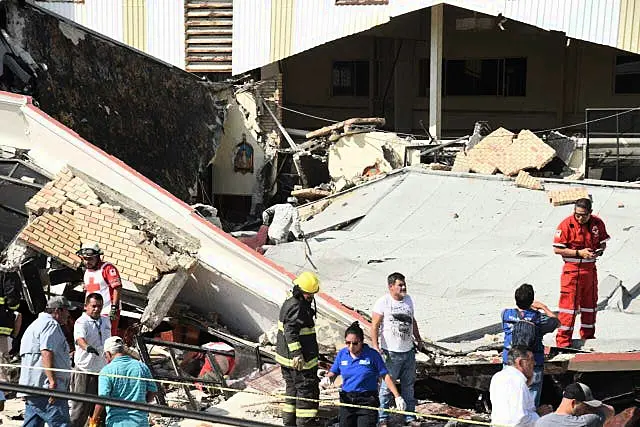 He said "the roof just simply and plainly collapsed, like an implosion, like when you crush a can".
"It fell, there was no time to do anything. It was like two seconds. We still can't understand what happened," Mr Galvan added.
Questions immediately turned to why the concrete and brick structure failed so suddenly. Security camera footage from about a block away showed the unusual, gabled roof collapsed downwards. The walls did not appear to have been blown outward, nor was there any indication of an explosion, or anything other than simple structural failure.
The state security spokesman's office said it appeared to be "a structural failure", but Mr Villarreal said no problems with the church had been reported.
"It was over 50 years old, it was here functioning and operating with no problem, with no sign of any defect," he said.
The roof appeared to have been made of relatively thin poured concrete, and photos distributed by state authorities showed the roof slab resting on the top of pews in some parts of the church. That may have left enough space to save some lives.