Truckers' protest
Truck drivers have left Dublin city following a protest over the cost of fuel.
The protesters warned they will return on another day if the Government does not address the issue.
There were significant disruptions during rush hour this morning as they made their way into the city, where they stayed until 1.30pm.
The M50 is still experiencing serious delays in both directions this evening.
Healthcare under 'very serious pressure'
The Irish health system remains under "very serious pressure", the head of the HSE has warned an Oireachtas committee.
Paul Reid appeared before the Joint Committee on Health today to discuss the plans to support the health service through the winter.
"We are now firmly in the midst of a fourth surge in Covid-19 infections. The entire health system, both acute hospitals and community, are now under very serious pressure," he said.
Diplomats expelled from Ethiopia
Ethiopia has expelled four of six Irish diplomats from the country because of Ireland's stance on the conflict there, the Minister for Foreign Affairs has said.
"I deeply regret this decision by the government of Ethiopia. Our engagement internationally on Ethiopia, including at the Security Council, has been consistent with the positions and statements made by the European Union," Simon Coveney said in a statement.
Mr Coveney added that about 80 Irish citizens in Ethiopia have been advised to leave due to an escalation in the conflict there.
Lotto rollover
The Taoiseach has backed a call from TD Bernard Durkan to "see what is making those balls spin" in the "unwinnable" Lotto whose jackpot has rolled over 47 times.
Micheál Martin was responding in the Dáil on Wednesday to a renewed call from the Fine Gael TD to investigate why the record €19 million jackpot has not been won since June.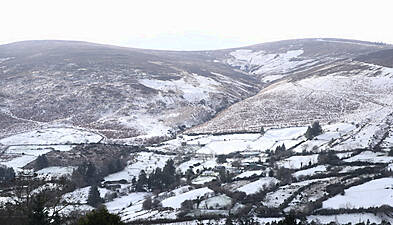 Ireland
Arctic air expected to bring snowfall to Ireland t...
Mr Martin suggested that Mr Durkan invite the National Lottery regulator before the Oireachtas Finance Committee, which he is a member of, to answer his questions.
Winter weather
Snow is likely to fall across northern areas of Ireland this week with temperatures set to drop overnight.
Met Éireann said strong winds and "cool polar air" will sink down over the island, with the strongest winds especially affecting areas in the far north.
The mercury could dip as low as freezing in most areas of the country overnight on Friday, while remaining around 6 degrees Celsius during the day on Saturday.