Heated exchanges over turf ban
The Government will not walk away from a plan to restrict turf sales, Eamon Ryan has said.
The Minister for the Environment and Green Party leader said there was an urgent need to tackle the health damage caused by the burning of smoky fuels as he warned TDs that 1,300 lives were lost in the State every year as a result of air pollution.
Sinn Féin's Pearse Doherty accused politicians from Fine Gael and Fianna Fáil of "cowardice" for failing to support Sinn Féin's proposal to axe the planned restrictions on turf, scrap the imminent increase in carbon tax and remove excise duty on home heating oil.
The Sinn Féin motion was defeated in a Dáil vote on Wednesday.
Summer of Covid
Predictions from the World Health Organisation (WHO) that Ireland will face another surge in Covid-19 cases as the summer arrives are "a bit disturbing," Professor Luke O'Neill has said.
The WHO's special envoy on Covid-19, Dr David Nabarro, warned on Wednesday that Ireland will see another surge in four to six weeks.
Prof O'Neill, who is a professor of biochemistry at Trinity College Dublin and a member of the new Covid-19 Advisory Group replacing the National Public Health Emergency Team (Nphet), said he also believes the situation will worsen again.
"The trajectory of the virus would suggest we're going to get a surge," he told Newstalk radio.
Varadkar on leak inquiry
Tánaiste Leo Varadkar has said allegations made against him regarding the leak of a GP pay deal contract were false and politically motivated, days after a file on the matter was sent to the Director of Public Prosecutions (DPP).
Speaking to reporters in California on Wednesday, Mr Varadkar declined to comment in detail on the basis he did not wish to say anything that might be seen to apply undue pressure on the DPP.
"But what I do want to say, and I am going to re-emphasise this, the allegations that were made against me were false, they were politically motived," he told RTÉ.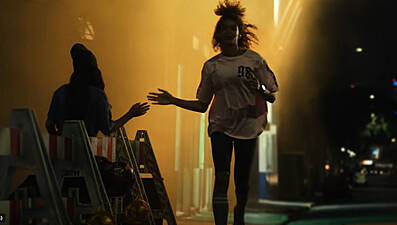 Ireland
Samsung criticised over ad featuring woman running...
"I did not commit any crime. I did not do anything corrupt. In fact I didn't even do anything self-interested. And I think when this is over that will be clear to any reasonable person."
'Tone deaf' Samsung ad
A Samsung ad featuring a woman running alone at 2am has been described as "ludicrous" and "tone deaf".
The advert shows a woman running through the streets of London in the early hours by herself while wearing Samsung headphones.
Women's safety group Reclaim These Streets described the campaign as "tone deaf" in light of the death of Tullamore teacher Ashling Murphy, who was killed on a run in January.