New gambling laws
New laws will safeguard against "truly awful" gambling addiction that can be devastating for families, the Taoiseach has said.
Micheál Martin said the "long-awaited and much-needed" proposed legislation "takes a responsible approach" to regulating the gambling industry in the country.
A total ban will be imposed on gambling advertising on social media and there will be criminal sanctions for gambling companies who fail to protect children and vulnerable consumers.
The Gambling Regulation Bill was approved by Government ministers at a Cabinet meeting on Tuesday.
CervicalCheck activists vow to continue campaign
CervicalCheck campaigner Stephen Teap has vowed to continue the campaign started by Vicky Phelan, saying that her death has left "a massive empty space" beside her family and friends that may never again be filled.
Speaking on Tuesday, Mr Teap, whose wife Irene died of cervical cancer in 2017 said that the reality of the loss of Vicky Phelan has only just begun to set in.
"We're now waking up to the realisation that our friend is no longer at the end of that phone, our friend won't be returning our calls anymore," he said.
Euro 2028 bid
Ministers have signed off on a joint bid for Ireland and the UK to host Euro 2028.
Uefa's deadline for formal bids is Wednesday with Government sources confident the pitch will be successful.
Minister of State for Sport Jack Chambers met with colleagues from across the UK and Ireland to discuss the bid last week and brought a memo to Cabinet alongside Minister for Culture Catherine Martin.
National Party conference
A Dublin man has appeared in court on charges connected with an altercation after protesters disrupted a political conference at a luxury Co Fermanagh hotel.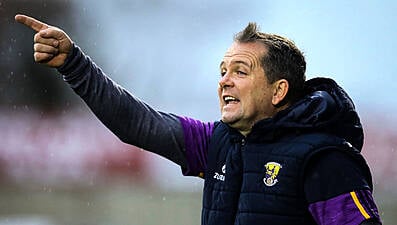 Business
Davy Fitzgerald raises questions about purported s...
Daniel Comerforde (34), from Mic Uilliam Heights in Dublin, appeared at Omagh Magistrates' Court where he was charged with damaging a glass door at the Lough Erne Resort near Enniskillen on Sunday and possessing a hammer as an offensive weapon.
Violence flared at the hotel on Sunday when protesters disrupted a political conference being held by the anti-immigration National Party.
Davy Fitzgerald loans
GAA star David Fitzgerald has raised questions before the Deputy Master of the High Court about the alleged sale of his loan from ACC Bank to what his counsel called a "vulture fund".
Mr Fitzgerald's questions were aired in proceedings brought against him by Pepper Finance and receiver James Anderson of Deloitte, who have brought proceedings against the Waterford senior hurling manager over a house in Co Clare.