Ukraine's "rightful place" is in Nato, Rishi Sunak has said.
The UK prime minister is in Moldova for a gathering of European leaders, with his comments coming after a meeting with Ukrainian president Volodymyr Zelenskiy.
Kyiv has long called for Ukraine to be admitted to Nato, but allies are divided about when and how any accession might happen as the war with Russia continues.
Mr Sunak, speaking to broadcasters at the European Political Community summit, gave little further detail of the UK position on the Ukrainian path to membership.
The gathering, on the border of Ukraine, comes ahead of a key meeting of Nato leaders in Vilnius, Lithuania, in July.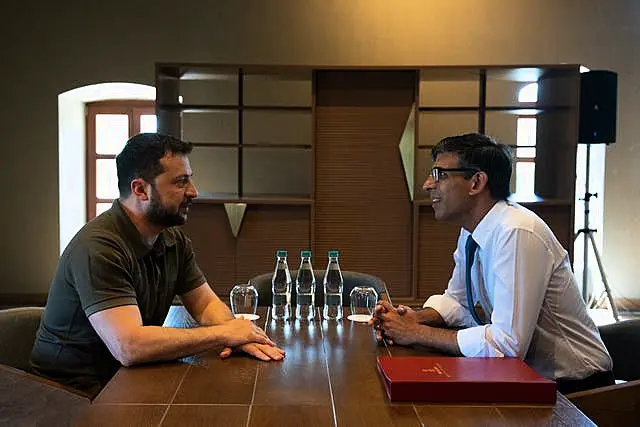 "I agree with the Nato Secretary General that Ukraine's rightful place is in Nato and what we are also talking to Ukraine about right now is making sure they have all the support they need for a successful counteroffensive," the British prime minister said.
He said he was "proud" of the UK's record in supporting Ukraine, adding: "We want to make sure we put in place security arrangements for Ukraine for the long term, so we send a very strong signal to Vladimir Putin that we are not going anywhere, we are here to stay and we will continue backing Ukraine – not just now, but for years into the future."
The UK has been among the most vocal backers of Ukrainian requests for support in the face of the Russian assault since last year's invasion.
The British government has also offered support to Moldova, amid ongoing tensions with Moscow.
"As the first British Prime Minister to visit Moldova, I'm pleased to announce new support to aid them in the face of Russian aggression," Mr Sunak tweeted on Thursday.
"Moldova is not alone."