What you need to know right now:
Russia and Ukraine agreed on the need for humanitarian corridors and a possible ceasefire around them for fleeing civilians on Thursday, their first sign of agreement on any issue since the war began eight days ago.
The UN human rights chief said tens of millions of lives were at risk in Ukraine, with cities surrounded and under bombardment.
The United States will impose new sanctions on an array of Russian oligarchs and the Kremlin spokesman. The Pentagon has meanwhile established a direct line of communications with Russia to prevent "miscalculation, military incidents and escalation."
One of the greatest ever mobilisations of Nato member armed forces is under way in eastern Europe, as Russian troops meanwhile step up efforts to seize Europe's largest nuclear power plant Zaporizhzhia.
At least 33 bodies were recovered from rubble after Russian air strikes in Ukraine's Chernihiv region. The UN human rights office said it had confirmed 249 civilians killed and 553 wounded in Ukraine during the first week of Russia's invasion.
Russian President Vladimir Putin said Russia's military operations in Ukraine were going to plan and praised its soldiers as heroes.
French President Emmanuel Macron earlier told Putin he was making a "major mistake" in Ukraine, that he was deluding himself about the government in Kyiv and that the war would cost Russia dearly over the long term, a French official said.
French authorities have seized four cargo vessels and one luxury yacht linked to Russian oligarchs as governments around the world ramped up pressure on Russia's super-rich over the invasion of Ukraine.
Ukraine's defence lines are holding up against the Russian attack, President Volodymyr Zelenskiy said in a video, adding there had been no respite in Moscow's shelling of Ukraine since midnight into Thursday.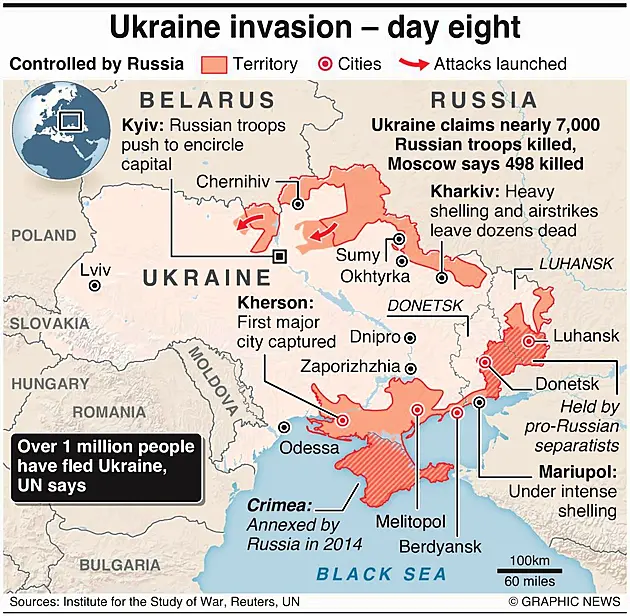 ---
9.45pm: The next wave of refugees to flee Ukraine are likely to be even more vulnerable to illness and economic hardship than the one million people who have already left to escape the Russian invasion, a senior World Health Organisation official said.
Speaking from a warehouse in Warsaw, Poland, where the WHO is coordinating the delivery of 36 tons of medical aid to Ukraine, Europe director Hans Kluge said the situation was already a "humanitarian catastrophe" that was set to worsen.
On the ground - @WHO supplies have landed in 🇵🇱 including 39 metric tonnes of medical aid for use in #Ukraine.

This shipment includes trauma supplies to meet the needs of 1,000 patients requiring surgical care & other medical supplies to meet the needs of 150,000 people pic.twitter.com/scewIhBHzM

— WHO/Europe (@WHO_Europe) March 3, 2022
---
9.35pm: Ukrainians have nowhere to retreat and will defend their homeland from Russian invaders, Kyiv mayor and former heavyweight boxing champion Vitali Klitschko said. Flanked by his heavyweight boxing star brother Wladimir, Klitschko spoke from a shelter he is working from in Kyiv.
---
9.18pm: The United States is continuing to provide real-time intelligence to Ukraine to help it counter Russia's invasion, officials said, but a lawmaker said it did not include precise targeting information.
US officials said Russian forces have been surprised by fierce resistance from Ukrainian fighters who have been able to target Russian convoys and troops. Eight days after Russia invaded Ukraine, it has yet to take any major city or control the skies over the country.
---
9.12pm: One of the greatest ever mobilisations of Nato member armed forces is under way, according to a report in The Irish Times. About 22,000 additional Nato member troops have been moved into eastern Europe, bringing military equipment with them, while at least 20 countries – mostly Nato members – are supplying arms to Ukraine.
#NATO's response to Russia's invasion so far:
•Defense plans activated
•NATO Response Force deployed
•100+ jets protecting our airspace
•120+ Allied ships protecting at sea
•NATO Allies sending troops & equipment to defend our eastern flank. pic.twitter.com/VbUOMCIVs4

— US Mission to NATO (@USNATO) March 3, 2022
---
9.01pm: The mayor of the Ukrainian town of Energodar said a column of Russian troops was headed toward the nearby Zaporizhzhia nuclear power plant, Europe's largest, late on Thursday.
Earlier, the Ukrainian authorities reported that Russian troops were stepping up efforts to seize the plant in southeast Ukraine and had entered Energodar with tanks. "Loud shots can be heard in the town," said Mayor Dmytro Orlov in an online post.
---
8.50pm: SpaceX chief Elon Musk warned there was a high chance the company's Starlink satellite broadband service could be "targeted" in Ukraine. The warning came days after an internet security researcher warned that devices receiving satellite communications could become "beacons" that Russia could target for airstrikes.
Important warning: Starlink is the only non-Russian communications system still working in some parts of Ukraine, so probability of being targeted is high. Please use with caution.

— Elon Musk (@elonmusk) March 3, 2022
---
8.34pm: Ukraine has informed the International Atomic Energy Agency that staff who have been kept at the Chernobyl nuclear power plant since Russian troops took control of the site a week ago are facing "psychological pressure and moral exhaustion".
---
8.10pm: Ukrainian citizens and Russian soldiers in the occupied city of Kherson are "getting used to each other" but concern is growing about food shortages, according to a local man. The Russian military has claimed control of the Black Sea port, taking over local government buildings, after forces entered the city on Tuesday.
---
7.50pm: The Polish foreign ministry said Polish citizens should leave Russia and Belarus due to the situation in Ukraine. "We recommend Polish citizens staying on the territory of the Russian Federation should leave its territory using available commercial and private transport," it said, adding travel options were limited due to flights between the two countries being suspended.
It issued a similar recommendation regarding Belarus, adding: "In the event of a drastic deterioration of the security situation, a closure of borders or other unforeseen situations, evacuation may turn out to be considerably difficult or even impossible."
---
7.40pm: Russian forces are trying to blockade the southeastern Ukrainian port city of Mariupol, knocking out power, water and heating supplies with bombardment that is preventing residents from fleeing, local authorities said.
The city authorities likened the Russian onslaught to Nazi Germany's protracted deadly siege of the then-Soviet city of Leningrad during World War Two.
"Mariupol remains under fire. Women, children and the elderly are suffering. We are being destroyed as a nation. This is genocide of the Ukrainian people," the city's council said in a statement.
---
7.20pm: The Pentagon has established a direct line of communications with Russia's ministry of defence to prevent "miscalculation, military incidents and escalation" in the region as Russia's invasion of Ukraine advances, a US official told Reuters on Thursday.
"The Department of the Defence recently established a de-confliction line with the Russian ministry of defence on March 1st for the purposes of preventing miscalculation, military incidents, and escalation," a senior US defence official said, speaking on condition of anonymity. The move was first reported by NBC.
---
7.05pm: At least 33 bodies have been recovered from rubble in the wake of air strikes by Russian forces on the Ukrainian city of Chernihiv on Thursday, the Ukrainian emergency services said in an online post, updating a previous estimate of 22 killed. Rescue work has been temporarily suspended due to heavy shelling in the area, it said.
---
6.52pm: A third round of ceasefire talks between Russia and Ukraine is due to take place early next week, Belarusian state news agency Belta quoted Ukrainian negotiator Mykhailo Podolyak as saying.
---
6.40pm: Russian forces have opened fire in the Ukrainian town of Energodar next to Europe's largest nuclear power plant after entering in tanks, Ukrainian interior ministry adviser Anton Herashchenko said in online posts.
---
6.20pm: Russia has agreed to support the idea of humanitarian corridors for civilians and a possible ceasefire around them, chief Russian negotiator Vladimir Medinsky said following talks with Ukraine on Thursday, describing it as "substantial progress."
Earlier a Ukrainian negotiator said the topic had been discussed but the talks had not yielded the results Kyiv hoped for.
---
6.10pm: A Ukrainian negotiator said that a second round of ceasefire talks with Russia had not yielded the results Kyiv hoped for, but the sides had discussed humanitarian corridors and agreed to speak again. "To our great regret, we did not get the results we were counting on," Ukrainian presidential adviser Mykhailo Podolyak said.
The second round of negotiations is over. Unfortunately, the results Ukraine needs are not yet achieved. There is a solution only for the organization of humanitarian corridors... pic.twitter.com/0vS72cwYSX

— Михайло Подоляк (@Podolyak_M) March 3, 2022
---
5.45pm: Britain's Queen Elizabeth has given a "generous donation" to support people fleeing the conflict in Ukraine, according to a coalition of British aid charities that have launched an appeal for funds. "Many thanks to Her Majesty The Queen for continuing to support the Disasters Emergency Committee and for making a generous donation to the DEC Ukraine Humanitarian Appeal," it said.
Many thanks to Her Majesty The Queen for continuing to support the Disasters Emergency Committee and for making a generous donation to the DEC Ukraine Humanitarian Appeal. @RoyalFamily #UkraineAppeal

— DEC (@decappeal) March 3, 2022
---
5.40pm: Ukrainian President Volodymyr Zelenskiy said Ukraine and Russia could find a way out of the war if the Kremlin treated Ukraine on an equal footing and came to talks with a will to negotiate in good faith.
"There are things in which some compromises must be found so that people do not die, but there are things in which there are no compromises," Zelenskiy said in a televised interview, saying he was willing to have an open conversation with Russia's Vladimir Putin.
---
5.30pm: President Vladimir Putin said that Russia's military operations in Ukraine were going according to plan and praised its soldiers as heroes. In televised comments, Putin made a series of allegations against Ukrainian forces for which he did not provide evidence, including that they were holding foreign citizens hostage and using human shields.
---
5.15pm: The Ukrainian military said on Thursday it believed that Belarusian troops have already received the order to cross Ukrainian border. Ukraine has said Russia is using Belarusian territory for missile attacks on Ukrainian cities and Minsk allowed Russian troops to enter Ukrainian territory.
---
5.05pm: The United States believes that Russian forces have not yet taken over the Ukrainian city of Kherson, but could use it as part of a strategy for potentially moving to Mykolaiv and then onto Odessa, a senior US defence official said on Thursday, speaking on the condition of anonymity.
---
5.00pm: Moldovan President Maia Sandu signed a formal application for her country to join the European Union on Thursday, charting a pro-Western course hastened by Russia's invasion of neighbouring Ukraine. Moldova won independence from the Soviet Union in 1991.
The time is now: #Moldova officially signs the application for membership to join the #European Union. 🇲🇩 citizens are prepared to work hard towards a stable and prosperous future in the 🇪🇺 & the family of European states. pic.twitter.com/35a2q9WCaW

— Maia Sandu (@sandumaiamd) March 3, 2022
---
4.45pm: European Union interior ministers have unanimously backed an EU plan to offer temporary protection, including residency rights, to Ukrainians fleeing the Russian invasion, EU Home Affairs Commissioner Ylva Johansson said on Thursday.
---
4.30pm: The head of Russia's foreign intelligence agency said on Thursday it was wrong to speak of a new Cold War between Russia and the West because the situation was already "hot".
"Western politicians and commentators like to call what is happening a 'new cold war.' It seems that historical parallels are not entirely appropriate here," Sergei Naryshkin said on his agency's website.
"If only because in the second half of the 20th century Russia fought with the West on the distant approaches, and now the war has come to the very borders of our Motherland. So for us it is definitely not 'cold', but quite 'hot'".
---
4.25pm: The United States is planning to impose economic sanctions on a wider array of Russian oligarchs and their families on Thursday, a source familiar with the matter told Reuters. Russian officials close to Putin would likely be among those targeted. The sanctions are expected to overlap with some of those already sanctioned by the European Union.
---
4.14pm: The UN human rights office said it had confirmed 249 civilians have been killed and 553 injured in Ukraine during the first week of the conflict following Russia's invasion.
It said most of the civilian casualties "were caused by the use of explosive weapons with a wide impact area, including shelling from heavy artillery and multi-launch rocket systems, and missile and air strikes."
🇺🇦#Ukraine: The #Russian Federation military attack is generating massive impact on the human rights of millions. "My thoughts are with all people who suffer unbearable fear, pain & deprivation because of the senseless destruction of warfare" – @mbachelet: https://t.co/iLYRiWaMB2 pic.twitter.com/GJr0Kmo8gY

— UN Human Rights (@UNHumanRights) March 3, 2022
---
4.00pm: Russian forces are stepping up efforts to seize control of Zaporizhzhia nuclear power plant in southeastern Ukraine. Troops were trying to break through a barricade to the plant erected by local residents and territorial defence forces, Ukrainian interior ministry adviser Anton Herashchenko said in an online post. Russia has already captured the defunct Chernobyl plant.
---
3.50pm: A truck carrying six lions, six tigers, two caracals and an African wild dog from a sanctuary east of Kyiv reached Poland on Thursday after a two-day drive to escape the Russian invasion, a Polish zoo official said.
The owner of the sanctuary had asked for help from Poznan zoo in western Poland to get the animals to safety. Helping the driver were three older men with no experience in handling wild animals, and who have now gone back to Kyiv to defend their city.
---
3.48pm: At least 22 bodies have been recovered from rubble in the wake of Russian air strikes in Ukraine's Chernihiv region, the Ukrainian emergency services said in an online post. It said rescue work was ongoing, without specifying where exactly the attack took place. Earlier the regional governor said at least nine people had been killed by an air strike on two schools and private houses.
---
3.43pm: France and Germany have seized two superyachts owned by Russian oligarchs, French authorities and Forbes magazine said, hitting Russia's super-rich under sanctions imposed on Moscow over its invasion of Ukraine. At least five other superyachts owned by Russian billionaires are anchored or cruising in the Maldives, an Indian Ocean island nation.
---
3.29pm: Landmark cathedrals across Europe chimed in unison on Thursday in a gesture of solidarity with Ukraine, as bystanders gathered to mourn those killed during Russia's invasion and pray for peace. In Paris, the Notre-Dame cathedral, badly damaged by fire in 2019, tolled its great bourdon bell while in Madrid a crowd gathered outside the city's La Almudena cathedral.
En communion avec d'autres cathédrales, le bourdon Emmanuel retentira ce jeudi 3 mars à midi, pour appeler à la paix en Europe.
---
In communion with other cathedrals, the "bourdon Emmanuel" will ring out this Thursday, March 3, at noon, to call for peace in Europe pic.twitter.com/nXzZjsJR1A

— Cathédrale NotreDame (@notredameparis) March 2, 2022
---
3.10pm: Russia's foreign ministry spokeswoman Maria Zakharova said that British broadcaster the BBC was being used to undermine the internal political situation in Russia. Moscow says that foreign media, including from Britain, offer a partial view of the world.
---
2.58pm: Talks between Ukraine and Russia have started and the Ukrainian delegation's agenda is to agree an immediate ceasefire and humanitarian corridors to allow civilians to leave frontline communities, Ukrainian presidential adviser Mykhailo Podolyak said on Twitter.
Start talking to Russian representatives. The key issues on the agenda:
1. Immediate ceasefire
2. Armistice
3. Humanitarian corridors for the evacuation of civilians from destroyed or constantly shelled villages/cities. pic.twitter.com/Pv0ISNjsod

— Михайло Подоляк (@Podolyak_M) March 3, 2022
---
2.45pm: Ukraine's parliament on Thursday approved a bill to allow the seizure of assets or property in Ukraine owned by Russia or Russian citizens due to the invasion of Ukraine. Under the law, the government can suggest which assets to confiscate to the Security Council, which must then give its approval for their transfer to state ownership.
---
2.40pm: French President Emmanuel Macron told Russia's Vladimir Putin he was making a "major mistake" in Ukraine, that he was deluding himself about the government in Kyiv and that the war would cost Russia dearly over the long term, a French official said.
"There was nothing in what President Putin said that could reassure us," the French presidential adviser said of the phone call initiated by Putin on Thursday, adding that Putin had reiterated his "narrative" that he was seeking the "de-nazification of Ukraine".
"'You are lying to yourself'," Macron told Putin, the official said. "'It will cost your country dearly, your country will end up isolated, weakened and under sanctions for a very long time'."
---
2.30pm: Russian President Vladimir Putin told French leader Emmanuel Macron that Russia would achieve the goals of its military intervention in Ukraine whatever happens, the Kremlin said.
In a statement issued after the French and Russian presidents spoke by phone, the Kremlin made clear its goals included the demilitarisation and neutrality of Ukraine.
"It was emphasised that the tasks of the special military operation will be fulfilled in any event, and attempts to gain time by dragging out negotiations will only lead to additional demands on Kiev in our negotiating position."
The statement said Russia's "special operation" in Ukraine was going "according to plan". It said reports that Russian forces were bombarding Kyiv were part of an "anti-Russia disinformation campaign", and that Russian forces were doing all they could to protect civilians.
---
2.23pm: The Ukrainian delegation of negotiators has arrived by helicopter for talks with the Russian side in Belarus, Russian state news agency TASS said on Thursday, citing its reporter on the ground.
---
2.20pm: Ukraine's "IT army" of volunteer hackers announced a new set of targets on Thursday - including the Belarusian railway network and Russia's homegrown satellite-based navigation system, GLONASS.
Ukraine has called on its hacker underground to help protect critical infrastructure and conduct cyber spying missions against Russian troops. Kyiv announced the formation of its "IT army" on Saturday.
---
1.50pm: The Russian rouble slumped to new record lows against the dollar and euro on Thursday after Fitch and Moody's downgraded Russia's sovereign debt to "junk" status, with steps by the central bank and finance ministry failing to halt its slide.
---
1.30pm: At least nine people have been killed and four wounded after a Russian air strike hit two schools and private houses in Ukraine's Chernihiv region on Thursday, governor Viacheslav Chaus said in an online post.
"Rescue work is ongoing. According to the state emergency services, there are for now nine people killed and four wounded," he said.
---
1.15pm: The United States warned Russia and Belarus at a UN arms control meeting on Thursday not to deploy nuclear arms in Moscow's neighbouring ally following the Russian invasion of Ukraine.
---
1.05pm: A brave 70-year-old Ukrainian widow has told her daughter she is ready to fight the Russians and sacrifice her life to give children a chance to survive in the embattled country.
Luba Healy has revealed her mum Nina has a wheelbarrow and blanket at the front door to wheel her 98-year-old nan Galina to safety as Russian forces edge closer to her hometown.
However, her mother has refused Luba's attempts to get both of them safely home to Trim, Co Meath where Luba has lived for the last 22 years.
---
12.50pm: Russian forces are trying to create a blockade around the Ukrainian port city of Mariupol, attacking rail links to prevent civilians evacuating, Mayor Vadym Boichenko said in a video broadcast on Thursday.
Constant attacks over the past 24 hours have cut off water and power supply and the local authorities need a ceasefire to restore power, he said.
"The invaders are systematically and methodically trying to blockade the city of Mariupol," he said.
---
12.30pm: Shells exploded nearby, shaking buildings and sending debris flying around a group of Indian students making a dash out of central Kharkiv on foot after warnings from their government to flee the Ukrainian city hit hard by the Russian invasion.
Aditya Narayan Patra, a 21-year-old medical student from eastern India, said he was near the front of the group fleeing on Wednesday when the explosions rang out.
"The bomb fell only around 100 meters from me," Patra told Reuters via phone on Thursday, describing a particularly harrowing moment in the journey that around a thousand students took to reach relative safety on the outskirts of Kharkiv.
---
12.15pm: Ukraine's central bank decided to postpone a review of its main interest rate and keep it unchanged at 10 per cent on Thursday in an effort to maintain financial stability and the smooth operation of the banking system amid the Russian invasion.
It said the bank remained committed to its inflation targeting regime but in the current conditions, with forced administrative restrictions in place, market-based monetary instruments such as the key policy rate no longer play a significant role.
"With this in mind, the central bank has postponed its key policy rate decision. The key policy rate will therefore stay unchanged at 10 per cent," it said in a statement.
---
12.05pm: A Ukrainian delegation is on its way to talks with Russia by helicopter and negotiations will kick off in a couple of hours, Ukrainian presidential adviser Mykhailo Podolyak said in an online post on Thursday.
---
11.55am: Vilnius will change the name of the road the Russian embassy is on to Heroes of Ukraine street, its mayor said on Thursday.
"Everyone who writes to the embassy will have to give a thought to the victims of the Russian aggression, and about the heroes of Ukraine", Remigijus Simasius wrote on his Facebook page.
The unnamed dead-end alley next to the embassy will formally receive this name on Wednesday, changing the address of the embassy, the mayor said.
Mail will only be delivered to the embassy if addressed to the new street, he added.
---
11.40am: Hungary does not support the European Commission's proposal to give temporary protection for people fleeing Ukraine as there are clear asylum rules already in place and Hungary will give refugee status to everyone, prime minister Viktor Orban's chief of staff said on Thursday.
Gergely Gulyas added that countries of the Visegrad Four group jointly do not support the proposal.
The European Commission on Wednesday proposed to grant temporary protection to people fleeing war in Ukraine, including a residence permit and access to employment and social welfare.
---
11.30am: Russian forces have occupied the regional administration building in Ukraine's port city of Kherson, regional governor Hennadiy Laguta said in an online post on Thursday.
Russia's defence ministry said it had captured Kherson on Wednesday, but Ukraine has said its forces continue to defend the Black Sea port of about 250,000 people.
---
11.10am: The European Union is calling for an immediate ceasefire in Ukraine, the EU's top diplomat Josep Borrell said on Thursday.
"This war needs to stop now. I call for an immediate ceasefire. I call for immediate establishment of humanitarian corridors," Borrell wrote on Twitter.
Borrell added the bloc is standing by Moldova, which is hosting more than 20,000 refugee children fleeing the war.
This morning I visited a refugee centre in Chisinău

Shattered by the stories of the people who have been forced to flee Ukraine, as Russian forces continue to shell civilians

People of Moldova are showing extraordinary generosity, providing safe passage to almost 120.000 people pic.twitter.com/8mhpFwRLHV

— Josep Borrell Fontelles (@JosepBorrellF) March 3, 2022
---
11am: Ukrainian foreign minister Dmyro Kuleba on Thursday said Germany had told Ukraine it would send more weapons to support the fight against invading Russian forces.
Kuleba did not say what kind of weapons Germany planned to send or when they would be delivered.
---
10.40am: Ukraine's southern port of Mariupol is surrounded by Russian troops, interior ministry adviser Anton Herashchenko said on Thursday.
"The occupiers want to turn it into besieged Leningrad," he said, referring to Nazi Germany's siege of the then-Soviet city where about 1.5 million people died during two years of blockade.
---
10.20am: Russian foreign minister Sergei Lavrov said on Thursday he believed some foreign leaders were preparing for war against Russia and that Moscow would press on with its military operation in Ukraine until "the end".
Lavrov also said Russia had no thoughts of nuclear war.
Offering no evidence to back up his remarks in an interview with state television, a week after Russian invaded Ukraine, he also accused Ukrainian president Volodymyr Zelenskiy, an ethnic Jew, of presiding over "a society where Nazism is flourishing".
---
10.10am: The European Union says it has anecdotal evidence showing that Russian border guards are questioning people planning to leave the country and even denying some the right to do so, an EU official said on Thursday.
"We've already got some anecdotal evidence that Russian border guards are ... questioning people's motives for leaving the country at the moment, and that some people are being denied," the official said.
---
9.55am: The European Union is seeing signs on social media that Russia could introduce martial law in the country after its invasion of Ukraine, an EU official said on Thursday.
The official said the bloc was picking up speculation on social media about potential Russian plans, which it said would be "completely home-produced".
"As is the tragic loss of young lives killed in the military conflict, with Russian mothers having to learn about the loss of their sons. So it is something we're conscious of. And it's something we're worried about," the official said.
---
9.40am: The European Union is considering excluding banks in Belarus from the SWIFT messaging system that underpins the global financial transactions, as it has already done for seven Russian banks, an EU official said on Thursday.
"On the SWIFT side, we're also looking now at the preparation of the equivalents for the Belarus financial sector, but knowing that SWIFT is not as strategically important in the Belarus economy as it is in the Russian side," the official said.
---
9.30am: Russian president Vladimir Putin has deployed thermobaric weapons systems in Ukraine and London is worried about how broadly they could be used, British defence secretary Ben Wallace said on Thursday.
"How far (Putin) will go, what weapons he will authorise to achieve his ultimate aim, is unknown, but we've seen the use of massive amounts of artillery. We've seen the deployment of thermobaric artillery weapon systems, and we worry how broad those could go," Wallace said during a visit to Estonia.
---
9.15am: The Moscow branch of a Chinese state bank has seen a surge in enquiries from Russian firms wanting to open new accounts, a person familiar with the matter said, as the country's businesses struggle with international sanctions after its invasion of Ukraine.
"Over the past few days, 200-300 companies have approached us, wanting to open new accounts," the person, who works at the Moscow branch of a Chinese state bank and has direct knowledge of its operations, told Reuters.
He declined to be named or have his bank identified as he is not authorised to speak with media.
---
9am: Britain's Damian Hinds security minister said on Thursday he did not understand what the donation of net proceeds from Russian businessman Roman Abramovich's sale of Chelsea football club to help victims of the war in Ukraine meant.
When asked if he understood what the donation of net proceeds meant, Hinds told ITV: "No, because you can define net proceeds in different ways."
When asked about possible sanctions against Abramovich, he said he it would be "neither right nor wise" to comment on individual cases.
---
8.45am: Ukrainian diplomats formerly based in Moscow arrived in Latvia on Wednesday evening, Latvia's foreign minister said.
"Latvia welcomes Ukrainian diplomats who left Moscow and crossed Latvian-Russian border last night," minister Edgars Rinkevics tweeted on Thursday.
Latvia said on Saturday it would give refuge to the diplomats after receiving their plea for help.
---
8.35am: Moscow warned the West against further escalating tensions with it, Interfax news agency quoted Russia's deputy foreign minister Sergei Ryabkov as saying on Thursday.
---
8.20am: The Lithuanian prosecutor general's office said on Thursday it had begun investigating suspected crimes against humanity and war crimes in Ukraine following Russia's invasion.
"The investigation was launched with regards to the military aggression in Ukraine," it said in a statement.
The probe will include "military attacks on civilians, doctors, destruction of homes, hospitals, educational institutions and other civilian facilities, which lead to deaths of adults and children," it said.
---
8.10am: The Chinese foreign ministry said on Thursday that reports on Chinese and Russian coordination ahead of Russia's attack on Ukraine are "fake news."
Such practices of diverting attention and shifting blame are "despicable", said Wang Wenbin, spokesperson at the foreign ministry, at a regular media briefing.
Senior Chinese officials told senior Russian officials in early February not to invade Ukraine before the end of the Winter Olympics in Beijing, the New York Times reported, quoting Biden administration officials and a European official who cited a Western intelligence report.
---
7.55am: Britain on Thursday said it would cut Russian companies out of the London insurance market, the world's largest commercial and speciality insurance centre.
Russian companies in the aviation or space industry will be blocked from accessing British-based insurance or reinsurance services directly or indirectly, Britain's finance ministry said.
"The UK government will bring in legislation to prohibit UK based insurance and reinsurance providers from undertaking financial transactions connected with a Russian entity or for use in Russia," the treasury department said.
"Further details of the legislation will be available in due course."
---
7.40am: Around 575,100 people have enetered Poland from Ukraine since Russia launched its invasion of the country on Febraury 24th, the Polish border guard said on Thursday.
The Border Guard said that on Wednesday around 95,000 people entered, and that as of 0600 GMT on Thursday about 27,100 people had crossed the frontier.
---
7.35am: Germany is considering supplying 2,700 anti-aircraft missiles to Ukraine as it seeks to defend itself against an invasion by Russia, a government source said on Thursday.
German news agency DPA reported earlier that the economy ministry had approved supplying the Soviet-made Strela missiles, part of the inventories of the former German Democratic Republic's army.
A source told Reuters that the Federal Security Council had yet to approve the move. "The missiles are ready to be transported," the source said.
That would come on top of 1,000 anti-tank weapons and 500 Stinger surface-to-air missiles that Germany said on Saturday it would supply to Ukraine, in a shift of policy after Russia invaded its neighbour.
---
7.25am: Russian forces have struck a radio and television centre in Kyiv and captured the town of Balakliya near the city of Kharkiv in eastern Ukraine, the Interfax news agency quoted Russia's defence ministry as saying on Thursday.
Russian missiles struck a TV tower in Kyiv this week in what Moscow said was a targeted attack against Ukraine's information warfare.
---
7.10am: Russia's advance on the Ukrainian capital has made little progress over the past three days and the cities of Kharkiv, Chernihiv and Mariupol remain in Ukrainian hands, according to British military intelligence.
---
7am: Ukraine needs humanitarian corridors supported by bodies such as the Organization for Security and Co-operation in Europe (OSCE) in the wake of Russia's invasion, an adviser to Ukraine's presidential office said on Thursday.
"The villages and towns where Russian troops' columns are stationed immediately turn into places of looting, robbery, murder," Mykhailo Podolyak wrote on Twitter.
"We need humanitarian corridors - food, medicine, ambulance, evacuation. We need active help of international organizations, including #OSCE. Enough talking."
---
6.40am: Russian westbound gas flows via the Yamal-Europe pipeline to Germany from Poland have declined sharply on Thursday, data from the Gascade pipeline operator showed.
According to the data, gas supplies fell to mere 598,712 kilowatt-hours per hour (kWh/h) from around 17.5 million kWh/h previously at Mallnow metering point.
There are preliminary bids for both east- and westbound supplies via the pipeline for the next 24 hours of more than 6 million kWh/h.
---
Russian troops were in the centre of the Ukrainian port of Kherson on Thursday after a day of conflicting claims over whether Moscow had captured a major urban centre for the first time in its eight-day invasion.
Russia's defence ministry said it controlled Kherson on Wednesday but an adviser to Ukrainian president Volodymyr Zelenskiy responded that Ukrainian forces continued to defend the Black Sea port of about 250,000 people.
"We are a people who broke the enemy's plans in a week," Zelenskiy said in a video address.
"These plans had taken years to write - they are mean, with hatred for our country, for our people."
A Ukrainian delegation had left for a second round of talks with Russian officials on a ceasefire, Ukrainian presidential adviser Mykhailo Podolyak told Reuters.
Russian forces have yet to overthrow the government in Kyiv, but thousands are reported to have died or been injured and more than a million people have fled Ukraine amid the biggest attack on a European state since 1945.
At Borodyanka, a town 58 km northwest of Kyiv, a resident gave a breathless account of their encounter with the enemy, as Reuters Television footage showed shell damaged building, fires burning in the streets and destroyed military vehicles.
"They (Russian military) started shooting from their BMP (military vehicle), towards the park in front of the post office in the centre of Borodyanka," said a Ukrainian man, who did not give his name.
"Then those b**tards started the tank and started shooting into the Fora (supermarket) which was already burned. It caught fire again."
Barrage of sanctions
The capture of Kherson, a strategic southern provincial capital where the Dnipro River flows into the Black Sea, would be the first significant urban centre to fall since Moscow launched its invasion on February 24th.
Mayor Igor Kolykhayev said late on Wednesday that Russian troops were in the streets and had entered the council building. He called on civilians to walk through the streets only in daylight and in ones and twos.
"There were armed visitors in the city executive committee today," he said in a statement.
"I didn't make any promises to them ... I just asked them not to shoot people."
Russia's attack has led to a barrage of international sanctions that threaten the global economic recovery from the Covid pandemic, and stoked fears of wider conflict as Western countries send arms to help the Ukrainian military.
The US State Department called on Putin and the Russian government to "immediately cease this bloodshed" and withdraw forces from Ukraine.
It also accused Moscow of launching a "full war on media freedom and the truth" by blocking independent news outlets and social media to prevent Russians from hearing news of the invasion of Ukraine.
Russia calls its actions in Ukraine a "special operation" that is not designed to occupy territory but to destroy its neighbour's military capabilities and capture what it regards as dangerous nationalists.
It denies targeting civilians although there have been widespread reports of civilian casualties and the shelling of residential areas.
Bombing in Kharkiv, a city of 1.5 million people, has left its centre a wasteland of ruined buildings and debris.
Russians have shelled the city of Izyum, about 120 km southeast of Kharkiv, killing six adults and two children, Ukraine's parliament said. Reuters was unable to verify the casualties.
The UN Human Rights Office has confirmed the deaths of 227 civilians and 525 injuries during the conflict as of midnight on March 1st, cautioning that the real toll would be much higher due to reporting delays.
An explosion also rocked the Kyiv railway station where thousands of women and children were being evacuated. The blast was caused by wreckage from a downed Russian cruise missile, a Ukrainian interior ministry adviser said, and there were no immediate reports of casualties.
An investigation into possible war crimes will immediately be opened by the International Criminal Court, following requests by 39 of the court's member states, an unprecedented number.
International response
A UN resolution reprimanding Moscow was supported by 141 of the assembly's 193 members, a symbolic victory for Ukraine that increases Moscow's international isolation.
"More is at stake even than the conflict in Ukraine itself. This is a threat to the security of Europe and the entire rules-based order," US secretary of state Antony Blinken said.
Russian foreign minister Sergei Lavrov said Moscow still sought Ukraine's "demilitarisation" and that there should be a list of specified weapons that could never be deployed on Ukrainian territory. Moscow opposes Kyiv's bid to join Nato.
Oil and commodity prices spiralled ever higher on Thursday in a grim omen for global inflation.
For Russians, the fallout has included queues outside banks, a plunge in the value of the rouble which threatens their living standards, and an exodus of Western firms who refuse to do business in the country.
Japanese automakers including Toyota were forced to halt production in Russia as sanctions scrambled logistics and cut off supply chains.
Russia's central bank, itself under sanctions, has doubled interest rates to 20 per cent and Fitch and Moody's rating agencies downgraded Russia's sovereign credit rating to 'junk' status.
Forbes reported Germany had seized Russian billionaire Alisher Usmanov's mega yacht in a Hamburg shipyard, while at least five superyachts owned by billionaires were anchored or cruising in Maldives, an Indian Ocean island nation that does not have an extradition treaty with the United States, data showed.
Russian businessman Roman Abramovich said he would sell London's Chelsea Football Club and donate money to help victims of the war in Ukraine. - Reuters