France pledged additional military aid for Ukraine on Sunday as French president Emmanuel Macron and Ukrainian president Volodymyr Zelenskiy met in a surprise meeting in Paris.
Mr Macron has offered light tanks, armoured vehicles, training for soldiers and other assistance as the Ukrainians gear up for a counteroffensive against Russian forces.
Mr Zelenskiy and Mr Macron met for about three hours at the French presidential Elysee Palace — an encounter kept under wraps until shortly before the Ukrainian leader's arrival in Paris from Germany on a French government jet which extended his multi-stop European tour.
With Ukraine planning to go on the offensive hoping to retake Russian-occupied territory, military aid was a top agenda item.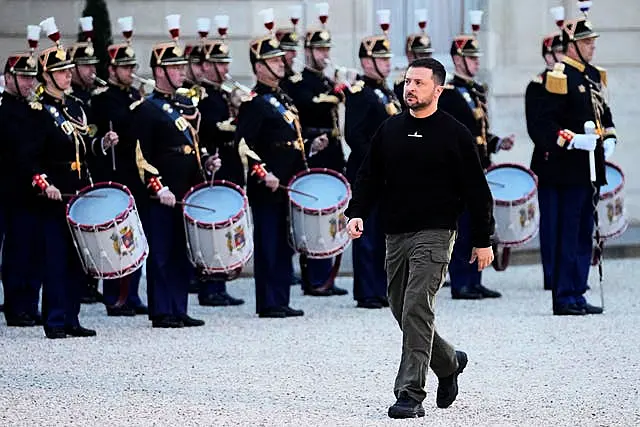 Mr Macron's office said France will supply dozens of light tanks and armoured vehicles "in the weeks ahead", without giving specific numbers.
Also promised were more air defence systems, but again details were not made public.
More Ukrainians will also be made battle-ready, with France aiming to train about 2,000 Ukrainian soldiers in France this year and nearly 4,000 others in Poland as part of a wider European effort, Mr Macron's office said.
In a statement, France described its support for Ukraine's independence, sovereignty and territorial integrity as "unwavering" and promised that its political, economic, humanitarian and military aid will continue "for as long as necessary".
In a tweet on his arrival, Mr Zelenskiy said: "With each visit, Ukraine's defence and offensive capabilities are expanding. The ties with Europe are getting stronger, and the pressure on Russia is growing."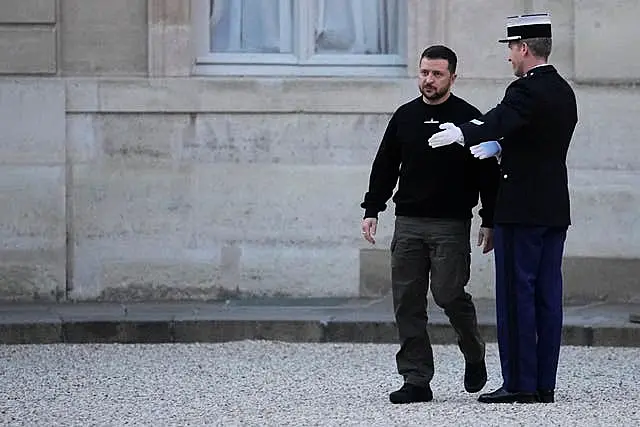 He said he and Mr Macron "will talk through the most important points of bilateral relations".
The French leader's office said they will discuss Ukraine's military and humanitarian needs and "the more long-term perspectives for a return to peace in Europe", and that Mr Macron will "reaffirm France and Europe's unwavering support" for Ukraine in its fight against the Russian invasion.
France has supplied Ukraine with an array of weaponry, including air defence systems, light tanks, howitzers and other arms and equipment and fuel.
Mr Macron and Mr Zelenskiy did not speak to waiting reporters as they greeted each other at the French presidential palace.
France dispatched a plane to pick up Mr Zelenskiy in Germany, where he met chancellor Olaf Scholz earlier on Sunday and discussed his country's planned counteroffensive.
Mr Zelenskiy said Ukraine will aim to liberate Russian-occupied areas within Ukraine's internationally recognised borders, and not attack Russian territory.