The NHS in 2028: Apps, artificial intelligence and genome sequencing
14/09/2017 - 15:11:55Back to Tech Home
Greater use of apps, artificial intelligence and genome sequencing could be commonplace in health care within years, according to health secretary Jeremy Hunt.
In just over a decade, in 2028, the NHS will turn 80. But what will the future hold?
"The changes in medical innovation are likely to transform humanity by as much in the next 25 years as the internet has in the last 25 years," said Hunt.
#Expo17NHS with Secretary of State for Health, Jeremy Hunt, discussing #LTCs and #digitalhealth #DigitalHealthApps pic.twitter.com/rSnIgbyipx

— Health and Care Innovation Expo (@ExpoNHS) September 12, 2017
"What might medicine look like when the NHS is 80 [in 2028]? Well, the first thing is we may well not be going to doctors for a diagnosis, we might be going to computers instead.
"And when we do go to a doctor, he or she may well be comparing your medical record with our fully sequenced genome and giving us much more accurate predictive information.
"We may well be in a world where if we show any symptoms of a disease, we consider that a sign of failure – because the name of the game will be to catch diseases when we are asymptomatic and we have a much better chance of being able to nip illness in the bud."
Hunt paints a picture where genome sequencing is commonplace and those computer "appointments" are looking and comparing biomarkers in a patient's blood to big data information about everyone else's.
Speaking at the NHS Expo in Manchester, Hunt said that he wants patients to be able to view their GP interactions on an app "as simply as you can look at your entire order history on Amazon".
Patients should also be able to change their preferences for end-of-life care and organ donation through apps, he said.
"In organ donation where there is a big debate about opt-out and opt-in, we think that it should be as easy as loading up an app on your smartphone to change your preferences," he added.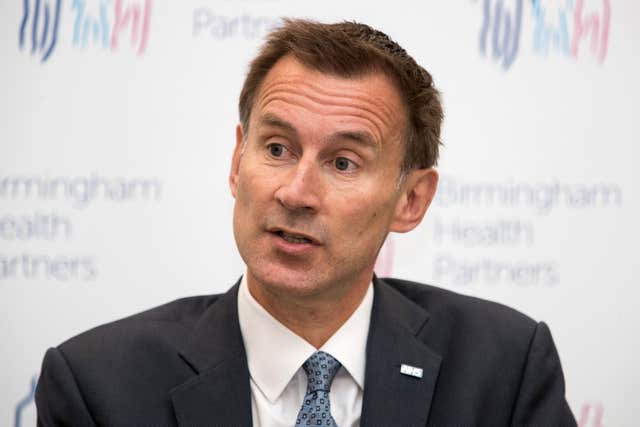 The futuristic vision is replicated by NHS England medical director Professor Sir Bruce Keogh. He said: "We know from a number of studies that have been done that in certain circumstances AI is better than doctors at diagnosing certain conditions.
"It's possible that certain types – and there are many different types of AI – will be able to read X-rays. I've been told by people who are developing this sort of stuff that's within a four-year timeframe."
AI could also be used for reading histopathology slides – suspected diseased tissue such as breast lumps or specimens of bowel removed because of possible cancer.
NHS chief executive Simon Stevens said NHS England would be ploughing funds into the faster application of AI in the health service over the next year.
Want us to email you the top news stories each lunchtime?