Apple Park's Steve Jobs Theatre blew people away well before the new iPhone's launch
12/09/2017 - 18:49:24Back to Tech Home
Apple's hugely anticipated launch of its new iPhone models was preceded by a clamour of excitement – exacerbated not least by the venue in which the event was to take place.
The Steve Jobs Theatre is part of the new Apple Park campus in California. Named after Apple's iconic co-founder Steve Jobs, who died in 2011, it is here that the launch went ahead.
It's a big day at Apple! We are honored and thrilled to host our first keynote at the Steve Jobs Theater this morning. pic.twitter.com/gyiqPJB46y

— Tim Cook (@tim_cook) September 12, 2017
Apple CEO Tim Cook would go on to say in his opening speech that the Apple Park boasts a 175-acre green space which he said promotes "technology and the environment" – being powered by 100% renewable energy.
This is what it's like to walk into the Steve Jobs Theater #AppleEvent pic.twitter.com/n9h6QyhYP2

— Jeremy Kaplan (@SmashDawg) September 12, 2017
For journalists, some of whom have nicknamed the campus complex "the spaceship", arriving at the event was a moment for both anticipation and awe.
Into the Steve Jobs theatre. Considerable whooping happening here. For the room, that is. pic.twitter.com/WZtBb4Mwko

— Tim Bradshaw (@tim) September 12, 2017
Looking up at Steve Jobs Theater. It is enchanting to behold. Gratitude. #AppleEvent pic.twitter.com/BnU1x5PKsk

— Brian Roemmele (@BrianRoemmele) September 12, 2017
Video of the Steve Jobs Theater pic.twitter.com/AmrizoY2ej

— Mark Gurman (@markgurman) September 12, 2017
A host could be seen taking pictures of the vast complex – and looking at some images from the site it's not hard to see why.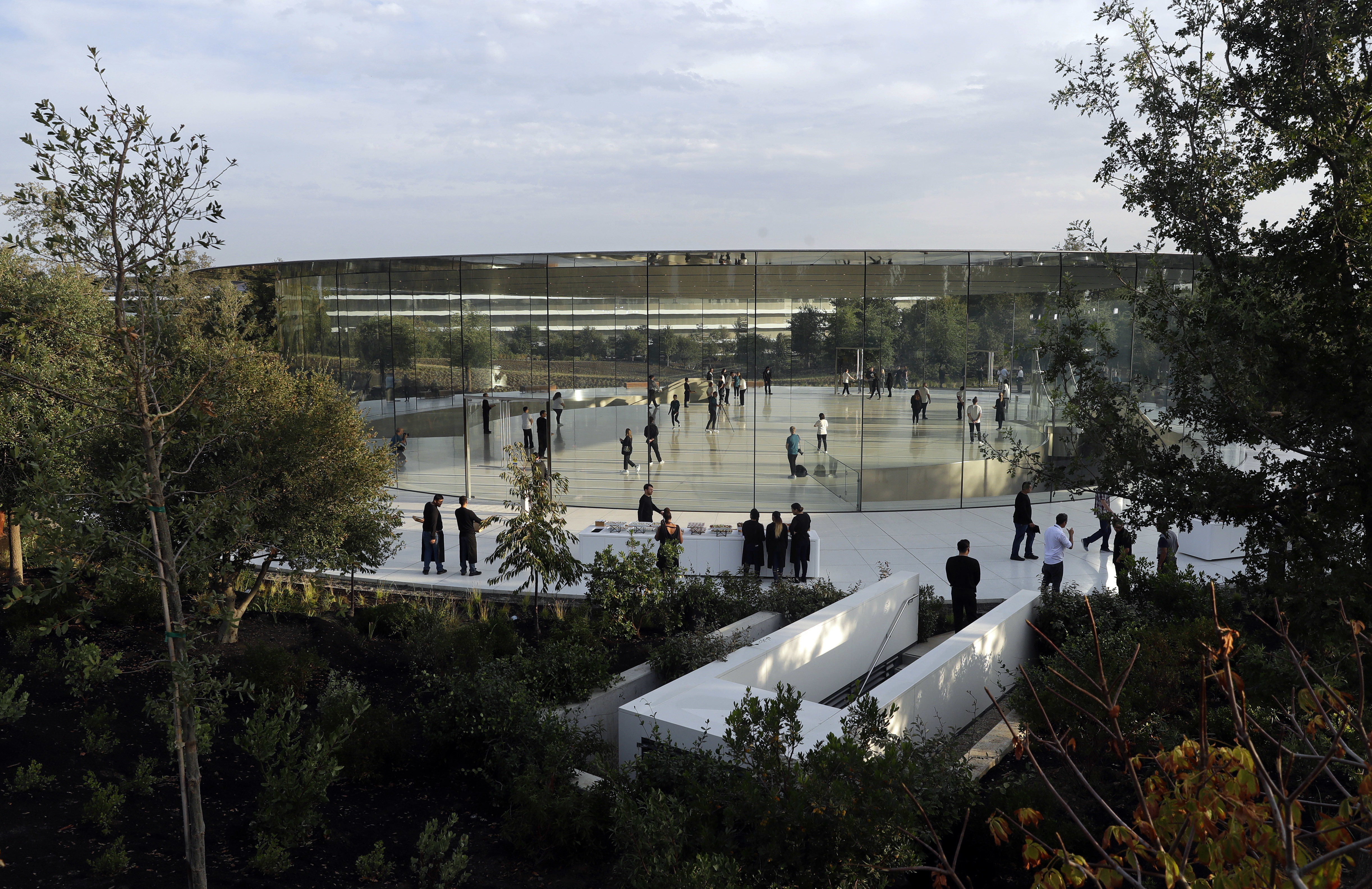 It's not known as the spaceship for nothing…
It's expected a product to mark 10 years since the first iPhone will be announced at the event. The iPhone X will reportedly be unveiled alongside the iPhone 8 and 8 Plus.
A new Apple Watch and Apple TV streaming box could also be among the new products showcased by the technology giant.
KEYWORDS:
Sci-Tech
,
Apple Park
,
UK
,
Apple
,
California
,
iPhone
,
iPhone launch
,
Steve Jobs Theater
,
US
,
story-enriched
,
composite
Want us to email you the top news stories each lunchtime?