Even planes got involved in the debate over Arsene Wenger's future as Arsenal took on West Brom
18/03/2017 - 15:36:52Back to Sport Home
You only had to look up to the sky over the Hawthorn to realise just how divided Arsenal fans are over Arsene Wenger's future as their manager.
The Gunners currently sit in fifth position in the Premier League table and their defeat to West Brom has piled yet more pressure on their boss, whose contract runs out in the summer.
And as the game started against the Baggies, an aeroplane towing a banner with the words "No Contract #Wenger Out" flew above the ground.
Then came a plane with an opposing banner that read: "In Arsene We Trust #RespectAW."
And another plane! This time backing Wenger!

— Kelechi Nkoro (@K1Says) March 18, 2017
The whole situation got some laughs on Twitter, as you can well imagine.
AHAHAHAAHAHAHAHAHAHAA two plane banners contradicting each other.... Only Arsenal fans.

— Adam McKola (@AdamMcKola) March 18, 2017
An anti-Wenger banner, a pro-Wenger banner. Next up: 'NOT THAT FUSSED EITHER WAY REALLY'

— Tom Williams (@tomwfootball) March 18, 2017
I can hear a plane buzzing round The Hawthorns but can't see it - does it say In Arsene We Trust or in Arsene We Rust? #Farce

— Layth (@laythy29) March 18, 2017
And there was no stopping some people from photoshopping their own version of the banners.
And now a third plane appears...#WBAARS pic.twitter.com/oJpcWijQgK

— Paddy Power (@paddypower) March 18, 2017
Of course, there wasn't just a lot of debate over Wenger's future in the sky, but in the stands and on Twitter, too.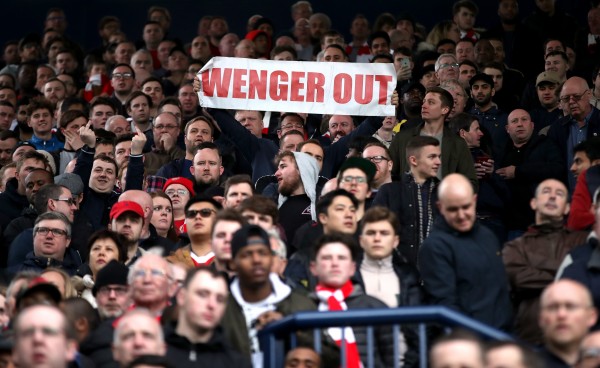 Wenger: we can't afford to lose another game if we want top 4. The players must respond
Players: lose next game 😳#Arsenal #WBAvAFC

— Dan Walker (@mrdanwalker) March 18, 2017
One of Wenger's greatest qualities was to get a reaction with backs against the wall, a performance when he most needed it. That's gone, too

— John Cross (@johncrossmirror) March 18, 2017
The only plane Arsenal & their fans need to worry about is the one their star players will be on if they don't make the top 4...

— Jake Humphrey (@mrjakehumphrey) March 18, 2017
As the game went on, it seemed like all Arsenal's problems were in the air, to be honest.
Two Craig Dawson headers seal an impressive home win for Tony Pulis's men #WBAARS pic.twitter.com/nojdCgZUA8

— Premier League (@premierleague) March 18, 2017
The Baggies deserved their 3-1 victory from the moment when Craig Dawson headed them in front after 12 minutes.
And you knew this tweet was coming at some point, surely…
Plane sailing for West Brom.

— Gary Lineker (@GaryLineker) March 18, 2017
Want us to email you the top news stories each lunchtime?