It was Vern Cotter's last day as Scotland coach and fans got very emotional
18/03/2017 - 16:37:36Back to Six Nations 2017 Sport Home
Vern Cotter's Murrayfield reign ended on a high as he signed off as Scotland head coach with a comfortable 29-0 win over Italy.
The Kiwi rugby union coach got a standing ovation after the RBS 6 Nations game as he strode on to the pitch at full-time.
And fans got all emotional:
Every time the camera goes to Vern Cotter, I get a little more sad 😢

— gilly 🚀 (@iforgotthefall) March 18, 2017
They should give Vern Cotter man of the match.

— Chris Evans (@achrisevans) March 18, 2017
Some thought Cotter did an impressive job with the Scottish team during his time: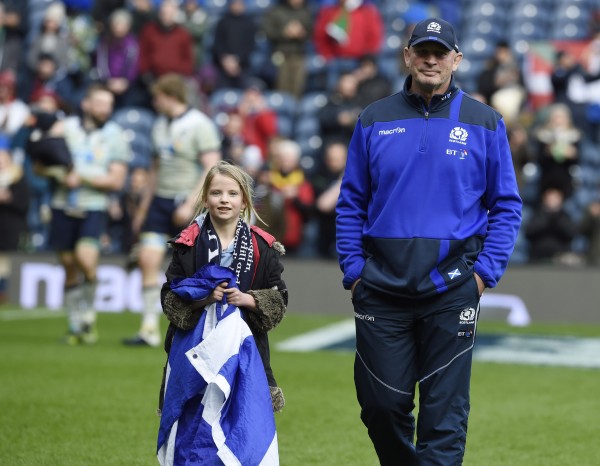 Wish Vern Cotter wasn't leaving the Scotland job, has done a fantastic job!! #SCOvITA

— Cameron Birnie (@CammyBirnie) March 18, 2017
Vern Cotter set bow out with 53% win ratio - better than any other Scotland head coach, even Geech

— Jon Newcombe (@RugbyTimes) March 18, 2017
Vern Cotter has done a great job with Scotland, leaving them in a very good place 2 years out from RWC

— RDPricey (@RDPricey2) March 18, 2017
Scotland have had a great #6nations Thank you Vern Cotter, sad to see you go#scovita

— J (@dharmabum013) March 18, 2017
An emotional Cotter fought back tears.
"I'd like to thank the players and everybody for the last three years, it's been fantastic," the head coach said in a quivering voice before embracing his players and staff.
And the internet cried even more:
Nooooooo nooooo no tears @vern_cotter don't cry .... major eye leakage now 😭 pic.twitter.com/1nyIROTzkR

— #RugbyGlasgow (@RugbyGlasgow) March 18, 2017
Aww seeing Vern Cotter cry is the greatest thing ever😿💙💙

— Josh Paul (@JoshPaul_AGRFC) March 18, 2017
Vern Cotter proving that big boys do occasionally cry. Great coach who did a fine job. #SCOvITA

— Duncan Metcalfe (@TomJoad75) March 18, 2017
If Vern Cotter cries we all cry. Please note he is welcome by all @Scotlandteam fans.

— Morgan Clifford (@MKClifford123) March 18, 2017
Cotter will be replaced by Glasgow's Gregor Townsend this summer.
Want us to email you the top news stories each lunchtime?