Kylian Mbappe was the undeniable talking point of Monaco's match against Man City - and not just for his footballing skills
16/03/2017 - 06:22:43Back to Sport Home
The Champions League second leg between Monaco and Manchester City was expected to be an exciting one – and it did not disappoint.
Just like the first leg, the two teams took it in turns to attack each other making for a match worthy of some popcorn.
26'—City advances
32'—Monaco advances
77'—City advances
119'—Monaco advances
161'—City advances
Currently—Monaco advances
🍿 pic.twitter.com/rfIFXjEmlt

— B/R Football (@brfootball) March 15, 2017
The man on everyone's lips was 18-year-old Kylian Mbappe who brought in Monaco's first goal after just eight minutes and continued being excellent from thereon in.
Kylian Mbappé's game by numbers vs. Man City:

86% pass accuracy
3 shots
2 shots on target
1 goal

Star. ⭐️ pic.twitter.com/ent6eJB86p

— Squawka Football (@Squawka) March 15, 2017
The commendable title of "the next Thierry Henry" was bandied around on Twitter, but everyone thought it was totally justified.
Next Thierry Henry found? #monacovcity #MONMCI #mbappe

— Sam Van Bunder (@samvanbunder) March 15, 2017
A lot of French players get labeled the next Henry but Kylian Mbappe is the real deal. #monacovcity #18 #wonderkid #future

— Brian Muir 🤙 (@beano2112) March 15, 2017
Mbappe's close control when running at pace 🔥🔥🔥 #Thierry

— AFCAMDEN (@AFCAMDEN) March 15, 2017
There was also something else notable about the guy – his name reminded a lot of people of that classic hit from early 90s boy band Hanson, MMMBop. You know the one.
Mbappe. Has anyone else made a Hanson joke yet? #monacovcity

— Alex Lancaster (@AlexJLancaster) March 15, 2017
Can't hear the name Mbappe without thinking of Hansen #monacovcity

— Matty Hayward (@MattyHayward96) March 15, 2017
Mbappe needs to move to England. Such a top song opportunity for a fan base #mmmbop #hanson #monacovcity

— Jon Meredith (@JonMeredith1992) March 15, 2017
(Sorry, not sorry for getting it stuck in your head now).
As for other fans, they couldn't help checking themselves next to this absolute superstar they were watching.
mbappe was born 4 days before me and hes doing bits at monaco yet im still doing maths lol

— charley (@charley_haymes3) March 15, 2017
🍺 At 18 Mbappe has scored 13 goals for Monaco

Me at 18...#MonacoVCity pic.twitter.com/2ctNNUJIno

— The Sportsman (@TheSportsman) March 15, 2017
With another skilfully planted goal from Henrique Fabinho in the 29th minute followed later by a superb header from Bakayoko in the 77th, Manchester City's impressive play and only goal from Leroy Sane in the 71st minute was simply not enough to keep them in the competition as they crashed out 6-6 on aggregate.
And Pep Guardiola was not a happy man.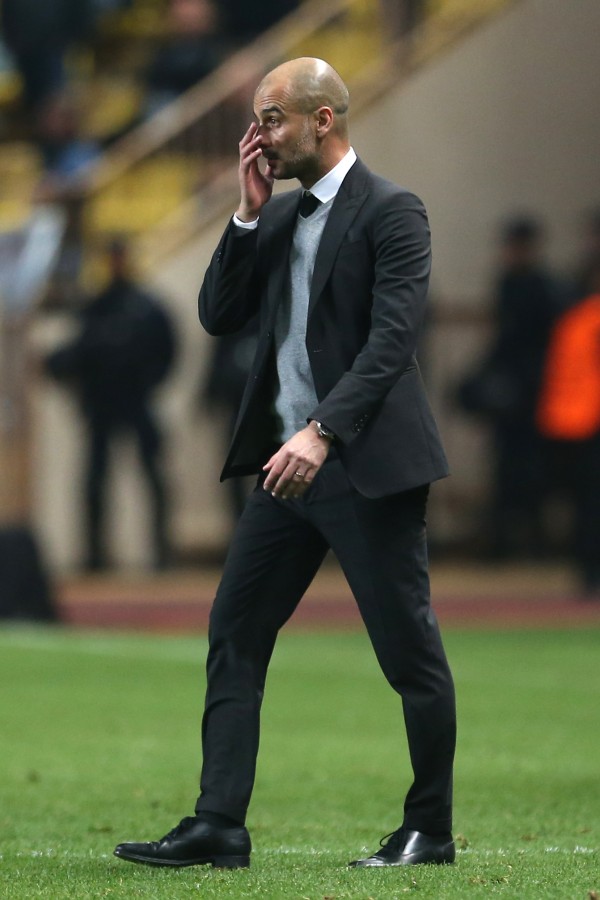 Sorry, Pep...

The Champions League dream ends here 🤕 #ASMMCI pic.twitter.com/jmaNog9Tlu

— Eurosport UK (@Eurosport_UK) March 15, 2017
As for Mbappe, unofficial club Twitter accounts are desperately trying to get the fans on side to get their respective clubs to buy him.
Please buy Mbappe. @Arsenal

— ArsenalArena (@ArsenalArena) March 15, 2017
Would you like Monaco's Kylian Mbappe at United?

RT for Yes
LIKE for No#MUFC pic.twitter.com/NoqP6iaASJ

— nathan♦️ (@ffsnxthan) March 15, 2017
But until then, he can do a little victory dance with his Monaco teammates after that performance. But no dabs please, may we suggest some moves like this?
Want us to email you the top news stories each lunchtime?