11/06/2017 - 16:48:21Back to Heathrow Sport Home
Lewis Hamilton loves the Canadian Grand Prix, having won there no fewer than five times, but after finishing on pole for the 2017 race he has another very unique happy memory from the track.
Hamilton set a searing pace in qualifying which earned him the 65th pole position of his career, moving him level with three-time champion, the late Brazilian Ayrton Senna.
YESSSSSSS!!!!! @LewisHamilton takes his 65th @F1 pole to equal Ayrton Senna!!! #CanadianGP #F1 pic.twitter.com/dS6sn0nkhB

— Mercedes-AMG F1 (@MercedesAMGF1) June 10, 2017
Lewis Hamilton on pole position for the Canadian Grand Prix. His 65th career pole moves him level with childhood hero Ayrton Senna. #F1

— Philip Duncan (@PhilDuncanF1) June 10, 2017
Senna, who is famously a hero of Hamilton's, died in 1994 after a crash at the San Marino Grand Prix.
And having equalled the Brazilian's record for pole positions, the Senna family presented the Hamilton, who also has three world drivers' championships, with one of Senna's helmets from 1987.
HAM: "I'm shaking. For many of you, Ayrton was your favourite driver. He was mine too. To receive this and match him is a great honour" #F1 pic.twitter.com/OybcWrefmr

— Formula 1 (@F1) June 10, 2017
While many thought the helmet was a race-worn one, it was actually a replica – Hamilton will be presented with the real thing at a later date.
Hamilton, who trails Ferrari's Sebastian Vettel this season, was clearly moved by the gesture.
"From a kid I was watching him from five years old," said Hamilton. "It was a very emotional moment for me, because I grew up watching him, I grew up believing in him, as his country did."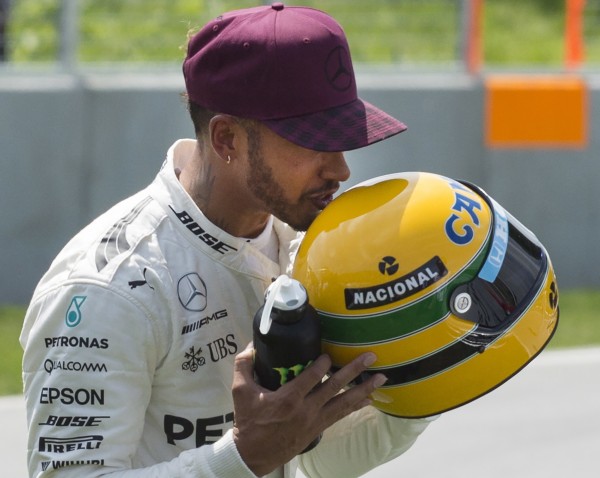 Quite a moment for the 32-year-old, and an emotional one for fans of Formula One.
Want us to email you the top news stories each lunchtime?