Liz Dawn remembered as the 'matriarch' of Coronation Street
26/09/2017 - 19:42:56Back to Showbiz Home
Coronation Street actor Michael Le Vell has paid tribute to Liz Dawn, describing her as the "matriarch" of the soap for youngsters.
Le Vell, who has been a long-standing member of the ITV soap playing Kevin Webster, added that she was a "mother figure who helped guide us through the show. She did that for me".
ITV handout photo from Coronation Street in 2007 of the characters Jack Duckworth and Vera Duckworth celebrating their 50th wedding anniversary in the Rovers (ITV)
The actor said: "For anyone young who joined the show Liz was the matriarch.
"She took us under her wing and was the mother figure who helped guide us through the show. She did that for me. She's going to be a big loss to us all."
His tribute follows the news of Dawn's death, aged 77, which was announced by her family in a statement.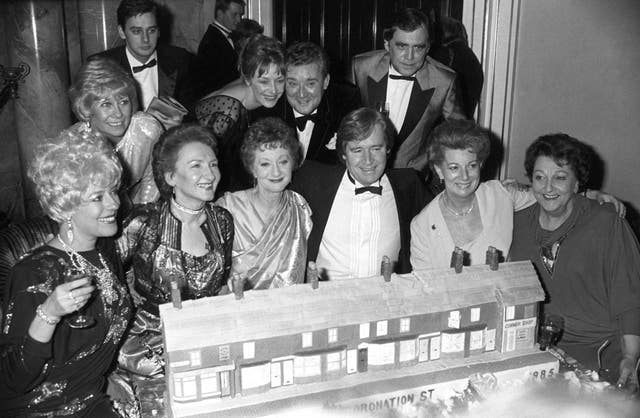 PA File Photo of members of the cast of ITV's soap opera Coronation Street, crowded around a cake replica of the street at the celebration to mark its 25th anniversary at the Dorchester Hotel
They said she died peacefully at home on Monday night and remembered the actress, who played Vera Duckworth for more than 30 years, as "the love, light and inspiration in our lives and we are bereft at her passing".
The rest of the cast from the Cobbles joined Le Vell in remembering one of Weatherfield's finest, with actress Sally Ann Matthews sharing a touching anecdote about Dawn's kindness to her.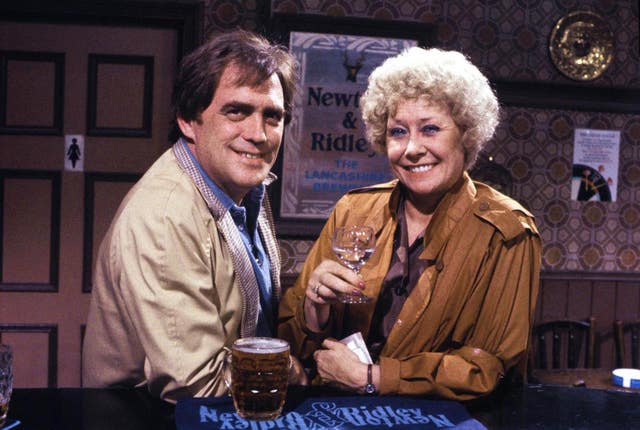 Undated ITV Handout Photo of Bill Tarmey as Jack Duckworth and Liz Dawn as Vera Duckworth
Matthews, who plays Jenny Bradley, said: "Liz was a wonderful actress and a fabulous lady. You always knew when she was in the building, she had a presence.
"When I bought my first home, Liz gave me some money to 'buy something nice and stick it on the wall'. I bought a painting of The Lady of Shalott and think of her every time I look at it."
Dawn first appeared in Coronation Street in 1974 before her character moved into number nine along with husband Jack, played by the late Bill Tarmey.
Former Coronation street actress Liz Dawn with the Lifetime Achievements award presented by her former co-star Kevin Kennedy (left) at the British Soap Awards 2008
After being diagnosed with emphysema, Dawn was written out of the soap in 2008 when Vera died in her sleep.
Two years later, she made a moving comeback as the much-loved Corrie resident.
Just before he passed away, Jack saw a vision of the wife who had spent years nagging him and they shared a last dance together.
British Prime Minister Tony Blair hugs actress Liz Dawn who plays Vera Duckworth in television soap Coronation Street
In 2012, Tarmey died in Spain and Dawn described him as a "lovely man and a true gentleman".
Speaking about her health on a celebrity version of The Jeremy Kyle Show in 2014, the actress revealed: "I take a lot of tablets. I just live every day and get on with it."
She had four children and was married twice – to miner Walter Bradley in 1957, with whom she had her first child, and to electrician Donald Ibbertson in 1965.
We're heartbroken to hear the news of @itvcorrie legend Liz Dawn's passing. Our thoughts are with her family and friends at this sad time. pic.twitter.com/xVdpJcWzsT

— This Morning (@thismorning) September 26, 2017
Corrie's Sally Dynevor, who plays Sally Webster, said Dawn was an "amazing woman" and added: "She was such a giving person who always thought about other people before herself. She was an inspiration of how to be in life and I'm going to miss her."
Weatherfield star Beverley Callard, known to fans as Liz McDonald, said Dawn was "a darling of a person".
She added: "She was one of the kindest people I have ever met and my thoughts are with her wonderful family. She will be sorely missed."
Liz Dawn was a brilliant actress & a true friend of Labour. She was as warm as Betty's Hotpot & made Vera a Corrie legend. Farewell chuck.

— Jeremy Corbyn (@jeremycorbyn) September 26, 2017
Labour leader Jeremy Corbyn also remembered her, tweeting: "Liz Dawn was a brilliant actress & a true friend of Labour. She was as warm as Betty's Hotpot & made Vera a Corrie legend. Farewell chuck."
Born Sylvia Butterfield, the actress was best known by her professional name Elizabeth or Liz Dawn.
She was awarded an MBE in the 2000 birthday honours and in 2015 she came out of retirement to do a cameo in Emmerdale's Christmas special.
She said at the time: "There's only one show I'd come out of retirement for and it's Emmerdale, particularly as I've celebrated my 76th birthday this week so I wanted to mark the occasion."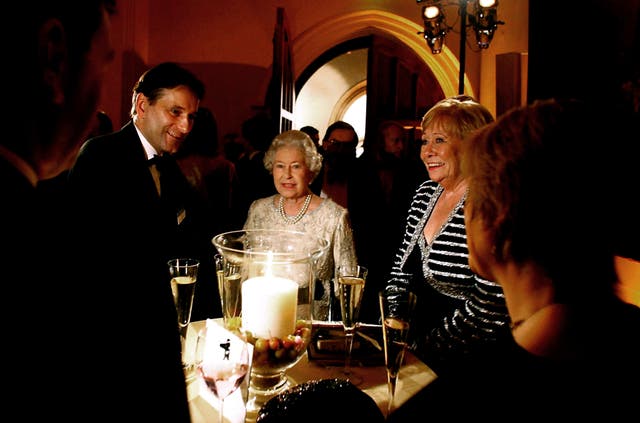 The Queen chats to guests at the ITV 50th Anniversary celebration, including Liz Dawn (centre right), who plays Vera Duckworth in Coronation Street in 2005
She starred in the hour-long Christmas Day episode of ITV's Yorkshire rural soap as Mrs Winterbottom.
In 2013 the actress spoke to the Daily Mirror after suffering a health scare and told the paper she was "lucky to be alive after having a heart attack".
Dawn recalled how she began having chest pains while on holiday in Spain and had to be given emergency oxygen on the flight home.
Following a visit to the hospital on her return, she revealed she had been fitted with a pacemaker.
She told the Daily Mirror: "When I look back I can't believe it. I nearly died. I feel lucky to still be here able to talk about it all.
"I couldn't believe it. To hear those words – it was so frightening. After all I have been through with my health I just thought, 'Oh no, not something else'.
"It was frightening to think that it happened while I was on holiday and that I hadn't even realised the severity of what was happening to me."
Coronation Street's executive producer, Kieran Roberts, said in a statement: "Liz Dawn was a true Coronation Street legend, a brilliant actor and a wonderful person."
Want us to email you the top news stories each lunchtime?