Few people know their way around an air fryer better than Nathan Anthony.
The bestselling cook and author, who is from Portadown but living in Belfast, has written a cookbook dedicated to them, called Bored Of Lunch: The Healthy Air Fryer Book.
You might also recognise him from his popular 'Bored of Lunch' Instagram page, which has 1.6 million followers.
So, why is he so fond of air fryers? Because "you can create healthier versions of some of your favourite foods", is Anthony's simple answer.
Plus, there's the cost-saving benefits. While you do have to pay a lump sum for the machine (prices range from around €100 upwards), the running costs are cheaper than an oven, and you tend to use air fryers for a shorter amount of time than you would a conventional oven.
"You can also use your air fryer to make healthy snacks to keep you going throughout the day, you can make crispy chickpeas or dehydrate fruit to top your breakfast oats," Anthony adds.
Thinking about getting an air fryer, or don't know where to start with yours? These are Anthony's top tips…
1. Invest in a thermometer
"Your air fryer will normally cook things in roughly 60% of the time in comparison to your oven, so I'd recommend using a meat thermometer until you perfect your timings with your recipes," Anthony suggests.
2. Oil sprays are your best friend
Air fryers are a healthier choice than shallow or deep frying your food, as it uses less oil – but still gets things crispy.
"Using a low calorie spray to coat your food is absolutely key to keeping food delicious and crispy when using an air fryer," Anthony says. "If you don't use oil sprays, you can just use a tablespoon of oil and a pastry brush to glaze the food instead."
3. Silicone liners will reduce mess
"To save yourself some extra clean-up time and keep your air fryer clean, you can purchase some cheap silicone liners and trays or use baking paper to cook your food on.
"This will be easier to clean than placing the food straight in the air fryer."
4. Don't forget to preheat
Anthony particularly likes making 'fakeaway' dishes in his air fryer – such as his recipe for honey chilli chicken.
With these kinds of recipes, he says: "It's important to preheat the air fryer for around two minutes (much less time than it takes to preheat an oven). This means you get ultra-crispy coatings or batters as the food instantly hits the heat, giving a much crispier result."
5. Choose the right model
"When purchasing an air fryer, those that have a basket give the best result," he suggests. "Some air fryers have a rotating option which moves the food – but in my experience this removes some of the coating from the food, whereas with a basket you can lightly shake the food to give it a perfectly even cook."
Nathan Anthony's air fryer sweet potato and chorizo hash recipe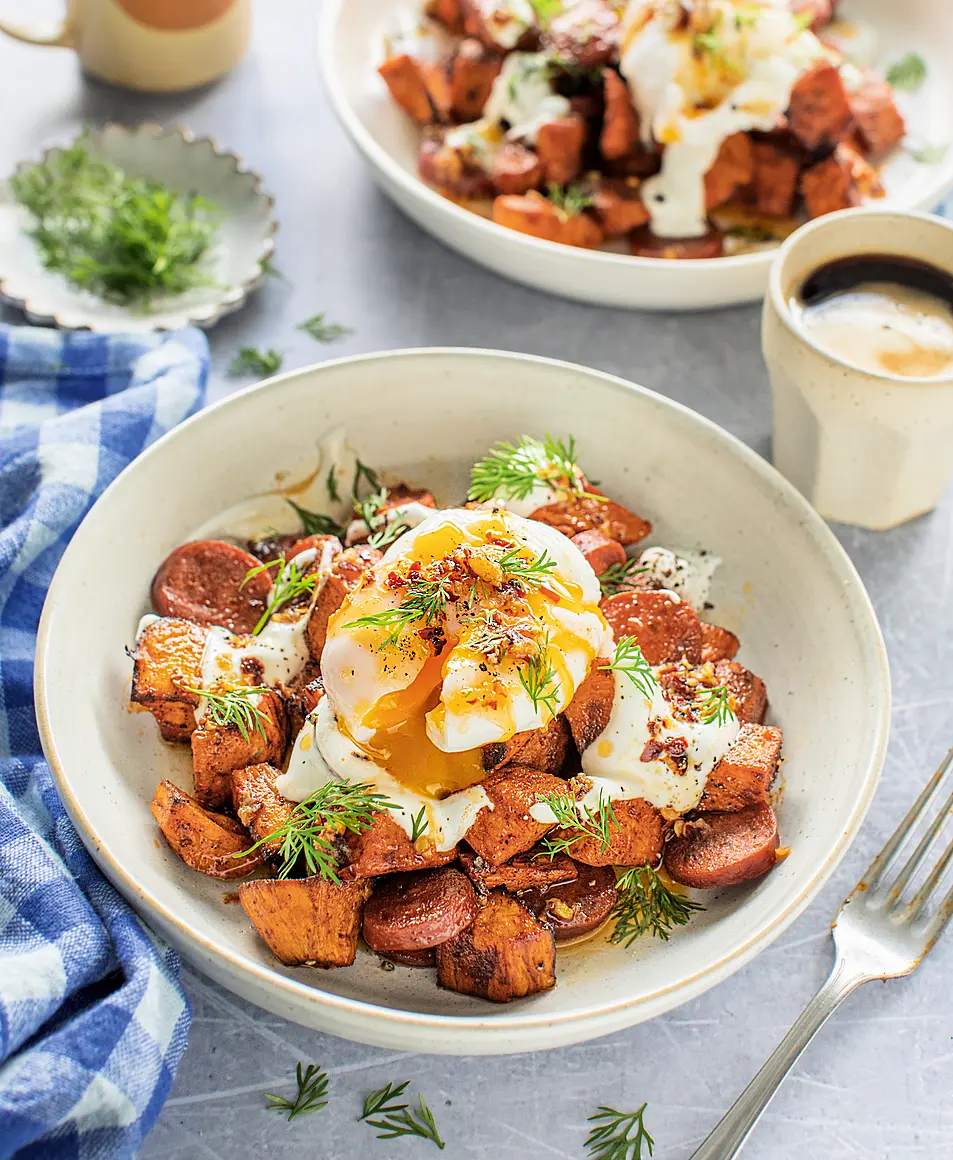 Ingredients:
(Serves 3)
600g sweet potatoes, peeled and cut into cubes
1tbsp oil or low-calorie oil spray
1tbsp paprika
150g chorizo, sliced
1tbsp light or half-fat butter
½tsp chilli flakes
1 garlic clove, grated
4tbsp Greek yogurt
Salt and pepper, to taste
Fresh dill, to sprinkle
Method:
1. In a bowl, combine the sweet potatoes, oil and paprika.
2. Air fry the potatoes at 190°C for 14–15 minutes, and add the chorizo for the last two to three minutes.
3. While the chorizo is cooking, put the butter, chilli and garlic in a microwaveable bowl and microwave for one minute until the butter is melted.
4. Season the yogurt with salt and pepper.
5. Serve the hash drizzled with the yogurt, then top with the melted garlic chilli butter and sprinkle with fresh dill.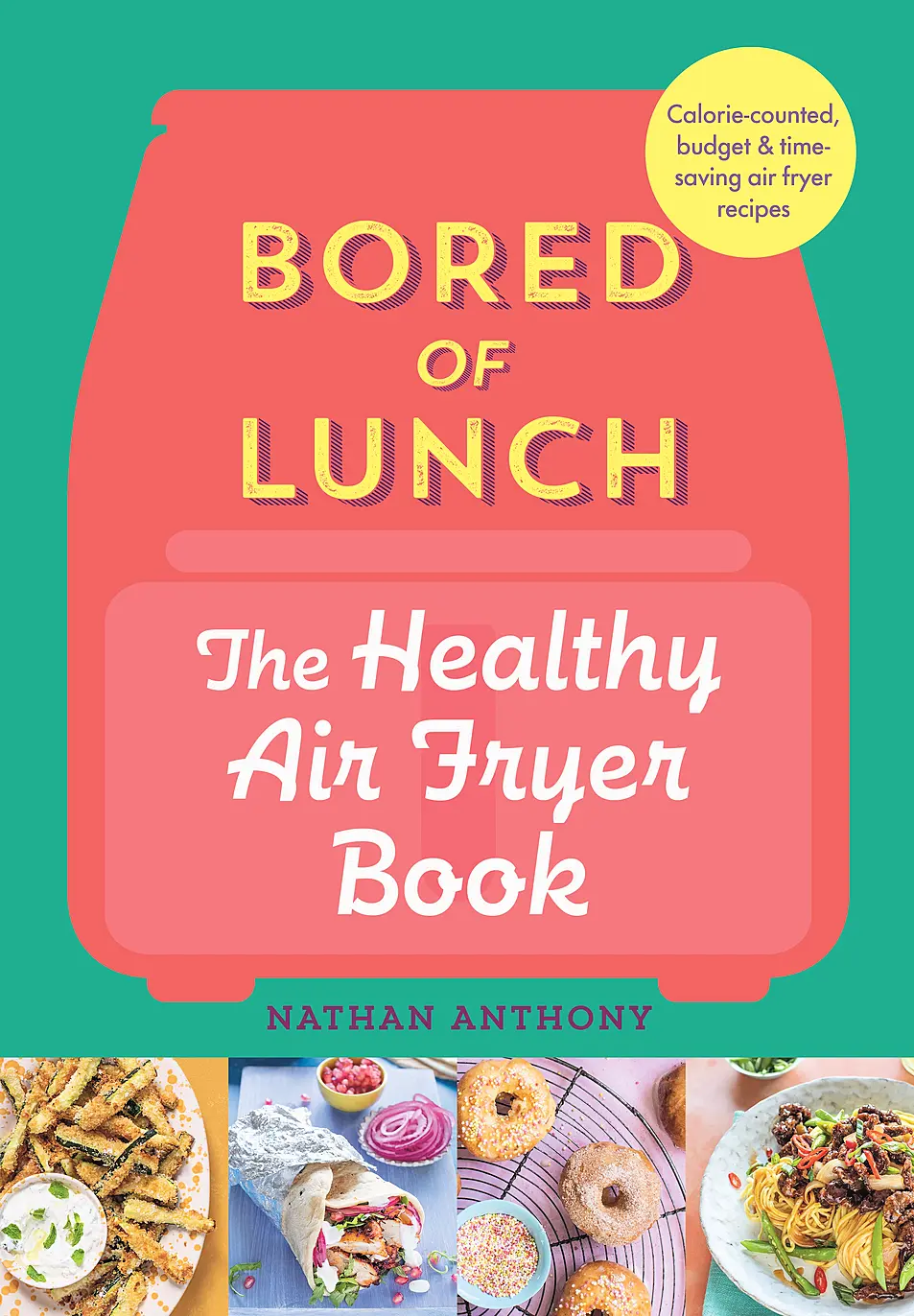 Bored Of Lunch: The Healthy Air Fryer Book by Nathan Anthony is published by Ebury Press, priced €26.60