Any attempt to turn the referendum on gender equality into a debate about transgender issues would be tenuous and bogus, the Taoiseach has warned.
Leo Varadkar said there was need for a discussion about transgender issues in Ireland but that the debate should have its "anchor in the centre", rather than extremists shouting at each other.
On a visit to Co Wicklow, Mr Varadkar was asked about whether he was concerned about the "toxic nature" of the debate on trans issues and whether he felt it would influence the planned referendum on gender equality.
In line with the recommendations on gender equality made by the Citizens' Assembly, people will be asked to vote on a series of amendments to the constitution this November.
These would involve including a specific reference to gender equality; widening the definition of a family beyond those families that involve a marriage; and replacing a reference to "women in the home" with a section highlighting the importance of care in Irish society.
"I really don't think it should have any impact on this year's referendum, it's about women in the home," the Taoiseach said.
"I'm sure people will try and make some sort of connection, but it would be a pretty tenuous and bogus one quite frankly."
He added: "I think we do need to have a discussion and a debate about trans issues. There aren't that many trans people in Ireland. They're a small minority. A lot of them are very vulnerable people.
"I don't like to see people talking about them as if somehow they're a threat to others. They're no more a threat to others than people who aren't trans or straight people or gay people.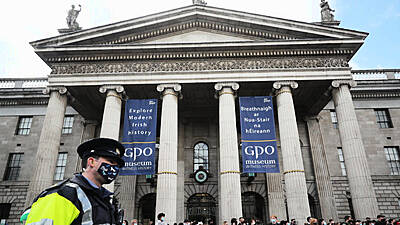 Ireland
Crime on Dublin's O'Connell Street cited as factor...
"I really hate that idea of them being targeted as people who are a threat to children or a threat to others. They're no more threat to others than any other group in society and I really hope people will avoid straying into that space.
"But, you know, there are genuine questions that people are asking, you know there are parents at the moment who have trans girls and trans boys and they're struggling to work out what's best for their kids and there are people who have kids in school who have a trans kid in the class and a lot of this is new to people.
"And it's kind of new to me as well, even though I know people who are trans. So, you know, I think we shouldn't be afraid to talk about it, because if we don't talk about it and anchor it in the centre, then the extremes will do all the talking. And they just want to shout at each other."