Taoiseach Leo Varadkar has said there will be no findings made against junior minister Niall Collins from a complaint to gardaí relating to the 2007 sale of land.
The minister of state, with responsibility for skills and further education, has come under pressure to explain his role in Limerick County Council's decision to sell a plot of land in Patrickswell in 2008.
Mr Collins was a Limerick councillor in early 2007 and was in attendance when the potential sale of the property in Patrickswell was brought to the Bruff Area Committee on January 15th 2007 where it was agreed the land should be sold.
His wife Dr Eimear O'Connor was among those who had expressed an interest in buying the property in 2006. Mr Collins revealed this week that he knew his wife had expressed interest in the land at the time.
In September 2008, the property was approved for sale to Dr O'Connor by the council, having accepted her bid of 148,000 euro a year previously.
Mr Collins was no longer a councillor at this point, having been elected as a Fianna Fáil TD in May 2007.
Mr Collins gave a statement to the Dáil in which he said his actions were legally correct and the sale of the property was fully transparent.
But he said "in hindsight" it would have been better if he had not participated in the area committee meeting.
Opposition TDs have criticised the fact that the minister did not take questions in the Dail, and People Before Profit TD Paul Murphy has submitted a complaint to the ethics watchdog, the Standards In Public Office Commission, last month.
Gardaí are also examining a complaint about whether Mr Collins breached the Local Government Act when he did not recuse himself from the 2007 meeting.
Responding to the latest development, Mr Varadkar said that "a complaint has been made", and Gardai were doing the right thing by assessing the complaint.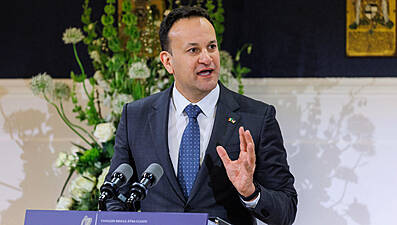 Ireland
Evidence some companies are profiteering amid infl...
"I believe that Mr Collins should be afforded due process," the Fine Gael leader told Virgin Media's The Tonight Show.
"It's up to the Gardai now to look at the allegation that has been made.
"I believe that there'll be no findings against him, but I think he's entitled to the presumption of innocence until that is done," he said.