Taoiseach Leo Varadkar has said he hopes answering the questions of locals in Co Clare who are protesting, and giving them "reasonable assurances", will "allow the blockade to be lifted".
Locals have organised a protest outside Magowna House Hotel in Inch since Monday evening, when more than 30 asylum seekers arrived by bus.
It involves parking cars and tractors across the road that leads to the hotel.
Protesters said that this was to stop a second bus that is expected to bring another 30 asylum seekers to the three holiday homes on the grounds of the hotel building.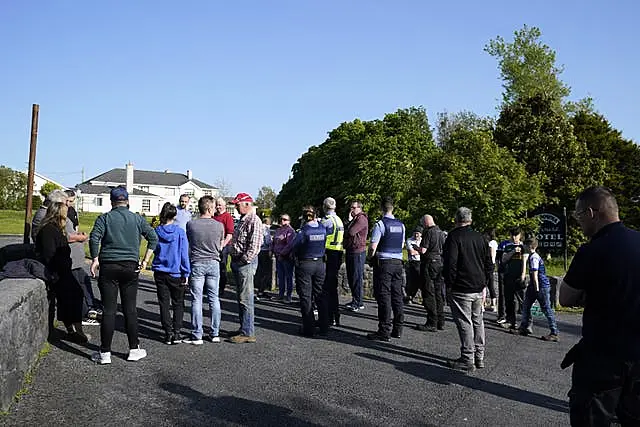 "I don't think anybody wants to say anything at the moment that might escalate the situation in Clare," the Taoiseach said.
"The blockade should end, it's not right for anyone to block a public road or to block access to someone's accommodation.
"But we also don't want to dismiss concerns local communities have and sometimes local communities have genuine concerns. And that's why we'll make sure there's information, there's communication, but also make it very clear that nobody has the right to veto other people coming into your community, no matter who they are."
He said further engagement is planned with locals in Co Clare.
"I don't want to get into the detail of that at the moment, but there will be further engagement with the local community there," he told reporters in Dublin.
"I think it is important that people's concerns are listened to, that they're provided information, that communication takes place, but also it's very important to be clear as a government, no community, nobody, has a veto on who should or should not live in your area and we can't allow that."
Minister of State for Integration Joe O'Brien said: "We are looking at different ways of engaging with the community and with the local representatives as well, but it's at a sensitive time so I don't want to divulge too much information."
On Wednesday, Minister for Integration Roderic O'Gorman said that hotels ending their contracts with the State to house migrants had put pressure on the system for housing migrants, and that the Government was still playing catch-up.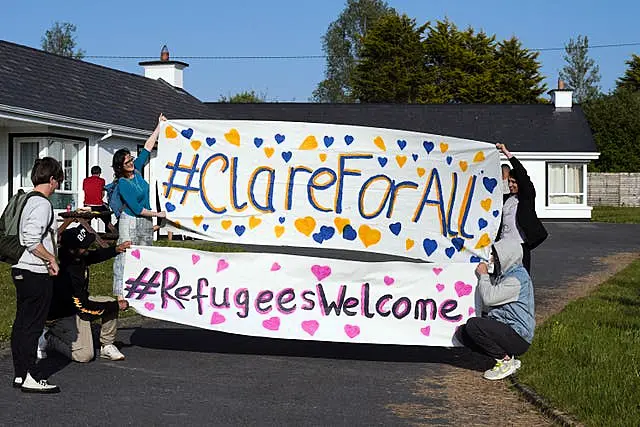 Reports have emerged of fractures within Cabinet over whether Mr O'Gorman, charged with housing the Ukrainian refugees and other asylum seekers arriving in Ireland, is receiving enough support from his ministerial colleagues.
Mr Varadkar said that all ministers were "pulling their weight" to respond to the challenge of housing asylum seekers.
"All ministers are pulling their weight," Mr Varadkar said, adding "that's often the case when it comes to any major issue that we deal with".
"When it comes to the response to Ukraine and migration, that is co-ordinated by my department, I chair the Cabinet sub-committee on it, my senior officials chair the senior officials group, and every department has their role to play."
He mentioned the work done to educate more than 15,000 child refugees in schools, and PPS numbers being provided for up to 100,000 people to allow them to receive welfare payments and work.
Mr Varadkar said: "Everyone is working very hard here."
He said he hoped there would not be similar protests at three asylum seeker centres in Dublin as there had been in Inch.
"I have to say I was really encouraged by the cross-party response from all four TDs in Dún Laoghaire, all saying that they understand that this is a crisis. And in a crisis, the perfect is the enemy of the good.
"And all four TDs in Dún Laoghaire are welcoming, or at least accepting, of the fact that we need to provide accommodation for people urgently because we can't have people on the streets.
"No matter what you may think of asylum seekers or immigration, everyone deserves basic shelter. And I think the four public reps in Dún Laoghaire are showing a lot of leadership in that regard."