Stardust manager Eamon Butterly has completed his first day of evidence to an inquest at the Dublin District Coroner's Court, telling the jury that there was no fire safety training for his staff and that "we wouldn't know how we would get someone" to carry it out.
Giving evidence on Thursday at the inquest into the blaze that swept through the Stardust nightclub in the early hours of February 14th 1981, killing 48 people, Mr Butterly said it was the responsibility of head doorman Tom Kennan for ensuring door staff had proper training, and Mr Kennan would employ men with previous experience "so they would know what they were doing".
Giving evidence to a member of the coroner's legal team, Gemma McLoughlin-Burke BL, Mr Butterly confirmed that there were nine or ten doormen working on the evening of the fire, who reported to Mr Kennan and his deputy, Leo Doyle.
He also said that Brian Peel was "the general manager of the whole place".
Ms McLoughlin-Burke said that according to statements made by Patrick Butterly, Eamon Butterly's father, Eamon Butterly was the individual who "called the shots" and looked after the staff and the day-to-day running of the nightclub.
Staff
Mr Butterly replied that there were other managers who managed their departments, and he had no role in hiring staff.
He said the hiring of staff was down to Mr Peel and Mr Kennan, and Mr Kennan was responsible for ensuring the doormen had the proper training.
"He would employ men that were already doormen somewhere else so they would know what they were doing," he said.
He confirmed that the staff were given no fire safety training. Ms McLoughlin-Burke said that Henry Armstrong, who installed the fire extinguishers on the premises, had stated that at that time the policy was for whoever was managing the premises to be responsible for training the staff.
"That would be Mr Peel, he's the man to look after that type of thing in the Stardust," said Mr Butterly, again confirming that there was no fire safety training.
Safety training
In response to Ms McLoughlin-Burke's question as to why there had been no fire safety training, the witness replied: "We didn't know anything about it. We wouldn't know how we would get someone to do it."
He said that the doormen were responsible for getting patrons out in the event of a fire.
Ms McLoughlin-Burke put it to Mr Butterly that an over-21s disco was being held on the night of the fire, but of the 48 young people who died, 14 were under the age of 18 and 25 were under 21.
"The doormen did their best, they looked at them. They had to judge what age they thought they were," said Mr Butterly.
Ms McLoughlin-Burke said that witnesses had given evidence about doors being locked on the premises, and one witness had said he saw an exit door locked and chained in September and November 1980.
Mr Butterly said he had no recollection of that.
Ms McLoughlin-Burke referred to Mr Butterly's original statement to gardaí in which he had said that exits two, three and four were usually unlocked before 10pm, and the remaining doors were usually opened between 11.30pm and 12am.
Mr Butterly replied that this was not a policy in the Stardust and that Mr Kennan had told him this was taking place.
"I told him the doors shouldn't be locked. I never saw the doors locked," he said.
"You never saw any exit door locked in the Stardust?" asked Ms McLoughlin-Burke. "No and if I did there would be trouble," replied the witness.
Mr Butterly was asked about evidence given by witnesses concerning crates and bottles being left near exit five, to which Mr Butterly replied that he had told Mr Peel that this should not happen.
He went on to say that he did not recall inspections of the premises that identified tables obstructing exit five in August 1979, loose seats causing an obstruction in August 1980, a plastic skip with bottles inside exit five in August 1980, and obstructions to exit three in January 1981.
Sparks
Mr Butterly also said he was not aware of someone saying they saw a shower of sparks in the ceiling above the stage during a gig, nor was he aware of two women saying they saw sparks in the ceiling on another night.
He was asked about an incident about three or four weeks before the fire, when a number of people variously described seeing "dust, fog, mist, and smoke" on the premises. Ms O'Loughlin-Burke said that a witness had said he saw something that appeared to be smoke, so he alerted others and they looked in the ceiling, but they could not find where it was coming from.
"This is the first I've heard of that. Nobody ever told me. I'd be surprised if they didn't report it," replied Mr Butterly.
Ms O'Loughlin-Burke said that a number of witnesses had said they saw skips near exit five, and one said there were two skips beside the exit the entire night. She asked Mr Butterly if he recalled seeing those skips.
"No, if the doormen saw that they should have moved it. I didn't see anything like that," he said.
Earlier in the day, the jury heard Mr Butterly's original statements to the gardaí from 1981, which were read into the record by the court registrar.
Mr Butterly told gardaí that on the night of the fire, he had asked the head doorman if all the fire exits were unlocked, and the doorman replied that they were and he had men stationed at each exit.
"I personally saw that ten of the exits were open," Mr Butterly said, adding that the head doorman then checked the other exits and said everything was okay.
The witness was asked about the company policy about the unlocking of exit doors.
"On Saturday nights or any non-disco night, all the exit doors were unlocked at approximately 7.30pm. On disco nights, exit three would be unlocked at 8.30pm. Door two would be opened at 10pm to allow the admittance of the patrons.
Door four would be opened shortly before 10pm. The remaining exit doors, namely five, six and one, were normally opened between 11.30pm and 12am," said Mr Butterly.
He said that most doormen had no responsibility for checking if the doors were unlocked, and this responsibility was placed on the head doorman.
"At no time since the premises opened in March 1978 were the fire exit doors left locked during the whole of any evening," he said.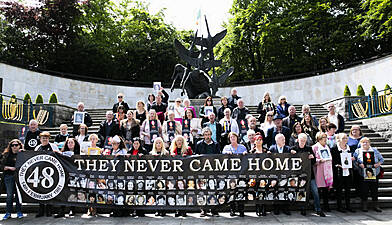 Ireland
Stardust doorman said attempts were made to 'blame...
He was asked who had decided that a padlock and chain should be attached to one exit door only and the chain should be draped over the panic bar on the other half of the exit door.
"This practice originated from the doormen themselves. They had used this practice in other places where they worked. I did not order them to do this, but I was aware of the practice and did not stop same," said Mr Butterly.
It was put to Mr Butterly that some doormen had said that instructions came from the top that exit doors were not to be unlocked on disco nights.
"This is untrue," replied Mr Butterly.