Jacob Rees-Mogg has accused British prime minister Rishi Sunak of imitating Theresa May's doomed Brexit strategy as Tory Eurosceptics were urged to allow the "time and space" needed to fix the Northern Ireland Protocol.
The prominent Brexiteer questioned why "so much political capital" was being spent on brokering a new deal without ensuring the Democratic Unionist Party (DUP) and his wing of the Conservative Party were on board.
There were warnings of potential ministerial resignations before fresh high-level talks were arranged with the European Union as "long-lasting challenges" remained despite "progress".
Downing Street said a "number of unresolved issues" were outstanding as Britain's foreign secretary James Cleverly was holding fresh talks with the EU's Maros Sefcovic.
British health minister Maria Caulfield, a Brexiteer who quit Theresa May's frontbench over her Chequers plan, urged colleagues to "support the prime minister".
"There isn't a deal done yet so all these rumours about ministers or MPs not being happy, I haven't seen the details, we have to give the prime minister that time and space to get these negotiations done," she told Times Radio.
"We need to give him the time and space to thrash out the final elements of any final deal."
But Mr Rees-Mogg, a former UK cabinet minister and long-term critic of Mr Sunak, criticised his tactics as similar to those that eventually led to the resignation of Mrs May as prime minister.
Paul's article is well worth reading, we will discuss it tomorrow on the Moggcast.https://t.co/vTbWHwb8De

— Jacob Rees-Mogg (@Jacob_Rees_Mogg) February 20, 2023
He joined Boris Johnson in urging Mr Sunak to press ahead with the controversial Northern Ireland Protocol Bill, effectively ripping up parts of the agreement with Brussels, rather than seeking a deal which may not guarantee the return of a powersharing executive in Stormont.
On his ConservativeHome podcast, Mr Rees-Mogg said: "There seems to me to be no point in agreeing a deal that does not restore powersharing.
"That must be the objective. If it doesn't achieve that objective, I don't understand why the Government is spending political capital on something that won't ultimately succeed."
He said the Bill has the support of "the person who had a mandate from the British voters" – Mr Johnson – and he said Mr Sunak should first get the approval of the European Research Group (ERG) of Conservative Eurosceptics.
"I don't know why so much political capital has been spent on something without getting the DUP and the ERG onside first," Mr Rees-Mogg said.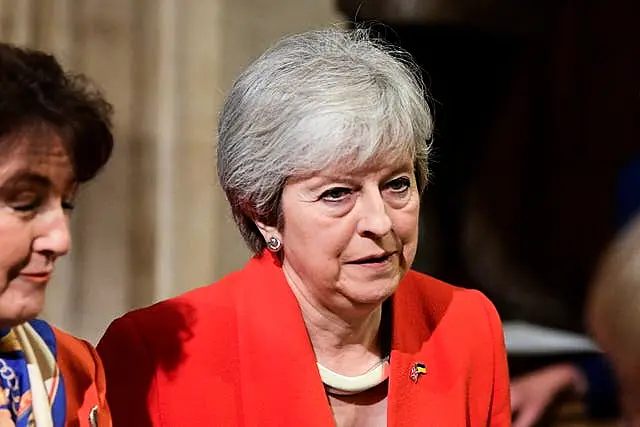 It was "very similar to what happened with Theresa May" where a policy would be presented in the hope that people would "conveniently fall in behind" it, he said.
"Life doesn't work like that. It's important to get support for it first before you finalise the details and that doesn't seem to have been done here."
Mr Cleverly and Britain's Northern Ireland secretary Chris Heaton-Harris were to hold fresh video talks with the European Commission vice-president on Tuesday afternoon.
They held "productive" talks on Monday and the EU said they still plan to meet for scheduled face-to-face talks later this week.
UK government insiders still believe a deal could be struck in the coming days, but acknowledged it would slip to next week if not concluded by the one-year anniversary of the Ukrainian conflict on Friday.
Mr Sunak told his Cabinet meeting "intensive negotiations with the EU continue on resolving the issues with the way the protocol was being enforced", Downing Street said.
The British prime minister's official spokesman said there was no discussion about the future of the protocol Bill and insisted Mr Sunak was not disappointed at being unable to present the meeting with a finished deal.
"Negotiations have progressed and that is to be welcomed, but there still remain a number of unresolved issues. And as is the nature of these negotiations it is often some of the more long-lasting challenges that need to be addressed as you get to this point and that's not unusual," the spokesman said.
The spokesman disputed Mr Rees-Mogg's suggestion that the DUP and ERG should have been brought into discussions earlier, saying "we have been speaking to relevant parties at the appropriate times throughout this process".
"Engagement will continue as we continue to negotiate, emphasising there are still intensive negotiations ongoing. There is no finished deal," the official added.
Some have interpreted words from British home secretary Suella Braverman as support for Mr Johnson's plea for the British government to press on with the stalled Northern Ireland legislation.
A productive video call with @JamesCleverly and @chhcalling, taking stock of our work to find joint solutions to everyday concerns in Northern Ireland. Our 🔝 priority is to succeed for the benefit of all communities.

Hard work continues. We've agreed to meet later this week.

— Maroš Šefčovič🇪🇺 (@MarosSefcovic) February 20, 2023
The longstanding Eurosceptic described the Bill as "one of the biggest tools that we have in solving the problem on the Irish Sea".
But Ms Caulfield said: "I think what Suella has actually said is she welcomes the Prime Minister's negotiations on this both with the EU and with politicians in Northern Ireland to try and get this resolved.
"Absolutely the Northern Ireland Protocol Bill was put in place as a mechanism to fall back on and that's still going through Parliament at the moment."
Mr Sunak hopes a deal on the protocol could secure the return of powersharing at the Stormont Assembly, after the DUP walked out in protest over post-Brexit arrangements last February.
Former Northern Ireland secretary Brandon Lewis threw his weight behind calls to reform some of the post-Good Friday Agreement architecture in Northern Ireland, arguing that it was failing to reflect the changed electoral landscape in the North.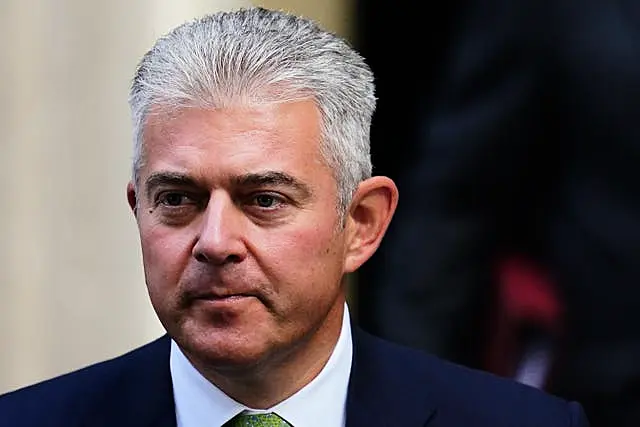 "The growth in the vote for the Alliance Party underlines the feeling that many more people now want to vote on issues, not on sectarian lines," Mr Lewis wrote in the Telegraph newspaper.
"That should be embraced as the greatest success of the Belfast/Good Friday Agreement. But if the agreement does not evolve further, under current rules, if Alliance and its vote share continues to grow, it will never have the right to nominate the First or Deputy First Minister.
"Democracy cannot succeed when it is set in tram lines that can never cross."
But Mr Sunak's spokesman said: "We are not considering any changes to the Belfast/Good Friday Agreement."