Fianna Fáil junior minister Niall Collins has said a property sale in Co Limerick 15 years ago was "transparent and open".
The Minister of State for Higher Education has been under pressure to make a Dáil statement on the transaction, amid allegations by The Ditch, an investigative news website, that he was a member of Limerick County Council when it voted to dispose of the land, later bought by his wife.
In a statement, Mr Collins said: "In September 2008 at a statutory meeting of the Limerick County Council the sale of a property in Patrickswell was approved and sold following a transparent and open sales process, which was open to all.
"For the record I was not a member of the council in September 2008, having been elected as a TD in May 2007. Prior to the sale in 2008, the property was advertised in the local public press.
"When the council executive recommended to the Bruff LEA committee that the property should be put up for sale in January 2007, neither I nor my wife had any pecuniary or beneficial interest in that property.
"There was no disagreement to the executive's recommendation."
Mr Collins will face pressure to make a statement and take questions in the Dáil over the issue.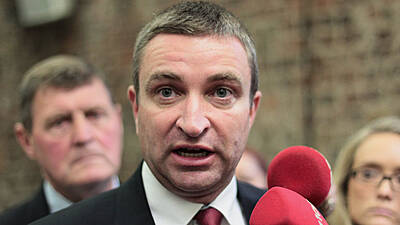 Ireland
Niall Collins 'entirely satisfied' planning applic...
He has addressed some but not all the allegations made by The Ditch.
People Before Profit TD Paul Murphy has requested time to be allocated in the Dáil this week for Mr Collins to make a statement over the allegations published on the online news website.
Last month Mr Collins was forced to defend a planning application he submitted 23 years ago for a home on his parents' land in Limerick, arguing that he was eligible under two criteria.
He slammed a report in The Ditch as "misleading and inaccurate", and said he had examined the original application files at Limerick City and County Council.