A man who was arrested for the murder of his wife and two children at their home in south Dublin disguised himself in women's clothing to take a bus to their house on the day they were last seen alive on October 22nd, 2020, an inquest has heard.
Evidence also emerged that the accused, Sameer Syed, was in the family home on 29 days in the two months before their deaths, in breach of bail conditions imposed after he had physically assaulted his wife, Seema Banu, earlier that year.
Syed also appeared to coerce his wife and children into recording a video on October 22nd, 2020, in which they claimed he had never hit Ms Banu and that any marks on her body from the time of the assault were self-inflicted.
The bodies of Ms Banu (37), her daughter, Asfira (11), and son, Faizan (6) were discovered in their home at Llewellyn Court, Ballinteer, Co Dublin on October 28th, 2020.
A sitting of Dublin District Coroner's Court heard Syed was arrested and charged with their murders a month later.
Syed, a 38-year-old IT expert with Eir, took his own life in his cell at the Midlands Prison in Portlaoise last June, just a week before he was due to go on trial at the Central Criminal Court.
He had appeared in court a few days before the discovery of the bodies of his wife and children on a charge of assault causing harm to Ms Banu on May 16th, 2020.
Cause of death
The lead investigator into the three murders, Detective Inspector Vivian Rock, said Syed had admitted to gardaí following his arrest that he had killed his wife after sneaking into the house, but had blamed the deaths of their two children "on another party".
However, Det Insp Rock said it was "proven not so" and explained that Syed's fingerprints were discovered on a plastic bag found under his daughter's head.
State pathologist, Heidi Okkers, told the second day of the inquest on Friday that post-mortem examination on the three victims revealed that they had all died by asphyxia due to strangulation, which was consistent with scarves found around the necks of the three bodies.
Evidence on the time of death provided by Dr Okkers indicated Ms Banu had died before her two children – a finding which refuted Syed's claims that she had killed them.
Dr Okkers said there was evidence that external force by another party was used in the deaths of the two children.
While Ms Banu's body gave the appearance of self-strangulation, Dr Okkers said she believed that explanation was "highly unlikely" given the circumstances of the case.
A jury of six women and two men returned a verdict of unlawful killing in all three cases.
The inquest was shown CCTV footage of an individual dressed as a woman with a coat, full-length dress, hat and dark glasses boarding a bus at 8.05pm on October 22, 2020, in Rathmines, where Syed had been living since he was restricted from living in the family home as part of his bail conditions.
Det Insp Rock said Syed confirmed the figure shown in the footage was Syed, who was traced getting off at a bus stop on Stonemason's Way in Ballinteer.
He said Syed's clothing was "not a cultural dress", while other CCTV footage showed he had changed back into his normal clothes as he neared the family home.
Concern
The inquest heard gardaí were called to the house in Llewellyn Court on October 28th, 2020, after a Tusla social worker, Holly Nuzum, became concerned that Ms Banu was not at home for an appointment which was unusual, while all the blinds were shut.
Detective Garda Brian O'Neill said he arrived at the house at 11.40am and spoke to a neighbour, Vivian Balwalya, who also stated she had not seen Ms Banu or her two children for a number of days.
Det Garda O'Neill said he sought support from the Garda Armed Support Unit due to concern for the family's welfare.
Gardaí described forcing entry into the property by breaking a window on a rear patio door. They immediately noticed water flowing through a damaged ceiling over the kitchen, where the floor was very wet.
Det Garda O'Neill described going upstairs and finding Asfira and Faizan lying face down side-by-side on a bed. He then discovered their mother lying face up on a bed in another bedroom.
The inquest heard a tap in the bath was running and had overflowed.
Det Garda O'Neill said all three victims had scarves around their necks, which were knotted at the back for the two children and at the front for Ms Banu.
He told the coroner, Clare Keane, he knew both children were dead, and was certain Ms Banu was also deceased after touching her leg and finding it was "ice-cold".
The inquest also heard evidence that Syed was in the house in Llewellyn Court on October 22nd, 2020, when Ms Banu recorded a video in which she claimed her husband had never assaulted her, adding that marks on her body were self-inflicted.
The video which was recorded by Ms Banu's daughter, showed her mother claiming she had repeatedly explained to gardaí what had happened and had written a letter containing the same claims of her own free will.
In the recording, Asfira also stated that her father had not hit her mother, before adding: "Dad loves us a lot. No matter how we explain to [social workers] they don't understand."
Det Insp Rock said the letter, which he described as Ms Banu's "final statement", was "a proclamation of no wrong-doing by Syed and that they should be together".
Detective Garda Ciaran Byrne of the Garda National Cybercrime Bureau, told the inquest that an examination of a wi-fi router in the house in Llewellyn Court had established that Syed's phone was in the property on 29 days between August 20th and October 23rd, 2020.
Abuse
The coroner and jury of six women and two men were shown a number of video calls retrieved from Ms Banu's mobile phone in which she was crying as she spoke to family members back in India about her husband beating her.
"When I went to the police, he got a certificate to say I was mad," she told one relative in a call in May 2019.
In another video call on May 15th, 2020 – a day before she was physically assaulted by her husband – Ms Banu stated her body "can't take it anymore" and expressed concern because her son was "so scared".
"I'll be killed. I can't talk to the children," she added.
Ms Banu claimed her husband was "high on his money and wants to do whatever he wants".
In the same call, she warned that if anything happened to her or if she died, Syed would be responsible.
However, there was another video call recorded on August 9th, 2020, which the coroner said was "completely different" and showed Ms Banu declaring she loved her husband very much and that how people did not understand how much he also loved her.
She claimed they were unable to live together because of the "misunderstanding" by gardaí about the report of domestic violence.
In another video on October 3rd, 2020, Ms Banu said she was making the video to show how she inflicted marks on herself as gardaí had not wanted to understand how the injuries had occurred.
The inquest heard the Garda inquiry had involved thousands of work hours, with hundreds of lines of investigation followed.
Det Insp Rock said gardaí were aware that Ms Banu and her children had been brought to a shelter for victims of domestic violence in Dublin on Christmas Eve in 2018.
Reports
Evidence was heard on Thursday that staff at the Dunnes Stores supermarket in the Beacon Centre in Sandyford had called gardaí after Ms Banu and her children were crying and distressed after Syed was seen pulling and forcibly grabbing his wife and daughter outside the store.
Det Insp Rock said there was also the garda's own file on Syed being arrested on May 16th, 2020, at the family home after Ms Banu was found unconscious.
Although no formal complaint was made against Syed, Det Insp Rock said gardaí were satisfied they had enough evidence to prosecute the case.
The witness said gardaí also knew Ms Banu had been treated in hospital in India in May 2019 after being assaulted just a few days after she had returned home for a period with her husband and children.
The inquest was informed that Syed had flown back to Ireland before he could face a charge for assaulting his wife.
Det Insp Rock noted that a neighbour at the family's previous home in Sandyford had also made them aware of an incident in March 2019, during which Ms Banu was crying and appeared fearful of her husband, the inquest heard.
A number of Tusla social workers gave evidence of the challenge of trying to assist the family and ensuring the protection of the two children as Ms Banu was claiming that gardaí and Tusla misunderstood their domestic situation.
At the conclusion of the inquest, the jury issued a number of recommendations, including that there should be a shorter period between the first referral of child protection concerns to Tusla and the holding of a case conference, as well as the provision of support workers catering for mothers only in cases of domestic violence.
The jury foreman said supervised visits should also be provided by professional support workers, with a translator if necessary.
Dr Keane said she would bring the jury's recommendations to the attention of the relevant authorities.
Addressing two of Ms Banu's nephews who had travelled from India for the inquest, the coroner expressed regret that their first visit to Ireland was in such tragic circumstances.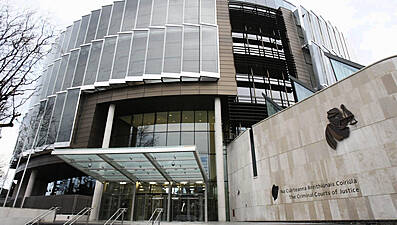 Ireland
Man acquitted of murder over Mayo stabbing
Dr Kenae said for all the trauma and anguish she and her children had suffered, their voices were "but a whisper and they had no chance to explore their full potential".
The coroner observed they had died "in a way that is unimaginable to most of us."
---
If you have been affected by any of the issues raised in this article, you can contact Women's Aid (24-hour freephone helpline at 1800-341 900, email helpline@womensaid.ie) or Men's Aid Ireland (confidential helpline at 01-554 3811, email hello@mensaid.ie) for support and information. Safe Ireland also outlines a number of local services and helplines at safeireland.ie/get-help/where-to-find-help/.
In the case of an emergency, always dial 999/112.