Minister of State Ossian Smyth has said that Ireland needs to "catch up" when it comes to nicotine restrictions.
He was commenting on his plans to completely ban disposable vapes on environmental grounds. It was "not okay" to throw away lithium batteries which were explosive, he told RTÉ radio's Today with Claire Byrne show.
Disposable vapes looked like highlighters which was not a coincidence, he said, as in a pencil case they could be overlooked by concerned parents.
At one point Ireland had been a world leader when it came to nicotine restrictions, the country had been one of the first to introduce health warnings on cigarette packs and was also one of the first countries to introduce a smoking ban in pubs and restaurants.
Since then other countries like Australia and New Zealand were now "ahead of us. We need to catch up."
As an environment minister, Mr Smyth said he wanted to completely ban the sale of disposable vapes on environmental grounds. "A disposable vape for anyone who doesn't know is a vaping device so that you can smoke nicotine.
But at the same time it contains everything you need in it, the battery, the nicotine, plastic, metals, ignition device, electronics. And when you're finished with it, often within a day or two, it just gets thrown on the ground and thrown away.
"It's not okay to throw away lithium batteries after a day or two. It's not okay to try to make electronics disposable.
"And on environmental grounds, I want to ban these disposable vapes. I'm not going to interfere in reusable refillable vapes, the normal ones, these disposable vapes are actually a novelty. They're an innovation. ]
"They arrived really just about two years ago, and it was during the pandemic. I don't think people really paid much attention to them and suddenly they're everywhere. If you go to a music festival, you see these coloured things on the ground and they look like they're like glow sticks. They're like highlighter pens.
"I don't think it's a coincidence that they look like a highlighter pen because a lot of children in school would have them in their pencil case. And if you're a parent, you're going to notice if your child is recharging their vape at night, but you're not going to notice this thing that really looks like a highlighter pen."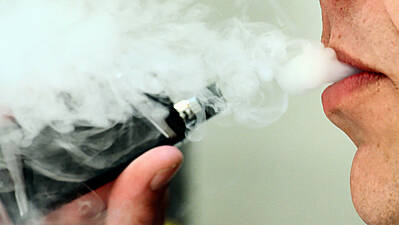 Ireland
Ireland plans to introduce 'outright ban' on vapes...
The Minister said he wanted the public to take part in the consultation he is organising on disposable vapes. This can be done through responding to a survey on the Department of the Environment's website here.
"So over the next few weeks, I'll be gathering opinions from the public, and based on that, I'll decide whether to ban them or to do something else with them."
Mr Smyth pointed out that disposable vapes can be recycled in the same way as batteries through WEE boxes.
Some of the potential policy options include:
A ban on the manufacture, sale, distribution, or free offer of disposable vaping devices under the Waste Management Act, 1996, Section 28(4)(i).
The establishment of a deposit and return system for disposable vaping devices.
No legislative change but improve the producer responsibility scheme to ensure all producers placing devices on the market are registered with the Producer Register Limited, ensure enforcement of the Extended Producer Responsibility (EPR) requirements is adequate, and improve education and awareness around returning devices into the WEEE and battery collection schemes for responsible recycling.