A projected €1 billion health overspend could affect budgetary decisions in other areas, the Minister for Finance has said.
Michael McGrath said there had been a "pattern of overspending" in the health department for a significant number of years and that he wanted to know what the overall position was.
Mr McGrath was speaking ahead of a meeting of the Cabinet on Tuesday to discuss the upcoming budget on October 10th.
Tánaiste Micheal Martin warned it would be a tough budget as the Government wrestled with inflation and cost-of-living pressures.
Mr McGrath said Health Minister Stephen Donnelly would set out the picture at the Cabinet meeting with regards to spending challenges in his department.
The Minister for Finance said there were pressures in service delivery within health, partly due to an ageing population and the effects of the Covid pandemic.
The overspend in the health department is reportedly projected to reach €1 billion by the end of the year.
He added: "Obviously overruns in one large area of government expenditure can result in pressure being placed in other areas of government expenditure.
"It is important overall that we maintain budgetary discipline, that when we set out a budget at the beginning of the year, that except for exceptional circumstances that we stay within that budget.
"There will always be circumstances where that is not possible, but there has been a pattern of overspending in health for a significant number of years now."
Mr McGrath added: "It can impact on other areas and it can impact on other budgetary decisions that we face in the next two weeks.
"From my perspective as minister for finance, I will want to know what is the overall position."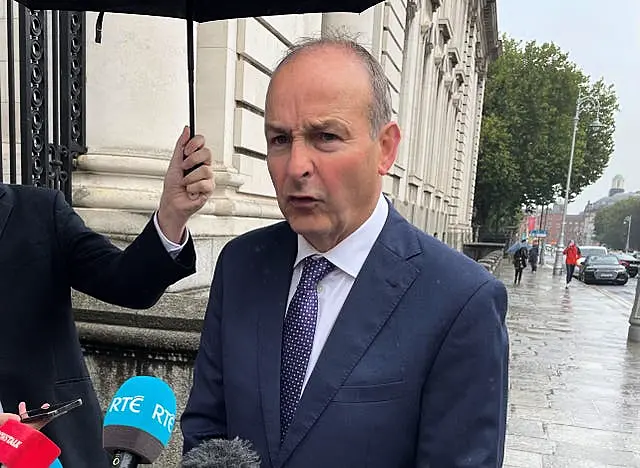 Speaking to the media ahead of the Cabinet meeting, Mr Martin said: "In the context of the Budget, progress has been made but it is a very challenging environment with a very significant increase in the population of the country over the past couple of years.
"It creates pressure on public services, health, education, childcare, so government has to wrestle with that, navigate that along with inflation which has arisen primarily out of the aftermath of Covid and the war in Ukraine.
"Given that context it will be a tough budget in terms of trying to create space and room for manoeuvre in terms of additional measures as well as helping people to cope with the pressures they are under at the moment."
New Central Statistics Office figures this week showed that the overall population in Ireland rose by 97,600 people to almost 5.3 million – the largest 12-month increase since 2008.