Three British men and a Romanian woman have been arrested on Spain's Costa Blanca on suspicion of sending cannabis to Ireland by post.
The Civil Guard operation, dubbed Operation Topila, was launched in February after more than 2kg of the drug was discovered in two parcels at Madrid Airport sent from coastal resorts south of Alicante and bound for Ireland.
The alleged British leader of the drug smuggling gang was identified as a suspect after another delivery was intercepted at the same airport.
And in March in a town near the Spanish capital the same man abandoned a vehicle with 54kg of cannabis inside after a police chase which began when he fled a petrol station fearing he was about to be arrested.
Detectives on the Costa Blanca revealed on Thursday they had held three British men and a Romanian woman aged between 23 to 33 on suspicion of drug trafficking and membership of a criminal gang.
They also published footage of the spectacular armed raids that led to the arrests, which police said have ended with the dismantling of the gang.
More than 60kg of marijuana buds, a gun and cash were seized during the operation along with weighing scales and mobile phones.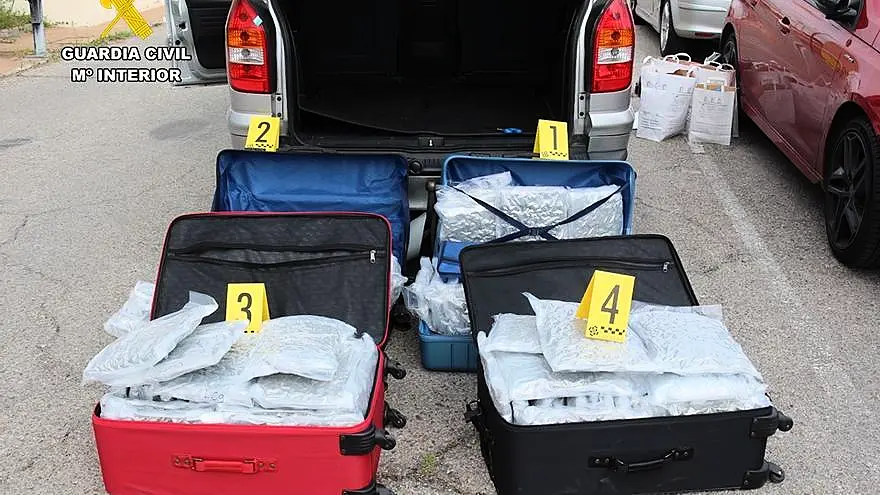 The suspected ringleader has been remanded in custody following a court appearance and the other three suspects released on bail pending an ongoing criminal probe led by a court in the Costa Blanca town of Torrevieja.
A spokesman for the Civil Guard in Alicante said on Thursday: "As part of Operation Topila a criminal gang who were sending cannabis from San Miguel de Salinas and Orihuela Costa to Ireland in parcels has been smashed.
"The gang members also sold the drugs in the local area.
"All the members of the gang have been arrested and the suspected ringleader sent to prison following a court appearance.
"The investigation began in February when more than two kilos of cannabis was discovered in two parcels at Adolfo Suarez-Madrid Barajas Airport that had come from Orihuela Costa and San Miguel de Salinas and were bound for Ireland."
Revealing the second inception of a parcel containing drugs occurred before the March incident which led to the near-capture of the suspected British ringleader, the force added in a statement: "In March in Rivas Vaciamadrid in the Madrid region the suspect thought he was about to be arrested and fled a petrol station after confronting officers in a Civil Guard patrol car there.
"During his escape he jumped over several access barriers protecting high-speed train tracks and abandoned a vehicle with four suitcases inside containing 54 kilos of cannabis.
"It was subsequently discovered he was hiding at an address in San Miguel de Salinas with two compatriots who were responsible for logistical assistance and the sale of drugs to local users.
"The property was protected with security cameras and three guard dogs."
The arrests are understood to have occurred between May 18th and May 22nd, although they were only made public on Thursday.
The Civil Guard spokesman said: "The detainees are three British men and a Romanian woman aged between 23 and 33."
The operation is a different one to that which led to the arrest for alleged drug trafficking earlier this year of a Dublin man facing trial over the 'love triangle' murder of an Irish expat whose body was found near a Costa Blanca motorway.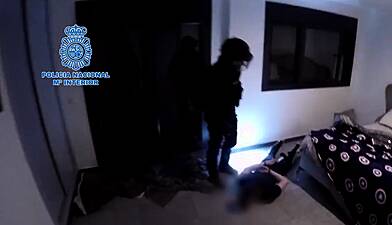 Ireland
Spanish police arrest alleged gang members over at...
Wayne Walsh was held four years ago on suspicion of killing Carl Carr in a fight with a knuckle-duster before allegedly using bleach to clean up their rented Spanish villa.
His arrest followed the discovery of 38-year-old Mr Carr's body by the AP-7 motorway between Benijofar and Algorfa, a 20-minute drive north from where the Irishman was last seen in September 2018.
In March it emerged he was back behind bars after a drugs arrest.
He was one of four people held in an operation codenamed Operation Fepama after detectives discovered cannabis resin was being sent from Spain to Ireland, the UK and the States using courier delivery firms.