Ava Barry, whose mother Vera Twomey fought a lengthy campaign to secure her access to medicinal cannabis to treat a rare form of epilepsy, has died aged 13.
The teenager, who had Dravet Syndrome, died peacefully in a Cork hospital on Friday surrounded by her family. She had been hospitalised following a recent illness.
In 2017, the then minister for health, Simon Harris, granted a licence for the use of medicinal cannabis by Ava.
Ms Twomey, from Aghabullogue, had walked from Cork to Leinster House in Dublin on two occasions to highlight her daughter's plight. Ava's condition was so serious that it had previously led to cardiac arrest and an eight-day coma.
Ms Twomey gave numerous media interviews over a three-year period in which she said she was desperate to gain access to THC medicines to prevent her daughter's severe epilepsy episodes. She also assisted other parents in similar positions.
A book called For Ava was published by Ms Twomey in 2019. In it, she wrote about the struggles her family experienced when Ava was seriously ill.
She said they ran out of options to treat Dravet Syndrome and that "there was nothing there but Google" as they desperately searched for a solution to the dire circumstances their daughter was in.
Prior to obtaining medicinal cannabis, Ava could having up to 23 seizures in the space of a day, which Ms Twomey described as "terrifying experiences" as she never knew if her daughter would come out of one intact. Her fear was that Ava would end up brain-damaged or could die.
Ambulances were called so regularly for Ava that the family stopped providing their address when calling, Ms Twomey said. Prior to securing Ava access to medicinal cannabis, Ms Twomey said her life was one of constant stress, pain and anxiety.
"Every waking moment was consumed by it. I operated under constant fear and tension waiting for the next seizure. It was coming though you never knew when, but as sure as day it was coming," she said.
"Ava was having several seizures almost every day, with over 20 on a bad day. They may have varied in extent and severity, but each one was an agonising experience, full of pain and terror."
In May 2017, Ms Twomey went to Spain to get a prescription from a consultant for medicinal cannabis for Ava. Customs officials confiscated the THC cannabis oil from Ms Twomey after questioning her for an hour after she got off a flight from Barcelona.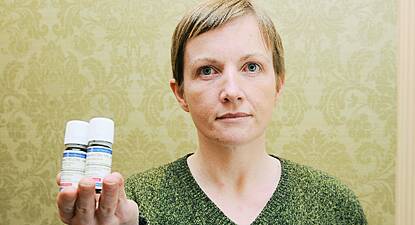 Ireland
Campaigner celebrates after Dutch medicinal cannab...
She then went to live in The Hague in the Netherlands, where she again received a prescription of the drug for Ava. At the time, Ms Twomey said that it was a relief to finally gain consistent access to the medication even if she had to go overseas.
"It is freedom for us. We have a medicine that works. We can speak openly and honestly about Ava having the THC form of cannabis. We don't have to hide in the shadows," she said.
Ms Twomey was asked to speak in the House of Commons in London in 2019 about the benefits of the alternative medicine in treating conditions such as severe epilepsy.
Ava is survived by her parents and her siblings Michael, Sophia and Elvera Mae.