Broadcaster ITV has seen its shares hold firm despite speculation swirling around former This Morning presenter Phillip Schofield's departure and the future of its flagship daytime show.
Shares in the FTSE 250 listed firm initially dropped nearly 2 per cent on opening, but quickly regained their poise to edge 0.1 per cent higher in morning trading on Tuesday.
The stock was in sharp focus when trading opened on Tuesday after the long bank holiday weekend, after disclosures over the past few days about Schofield.
But experts said the saga is unlikely at this stage to impact the wider group in the long term.
Roddy Davidson, a media analyst at Shore Capital, said: "It's not helpful in terms of the general noise around the company, but it's not significant in terms of the overall investors' perception and how that impacts the share price."
He said investors are more concentrated on ITV's long-term prospects and the broader shift away from traditional terrestrial television towards online streaming, rather than the Schofield scandal.
He said: "It's about the individual but I don't think it's about the broader integrity of ITV.
"Much worse happens in Westminster, for example.
"Not to underestimate the seriousness of what's gone on, and it's very unfortunate for the individuals involved, but I think it will blow over."
He added: "Advertisers, at the end of the day, advertise on ITV because it can generate an enormous mass market audience in the day.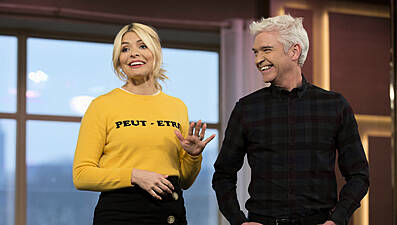 World
Holly Willoughby should follow Phillip Schofield o...
"I don't think this will impact that."
Susannah Streeter at Hargreaves Lansdown added: "Although the drama has concentrated minds about the need for consistently popular content in important slots which keeps eyes on screen and advertising revenues returning, this is being viewed as a short-term hiccup rather than a longer-term problem for the company.
"Instead, there will be a much closer eye trained on advertising prospects over the longer term, given high inflation and the worry that a further ratcheting up in interest rates could push the UK into a recession after all, which could lead to marketing budgets being squeezed."