#PrayersForLondon: Twitter users share support for Londoners after Saturday's terror attack
04/06/2017 - 12:48:06Back to London attack Discover Home
People are taking to Twitter to share messages of love and support following the terror attack in London on Saturday evening, which left seven dead and dozens injured.
The attack involved three men driving a van at people on London Bridge, then leaving the van and mounting stabbing attacks in the area of Borough Market. The men were shot dead by police eight minutes after the first emergency call.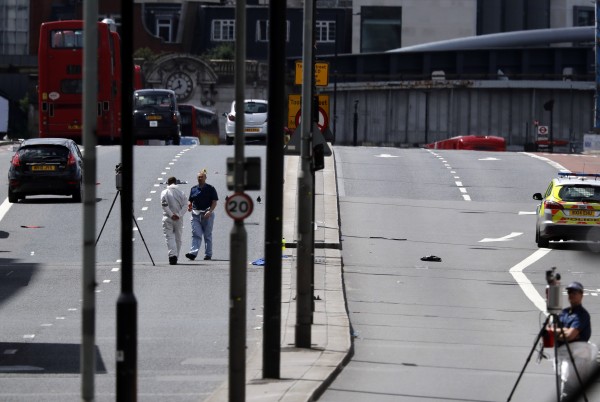 As users in the UK and abroad heard about the attack, a hashtag quickly emerged for people to deliver their messages as one: #PrayersForLondon.
When the news broke, users reacted with shock.
I can't believe I've woken up to yet more sad news of another terror attack#PrayersForLondon

— Joshua Joseph (@_Joshua_Joseph_) June 4, 2017
Can't believe I am tweeting this again. #PrayersForLondon. When does the hate and the hurt finally end? 😢💔

— Stephanie Schaeffer (@sls1980) June 4, 2017
Many wanted to send love and support to Londoners.
Sending #PrayersForLondon and hoping that everyone injured so far pulls through. Can't believe this has happened again so soon

— Lucy McCall (@LucyMcCall25) June 4, 2017
#PrayersForLondon I here by send my prayers to the ppl in London. This has to stop somewhere. This is heartbreaking to hear😭❤️

— Carlene. (@CarleneJustMe) June 4, 2017
To our beautiful city and our people love you and thinking of you. They will not win #PrayersForLondon

— Martine Goddard (@MartineGoddard1) June 4, 2017
woke up to the horrible news, my thoughts are with everyone effected 💔 #PrayersForLondon

— Abbie|24hr sad (@idroppedmyuwus) June 4, 2017
Others thanked the emergency services for their hard work on the evening of the attack.
Heartbreaking that we live in a world so full of hate! ❤ thankful that the emergency services did us proud AGAIN though #PrayersForLondon

— Ellie (@ellie_allday) June 4, 2017
Proud to be a Londoner. Proud of our emergency services bravery & dedication. Terrorism will NEVER win#LondonAttacks #PrayersForLondon pic.twitter.com/u7GorGxwml

— Dr Tunde Okewale MBE (@UrbnLawyer) June 4, 2017
Many messages took a defiant tone, expressing that terror would not win.
Prayers & Love for all innocent people 💗 they will not beat us #nototerrism #noevil #PrayersForLondon #PrayForPeace #prayformanchester

— Helaina Rose Morgan (@HelainaRM) June 4, 2017
My thoughts go out to London. We must remain defiant. Extremists can not and will not divide us. They will not win. #PrayersForLondon

— George Aylett (@GeorgeAylett) June 4, 2017
Police believe three terrorists carried out the atrocity and all have been "neutralised" after they were shot dead by armed officers.
People concerned about loved ones can call the casualty bureau line on 0800 0961 233.
Police are urging members of the public with photo or video footage of the incidents to upload them at http://www.ukpoliceimageappeal.co.uk
The Anti-Terrorist Hotline is 0800 789321. Anyone with urgent concerns should contact 999.
Want us to email you the top news stories each lunchtime?