People are sharing their worst dates on Twitter
21/09/2017 - 13:40:21Back to Discover Home
We all have our go-to 'bad date' story. It was horrific at the time – but now that time has passed, it's kind of hilarious.
People have been taking to Twitter to share their tales of dating woe. Their stories are so awful they'll probably make you feel pretty good about your own terrible experiences when trying to find love.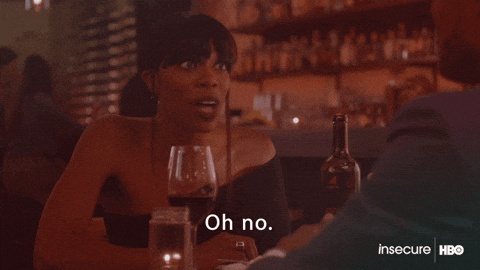 The best thing? Because it's Twitter, the dates had to be summarised in just 140 characters, so there are some pretty explosive stories told in just a sentence or two.
quote tweet the worst date you've ever been on

— James Coston (@JamesCoston) September 19, 2017
Here are some of our favourites.
The ones where they're married
Cheating seems to be a common theme. We can't wrap our heads around the logic here – did the cheaters think they wouldn't get found out? Possibly worse, these people's dates couldn't even be bothered to hide it.
She let me buy dinner then told me all about her boyfriend in the marineshttps://t.co/81GWq3qXJO

— Referees are the Enemy (@JagsPoolBoy) September 19, 2017
Took her to a concert. Just as Bon Jovi comes on, she says "My boyfriend loves these guys." https://t.co/nL65Sv1TEv

— Josh Guesman (@jguesman) September 19, 2017
The ones where they're not over an ex
The date still being into an ex can be a major problem. It's even worse if they get back together with their ex – on the date.
Showed me pics of his ex in a bikini and high heels for some reason 😐 https://t.co/cv2DB6Opnq

— shorty (@shorty8664) September 21, 2017
Taken out to dinner and left at the table to get the check, because he reconciled with his ex at the bar. https://t.co/o3ylVrGXEC

— Schadenfreudelish (@aggierican) September 20, 2017
Went to a concert (got McDonald's before the show, classy) where he "ran into" his ex girlfriend & they disappeared together after 1st song https://t.co/FcRVt1DG9F

— Marielle (@marielle922) September 19, 2017
The dates in weird places
Some dates were bad purely because of their terrible location choice. We might be old school, but what's wrong with dinner and drinks?
In high school. Dude brought his cousin along and took me to a wake after dinner. https://t.co/qZikYHZkgd

— Beep Beep Jamie 💀 (@BolshoiB00ze) September 21, 2017
Met a girl on okcupid. She had me pick her up for dinner and then she decided she wanted to go to a strip club. Where she worked. That night https://t.co/MPEz1x15Ni

— Scott Carasik (@CarasikS) September 20, 2017
The people with ulterior motives
It turns out there are people who don't go on dates to find love at all.
turns out she was a cult recruiter https://t.co/QDHMMlWiTM

— horny ron rides again (@ronaldravegan) September 20, 2017
She started crying and asking to move in to escape her boyfriend BEFORE I EVEN FINISHED MY BEER. https://t.co/Pt6FVqFEHE

— XFL Fan Catfish (@ImCatfishAF) September 21, 2017
The uninvited guests
Some people decided it would be a good idea to bring family members on the date. Nothing quashes the potential of romance quicker than the addition of a child/parent/aunt/cousin into the mix.
She brought her kid on the date. https://t.co/QRAAJ6FSuK

— Not Heartbroken Anymore MC Wale (@theMCwale) September 19, 2017
My friend Pam wins this 1. She went to a hockey game. He brought his brother & when she went to the b'room, the game ended & they forgot her https://t.co/lqe6knBJcO

— Chris (@maize_rage) September 19, 2017
The plain weird ones
And then there are the bad dates that can't even be categorised they're so weird.
He called himself the king of lesbians and owned a crossfit gym... That he lived in. https://t.co/3niRMiCYNx

— Kelly (@KellyDotGov) September 19, 2017
"I only drink [Date's Name]'s Drink, I invented it myself"
*Date ordered [Date's Name]'s Drink and got mad when server had not heard of it* https://t.co/ISiJX36h46

— Mary Sue 🌟🌟 (@MarySueSays) September 20, 2017
To cut to the chase... got hit over the head with a 3 pound bag of M&M's to end the night. https://t.co/ZrME7ImMeF

— mathieu. (@mathieuvirtuoso) September 20, 2017
I've had a lot.. but the guy who stole the salsa bowls by stuffing them in his pockets was my favorite https://t.co/2D8vpm0LM6

— Jilliffer🌮iffer (@jesusmariahcary) September 20, 2017
What we'd love to know is how the unfortunate people telling these tales handled such bizarre situations. We hope they ran away – fast.
KEYWORDS:
Lifestyle
,
Life
,
Relationships
,
Dating
,
UK
,
Dating
,
featured
,
Life
,
Relationships
,
story-enriched
,
composite
Want us to email you the top news stories each lunchtime?