16/01/2018 - 13:36:00Back to Heathrow Discover Home
Few things are quite so divisive as how often you wash your jeans. Everyone has their own school of thought, but no one is entirely sure what the best approach is.
Owning jeans is all fun and games until it's time to do laundry ....

— Tony 😎 (@ayebare47) January 9, 2018
There are those who wash their jeans regularly, and just can't fathom walking about with unclean trousers on.
Some aren't particularly militant about it, but stick their jeans in the washing machine when necessary.
I wash my jeans every now and then... usually when food hits them or the gummy hands of my child use me as a napkin...

— Winter Rose (@WinterRose0312) January 9, 2018
And let's just say there are others who are a bit more lax about the whole situation.
I just pulled a pair of jeans from my pile of dirty laundry and concluded that they had been sitting there unworn long enough that I could consider them clean. Pray for me.

— Bethany Siau (@BethanySiau) January 10, 2018
I never know if I've actually lost weight or if my pants just fit looser becuase I've worn them for two weeks straight without a wash.

— skinni_coke (@_go_away_anna_) December 13, 2017
Maybe if you are some kind of weirdo that washes your jeans pic.twitter.com/JAbHfzJNse

— Bяyan (@MurderBryan) January 5, 2018
Perhaps they aren't washing their jeans in order to protect the material?
Some ppl don't wash their jeans bc it is bad for the denim, some ppl don't wash their jeans bc they're lazy, I like to pretend I'm the first

— John Maurer🦉 (@JohnPMaurer) January 5, 2018
didnt wanna wash my jeans so i just sprayed some shout on the stain and scrubbed it in BOOM no laundry

— sydney sabbagha (@mahsyds611) January 14, 2018
Some people go to some weird lengths to keep their jeans clean without putting them in the washing machine.
One of my favourite things...putting on my favourite pair of jeans fresh and thawed out of the freezer!
Yes...freeze jeans to clean them!!

— 🇨🇦Robbie D ™️ (@scrapdog47) February 26, 2017
I used to work for diesel and they advise you not to wash your jeans. Just freeze and spot clean, unless it's absolutely necessities

— H4SH (@_h4sh) December 26, 2017
In fact, Levi's CEO Chip Bergh says that you shouldn't wash jeans regularly. He told Fortune: "A good pair of denim doesn't really need to be washed in the washing machine except for very infrequently or rarely." This is because washing machines ruin the denim, and Chip recommends cleaning any stains with a toothbrush.
Denim guru and founder of Mr Black Garment Essentials, Ash Black, gave us his expert opinion on the matter.
Ash says: "You've probably heard all the myths around caring for your denim, whether it's putting them in the freezer to kill odorous bacteria or sitting in the bathtub in your jeans to maintain the perfect fit…. Well if you've been following these old denim tales, you've been wasting your time.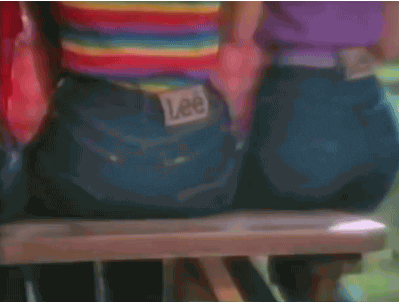 "The best way to care for your denim is by simply washing them less. I repeat – freezing your smelly jeans is pointless!"
So it would seem like the expert consensus is to minimise how often you wash your jeans. Ash says: "Washing tends to breaks down the fibres and removes dye from the garment, and so if you chuck it in with your extra clothes to be washed, you're in danger of dying your entire wardrobe. If you have only worn your jeans for a few days, you don't need to throw them in the laundry just yet."
So there you have it – next time you're told off for not bothering to wash your jeans, you've got a pretty good excuse. It's all for the sake of fashion.
Want us to email you the top news stories each lunchtime?