Justin Trudeau's Chewbacca socks caused quite a stir at a business forum in New York
20/09/2017 - 22:08:58Back to Discover Home
Canada's Prime Minister Justin Trudeau has form in the novelty socks department, especially when it comes to Star Wars.
Earlier in the year, he posted this image on May 4, otherwise known as Star Wars Day, of a pair of socks featuring C-3PO and R2-D2.
These are the socks you're looking for. #MayTheFourthBeWithYou#GuerreDesÉtoiles pic.twitter.com/AXTQkgmkYH

— Justin Trudeau (@JustinTrudeau) May 4, 2017
And during a discussion at the Bloomberg Global Business Forum in New York, another pair of Star Wars-themed socks made their way into public view.
This time, a pair of Chewbacca socks could be seen poking out of Trudeau's shoes.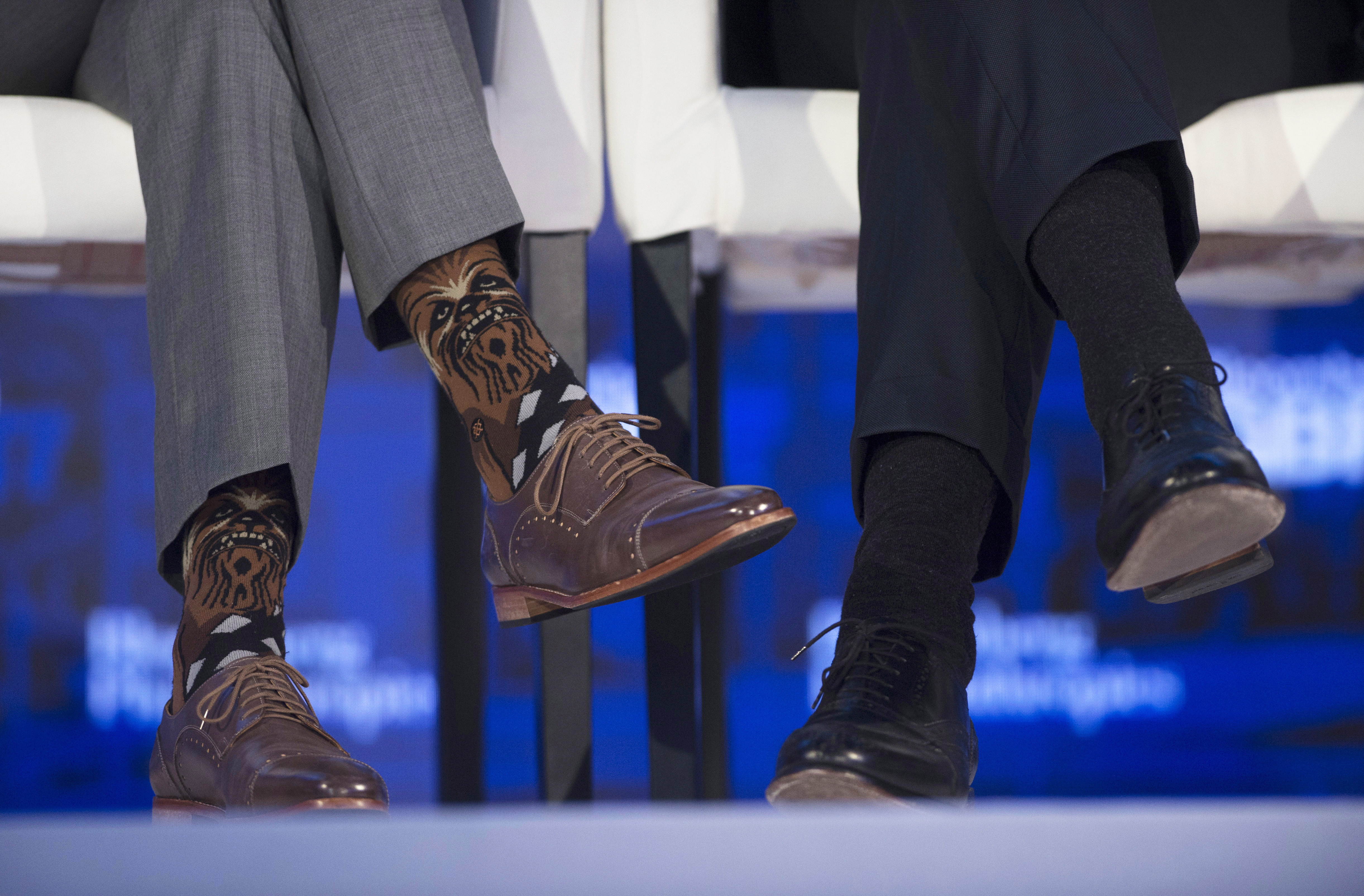 (Adrian Wyld/AP)
Just about visible here…
Thanks to Christine @Lagarde for leading a great discussion on the importance of free & open trade at #BloombergGBF this morning. pic.twitter.com/s89qGjZYQ2

— Justin Trudeau (@JustinTrudeau) September 20, 2017
…but pretty obvious when Trudeau crossed his legs.
I moderated an excellent discussion on trade with PMs Trudeau, Rutte and with Messrs Fink and Schwartzman. #BloombergGBF pic.twitter.com/vtyDvVNFKv

— Christine Lagarde (@Lagarde) September 20, 2017
Today I learned that Justin Trudeau and I have the same chewbacca socks so needless to say today is a good day

— Ben Nace (@Bennace1) September 20, 2017
Trudeau's socks.

— Karen Marston (@karenmarston) September 20, 2017
More like shoe-bacca, right?
Want us to email you the top news stories each lunchtime?