Dogs show off their best cosplay outfits at San Diego's Comic Con
23/07/2018 - 16:07:00Back to Dogs Discover Home
Cosplay isn't just for humans at San Diego's Comic Con.
Thousands of fans took to this year's festival to don their favourite costumes and bring a unique take to the festival.
The four-day event provides some amazing mash-ups of pop culture but it was four-legged friends who stole the show.
Here are some of our favorites from this year's festival.
Have you seen any other adorable dogs of Comic-Con? #SDCC pic.twitter.com/3wsdnJKfdb

— Union-Tribune Ideas (@sdutIdeas) July 21, 2018
Genius, Billionaire, Playboy, Mutt. #SDCC pic.twitter.com/u7CObbiSTA

— Marshall Julius (@MarshallJulius) July 22, 2018
The best Spider-Man cosplayer at the Comic-Con Marvel meetup is also a good boy 😍 #SDCC2018 Cosplay: @FoxyBuddha pic.twitter.com/c13dxy0Qsm

— Chastity Vicencio (@chastity_v) July 20, 2018
Just was on a very packed elevator where we all became obsessed with Sparky the dog. #SDCC #SDCC2018 pic.twitter.com/vRAfKu1808

— Eric Goldman (@TheEricGoldman) July 21, 2018
Too soon to call it San Diego Canine Con?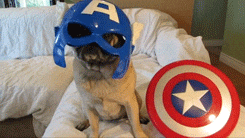 Want us to email you the top news stories each lunchtime?