A woman made this amazing online game to stop people touching her afro hair
17/11/2017 - 14:58:26Back to Discover Home
Sick and tired of people thinking it's acceptable to touch her hair without permission, art director Momo Pixel created a (totally awesome) web based game to address an issue many black women face.
So I made a game cause I got tired of women putting their hands in my hair. 🤷 https://t.co/q0M3i4Pwoh #donttouchmyhair #hairnah pic.twitter.com/9wsvIHbEMe

— Momo Pixel (@MomoUhOh) November 15, 2017
It's called Hair Nah! and is described as "a new travel game about a black woman tired of people touching her hair". The aim of the game is simple: swat as many Caucasian hands away from your character's hair as you can – the more hands you swat, the more you fill your 'Nah!' metre.
You have sixty seconds to achieve this and if you're successful (trust us it isn't as easy as it looks) at the end of the game you'll receive a small piece of advice:
The message reads: "The game is over but this experience isn't. This is an issue that black women face daily."
Since moving to Portland, Oregon, two years ago Momo told one Twitter user that she experienced people unexpectedly touching her hair almost daily.
Yea.

Which is why I don't think it happened to me until I moved to Portland. I have lived in 5 other cities and it wasn't until I moved here almost 2 years ago that every day I was getting my hair touched. And I was like nah. nope. not today. So I made a game.

— Momo Pixel (@MomoUhOh) November 17, 2017
But this experience isn't unique to Momo, she said: "It's literally happened to every black girl I've met. Even while making this game it happened to me, multiple times. And I'm just like, come on, when does it stop?"
She added: "Working on this game was such a breath of fresh air because it's like, finally I get to tell you, 'No, stop touching me. Respect my space,' before it happens—and in the most fun, chill, hilarious way."
Momo's original tweet has been shared over 20,000 times and the game has received lots of praise online.
this is genius!! congrats on this!! Much success!!!

— Gucci Plato (@_BigSheed) November 15, 2017
This is beautiful and iconic. Well done. You deserve a Lifetime Achievement Award.

— N'IYA. (@n_iyayi_n) November 17, 2017
Others took the opportunity to share their own experiences with this issue.
My girlfriend of 5 years is half black with ✨amazing✨hair and the sheer AUDACITY of the old white women who touch her hair disturbs me. Like, WALKS UP FROM BEHIND NO WARNING audacity. Gives me chills.

— Kelsomatic (@Kelsomatic) November 16, 2017
Just passed this to a friend who has this happen constantly, it just made her evening. Now we're all playing it and someone just said there needs to be one for tattoos.

— Chris the Jones (@jones_the_chris) November 15, 2017
The game also helped educate people who weren't aware of the problem.
This is a thing?! Why would women touch anything on a stranger? That's just weird. Or maybe I just don't like being touched myself and was just taught to keep my hands to myself?

— Amber Weinberg (@amberweinberg) November 17, 2017
That's awful that people think that's okay. Invasion of personal space. I'm so sorry you have to deal with that.

— Kaylapatra, Queen of The No Fucks Given Empire (@KaylaZumbaum) November 16, 2017
This isn't the first time the issue of people touching afro hair has come into the spotlight – Solange Knowles wrote a song about it in 2016 in her album A Seat At The Table. In fact she dedicated an entire song to the cause called Don't Touch My Hair.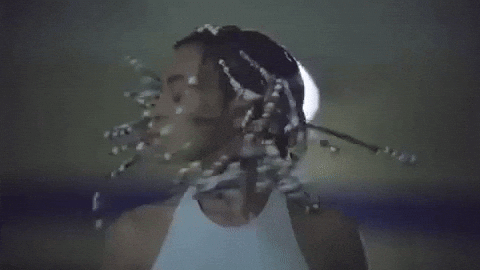 In an interview last year, she said: "Physically touching the hair is extremely problematic!"
KEYWORDS:
Lifestyle
,
Fashion & Beauty
,
Beauty
,
Afro Hair
,
Nov 17
,
UK
,
Afro Hair
,
Beauty
,
Fashion and Beauty
,
featured
,
story-enriched
,
composite
Want us to email you the top news stories each lunchtime?