19/10/2018 - 16:29:00Back to Discover Home
It's the debate that pops up when planning almost every trip: Where will we stay?
These days, travelers tend narrow it down to two choices - a traditional hotel or a home rental (Airbnb).
There is a myth floating among travelers and the travel industry that home rentals are the lowest-cost option for budget travellers, but between hotel advantages and competitive prices, the script is slowly being switched.
On a recent trip to Dublin I stayed in the Clayton Hotel Liffey Valley and between its ideal location, friendly staff and range of amenities, it's somewhere I'd choose over a rental home anyday.
Here are some benefits that hotels offer that simply can't be found in an Airbnb.
1. Housekeeping
The beauty of travelling is the ability to escape from everyday and while Airbnb and apartment rentals tend to be Instagram heavens, a hotel is a true vacation from daily life.
The Clayton hotel offered everything I can't get at home or in a rental - room service and housekeeping.
Hotels don't ask you to clean dishes, take out the rubbish, strip the bed, or start a load of towels in the washing machine before you leave.
Luxury bedding on a bed that I don't have to make myself? Fresh towels delivered to my door? Dinner to my room? Yes, please.
2. Service
Wifi not working? Looking for an extra pillow?
Hotels employ trusted concierges, whom you can call at a moment's notice if your TV is broken, you forgot your phone charger or need recommendations for dinner.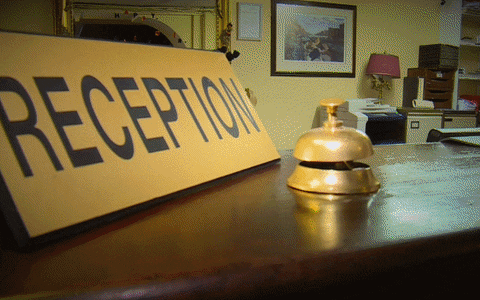 Staff at the Clayton were beyond helpful with any request I had and continued to smile, even the tenth time they had to replace my lost room key, something not so fun when you're staying in a home rental.
3. Safety
Between laptop-sized safety deposit boxes, security cameras and doormen security, there's no way you cannot feel safe staying in a hotel.
The Clayton Liffey Valley even provides a 24-hour front desk service, seven days a week for guests' safety and convenience.
4. Amenities
Amenities vary from hotel to hotel, but typically they include housekeeping, free WiFi, swimming pools, jacuzzis and fitness centres, restaurants and room service and in-room toiletries.
The Clayton Liffey Valley offer all of the above, including secure underground parking and an airport shuttle bus.
The Airport Hopper arrives to the front door of the hotel at a quarter to the hour, every hour.
5. A better night's sleep
Crisp cotton duvet and sheets, on a bed made and approved by housekeeping, is simply every traveller's dream.
And as much as you try, no amount of home-washed paraphernalia with emulate those cloud-like cushions that the Clayton Liffey Valley provide.
They even provide blackout curtains, which were the cherry on top of my midday nap.
6. Meals
From buffet breakfast to room service to fine dining, there's nothing that says vacation like not having to step into a supermarket and do a food shop.
With a choice of two restaurants, Gusto Italian Restaurant and Globe Bar & Restaurant, and a 24 hour room service menu, you're spoiled for choice at the Clayton Liffey Valley.
The way you should be.
Want us to email you the top news stories each lunchtime?