5 ways to experience London Fashion Week even if you're not invited
12/09/2017 - 18:16:33Back to Fashion awards Discover Home
Ticket lost in the post? Never mind, here's how you can get in on the fashion action even if you're not on the guest list.
London Fashion Week starts on Friday, when thousands of buyers, journalists, celebrities, bloggers, vloggers and assorted hangers-on descend on the capital to get a glimpse of the next season's collections six months before they arrive in stores.
Getting a invite to one of the 70-odd catwalk shows and presentations on the official schedule is no mean feat – believe me, I've been going to the biannual event for the last 16 seasons, first as a blogger and then as a writer, and I still can't make head nor tail of the ticket allocation process.
It's not very well known outside of the industry, but attendees actually have to apply to designers for tickets, then wait nervously until, just a couple of days before the shows, the arrival of (hopefully) a flurry of black A5 envelopes indicates that (phew!) you're in – even if it's just a standing ticket, and not the VIP front row treatment you were hoping for.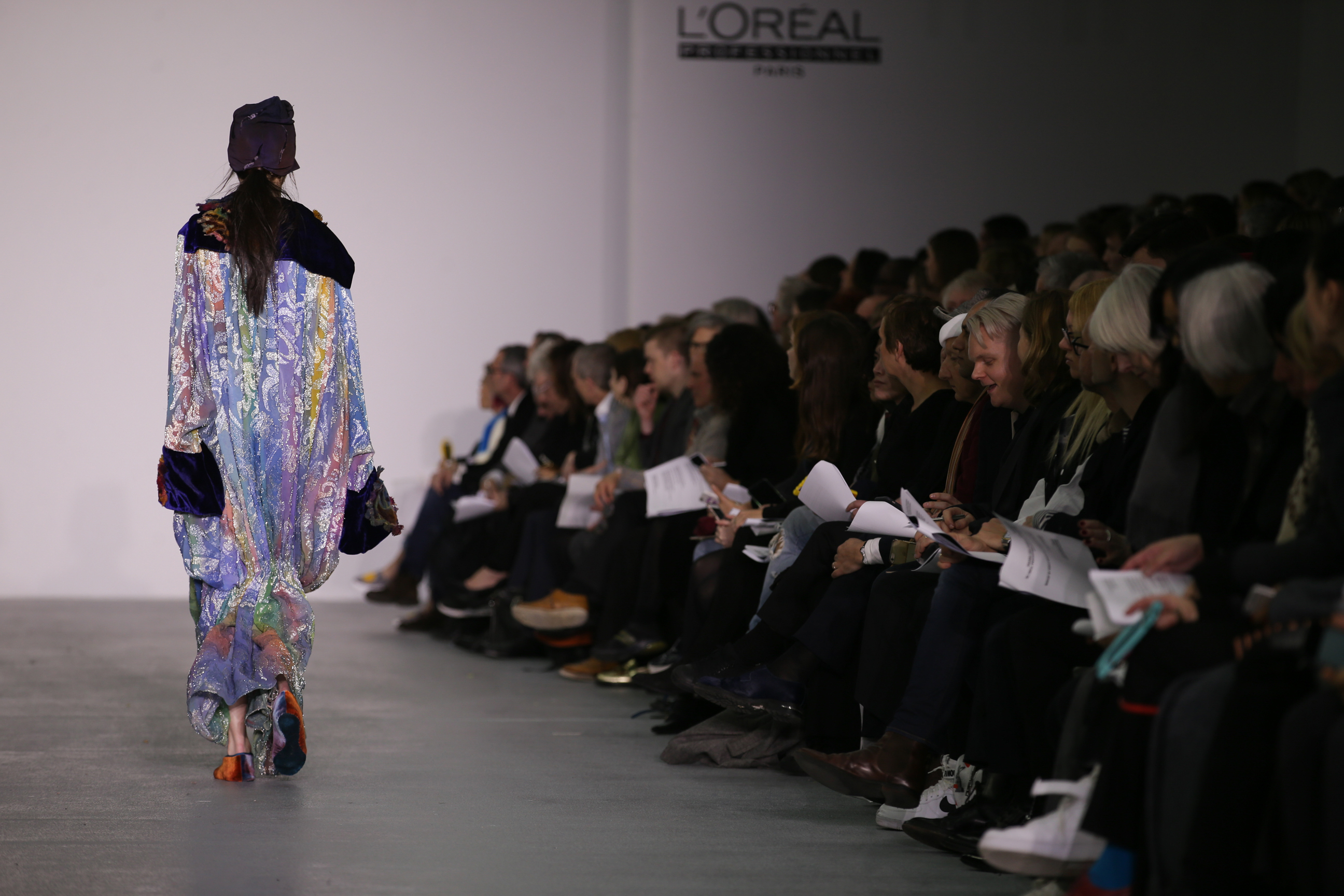 (Daniel Leal-Olivas/PA)
But what if you aren't part of the elite fashion pack? There's no hope of getting anywhere near the UK's style epicentre, is there? Well, actually, that's not strictly true. There are several ways to experience the excitement of show season without an invite. Here's how…
1. Go people watching
This season, the British Fashion Council's official venue is the Store Studios at 180 The Strand, which means that starting with the first show on Friday, Paula Knorr at 9am, there'll be an almost constant parade of fashion folk hanging around The Strand. From the stylishly understated fashion editors and models to the outrageously dressed bloggers desperately hoping to have their photo taken by one of the pack of street style snappers that swarm outside the biggest shows, the people-watching opportunities are spectacular, and if you're lucky, you might spot a celeb or two. The schedule is on the BFC website so you can time your visit for the pre-show mingling. My tip? Molly Goddard at midday on Saturday will no doubt attract some bonkers outfits.
2. Visit the London Fashion Week festival
LFW itself finishes next Tuesday, but from September 21 to 24, the London Fashion Week Festival takes place in Store Studios. Open to the public, the event includes a handful of catwalk shows staged by designers from the official schedule, including Bora Aksu, Fyodor Golan and Edeline Lee, alongside a series of talks and lots of shopping opportunities. Tickets start from £40 if you want to attend one of the catwalk shows.
3. Blag a party invite
As well as packed days of catwalk shows, every night at LFW, there's a heap of parties to hop between – if you're on the guest list, of course. How do manage that if you're not a buyer or blogger? Well, some of the email addresses of the people in charge of said guest lists are on the BFC website (click on the event title to see more details), so you if you've got the gift of the gab, you might be able to swing an invite. But beware, you don't want to end up like former Made In Chelsea star Millie Mackintosh, who last season was turned away from the Love magazine bash because she was, they politely but firmly informed her, not on the list.
4. Be a social media spectator
Fashion week may look glamorous from afar, but the truth is that schlepping from one show to another non-stop for five days straight, fuelled by the odd packet of popcorn (if you're lucky) is stressful and exhausting. Yes, it's truly a First World Problem, but you can avoid all the hassle by spectating via social media instead. Make-up artists are great for getting a behind-the-scenes look (try Val Garland and Pat McGrath), as are models like Adwoa Aboah and Gigi Hadid. Make sure you're following your favourite designers to find out when they're live streaming shows – you'll be getting a better view than 90% of the people in the audience. And my top tip for the view from the front row is Eva Chen. Instragram's head of fashion partnerships is, as you would imagine, heavily into Instagram Stories and her feed is a great mix of catwalk action and in-between show shenanigans.
5. Sneak into a show
OK, we're not suggesting you try and bribe the bouncers or sneak in via the fire exit (getting kicked out of a venue is NEVER on trend), but it's a little-known fact that you can get into a London Fashion Week show without a ticket. How? Well, because the tickets are free and the popularity of shows varies, there are times when not everyone who has a ticket shows up, so there's space in the audience or in the standing section. This is mostly likely with lesser-known brands, at the end of the day when the fash pack is flagging, or first thing in the morning (when it's collectively hungover). So, if you wait patiently at the end of the queue and ask the PRs or bouncers nicely, they might be letting in a few people who don't have tickets. There's no guarantee, and there are times when even people with tickets get turned away because the show is so oversubscribed, but you never know, you might end up plonked on the front row next to Anna Wintour, so it's worth a try for the Instagram bragging rights…
Want us to email you the top news stories each lunchtime?