This iPhone case that's also an Android phone has smashed its Kickstarter target by 400%
20/03/2017 - 14:42:17Back to Tech Home
It's only been a few days and Eye, an iPhone case that allows a user to operate Android OS on their device, has already smashed its Kickstarter target by 400%, making it one of the most popular devices on the crowdfunding site.
The case is already packed with a huge checklist of attractive features that include two SIM slots, a 5in AMOLED display, up to 256GB storage, wireless charging, a 3.5mm headphone jack (yes, that's right), 2800 mAh battery (potentially tripling the iPhone's battery life) and near-field communication (or NFC, the technology behind contactless payments) support.
But its biggest appeal is the fact that the iPhone case is basically an Android phone.
A functioning prototype has already been built by Israeli tech start-up ESTI and its founder Joseph Sabri says he is keen to get the production started.
"Now things are better and getting closer to what we expected," he said. "Reaching our goal is nice, but what is really important to us is being able to supply the best product to our backers."
For Sabri, the idea for the project (in which neither Google nor Apple were involved) came about after Samsung removed the infrared (IR) blaster from its Note 5 range.
An IR blaster is a device that accepts input from your remote and "blasts" it via infrared to the IR-compatible gadgets you're trying to control – much like a universal remote control.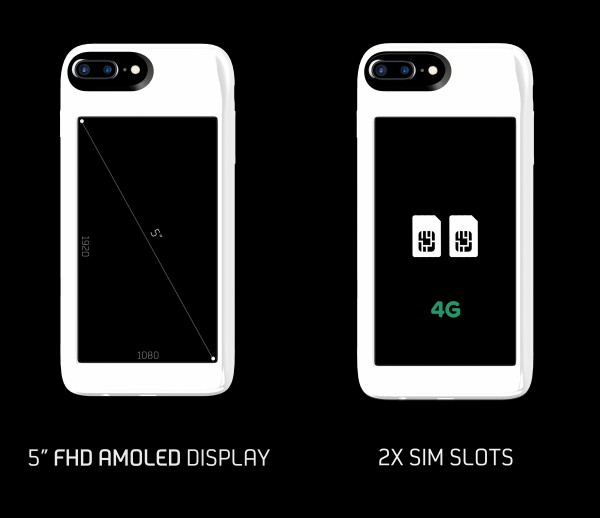 These days, many consumer devices have built-in IR blasters – such as smartphone-controlled heaters and air conditioning units, video game consoles and smartwatches.
"I really wanted the Note 5 but I was using the IR all the time with my S6, and it was super convenient," Sabri said. "So it was a deal breaker for me."
Sabri wanted to make an IR device that was compatible with Android and iOS so he decided to take his ideas a step further.
"At this point I said, 'why stop at IR?'," he said. "I can add an SD card reader to expand the storage. And then 'why not add wireless charging receiver?' and then 'why not a screen for always on display?'
"But a screen needs a battery and some system to run it. Well, let's just add a full Android OS to run this case! Then I realised I have a winner of adding Android OS to the iPhone users."
The Eye proved to be an immediate hit on Kickstarter, but Sabri says he wasn't surprised by the overwhelming demand for the device (the Eye has close to 3,000 backers with 26 days to go).
"It was very nice, but not a big surprise actually, because before the campaign we're telling people about it and collecting their emails – and they were just eager to support," he said. "Something like 'Shut up and take my money!' was often being heard.
"To be honest, I did project a huge demand for the Eye. Smartphones are such an integral part of our lives and when you give people a much better smartphone by using a case they already need you're not only upgrading their phones but their lives."
The Eye runs on Android 7.1 Nougat, and will also have access to Google Play.
And aside from all the other exclusive Android features such as native call recording, the file explorer and file transfers, the device will also allow you to take selfies with the higher quality rear-facing camera of the iPhone – by mirroring the iPhone's display to the back of the device.
ESTI's smart case is essentially an iOS-Android Franken-phone made up of cool features but Sabri says creating a prototype threw up some technical challenges.
"The hardest thing to do was to get all the features in one super slim case without sacrificing features," he said. "All of the other things are very easy because the market of mobile electronic parts has almost everything ready.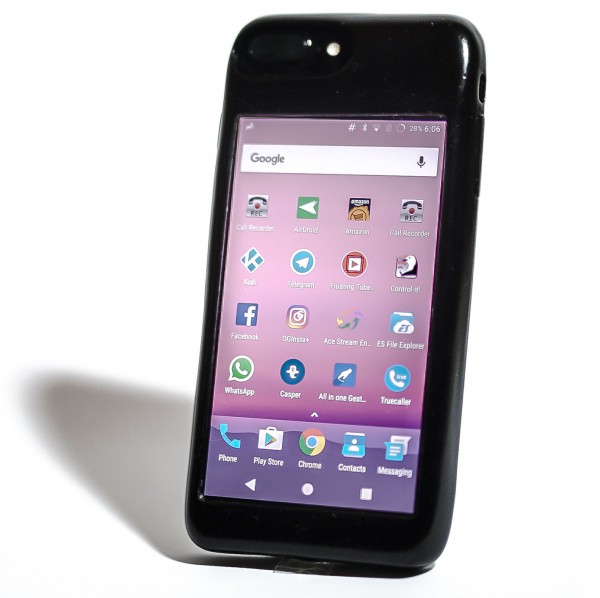 "In terms of the software, Android is a very convenient platform to work on and it's almost ready-to-use, no OS development from scratch is needed.
"It took us two years from the researching stage until the finished prototype."
So far, backers on Kickstarter have pledged more than $415,000 (£334,000) of its $95,000 (£77,000) goal.
The Eye is expected to retail at $189 (£152) and shipping is expected to begin from August.
KEYWORDS:
Snappa
,
Sci-Tech
,
Android
,
Apple
,
Esti
,
Eye by Esti
,
Google
,
iOS
,
Joseph Sabri
,
Mobile
,
Mobile operating system
,
Smartphone
Want us to email you the top news stories each lunchtime?